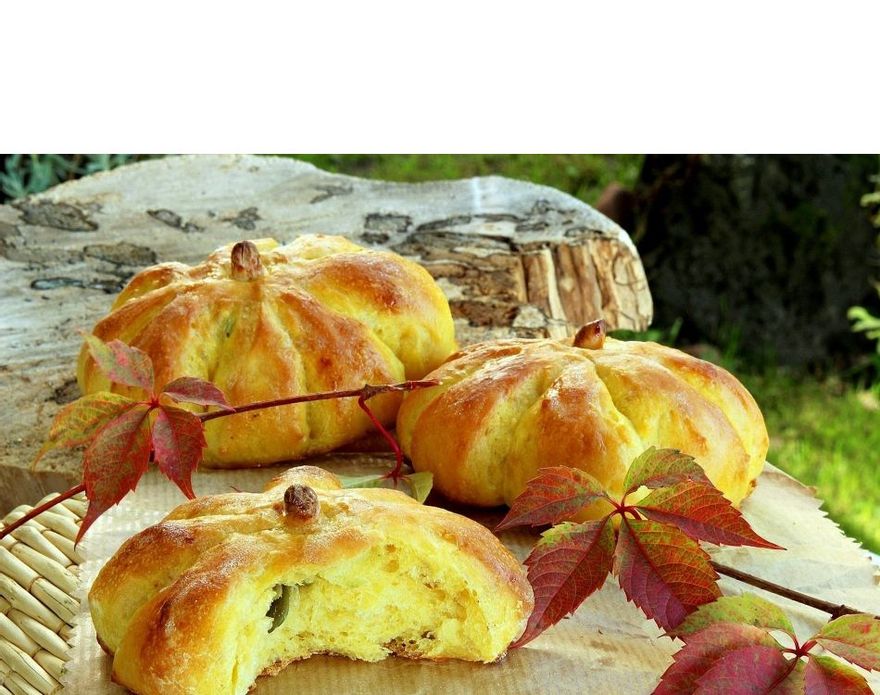 Are the pumpkins in time? It's time to add them to all kinds of goodies! So I propose to cook pumpkin buns today. Pumpkin baked goods are so cheerful - the crumb is sunny bright and very soft!
General \ asset cooking time: 3 hours \ 30 minutes
Servings Per Container: 12 Servings
Calories (100g): 360 kcal
Cost: average cost
How to make pumpkin buns
Flour - 400 g
Yeast - 7 g dry
Milk - 125 ml warm
Chicken egg - 1 pc.
Butter - 50 g
Pumpkin - 125 g of mashed potatoes
Salt - 0.5 tsp
Sugar - 2 tablespoons
Pumpkin seeds - 2 tablespoons optional
Egg yolk - 1 pc.
Milk - 2 tablespoons for lubrication
Nuts - 12 pcs.
Preparation:
Before you start making the dough, you need to work with the pumpkin. If you already have ready-made pumpkin puree, then you are very lucky, and you just skip this step.

To get pumpkin puree, you can just boil the pumpkin and add finely grated raw to the dough, but I suggest an easier and faster way to cook in the microwave.
The peeled pumpkin should be cut into small pieces, preferably of the same size.

Place these pieces in a suitable microwave-safe dish and cover. Bake at full power for 10 minutes, or less is possible - it all depends on the power of your stove.

The main thing here is that the pumpkin becomes soft and you could make mashed potatoes from it without effort.

Then everything is simple. Place all the desired ingredients in the bowl of the bread maker according to the instructions.
In my case, first comes liquidcomponents - warm milk, pumpkin puree, melted butter and a lightly beaten egg. Then dry - flour, yeast, salt and sugar.

We turn on the program "Kneading and raising the dough" and wait for the dough to come up.

When the dough is ready, place it on a work surface, lightly floured. Pound the dough slightly, and then divide into 12 equal pieces.

Roll each piece of dough into a ball. If desired, you can pour a little lightly toasted pumpkin seeds in the middle.

In this case, turn the dough ball upside down.

Using a sharp knife or pastry spatula, make 8 deep cuts just before the middle.

Place the buns on a baking sheet lined with paper forbaking. Cover with a clean towel and let stand for 15-20 minutes to rise again.
Then brush with a mixture of yolk and milk. Insert a small nut into the middle, peanuts, almonds or pine nuts will do.

Bake at 180 degrees for about 15-20 minutes. Cool on the wire rack, and then you can treat yourself to such cute, small pumpkins.