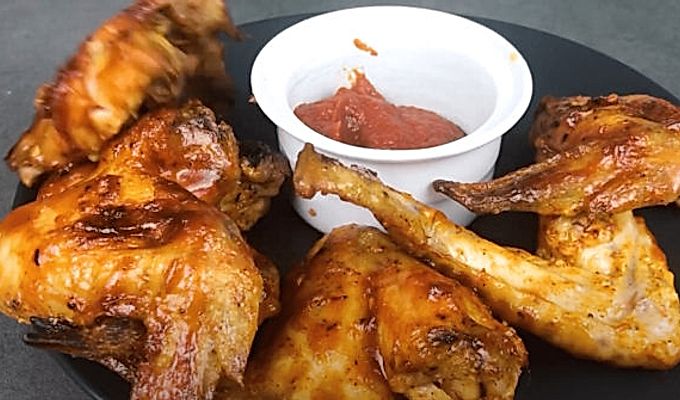 What can be cooked from chicken wings? The most popular answer is to simply bake it in the oven or deep-fry it.
Barbecue wings in the oven or in the sleeve are very popular for their taste. You can buy ready-made in a jar, but you can cook at home quite similar and tasty.
BBQ sauce has many recipes and what is offered to us in well-known chains for french fries is not that ideal. Most often it is a caramelized sauce based on tomatoes with paprika, sugar and vinegar. Sometimes with smoke.
You can pickle not only chicken, but also turkey wings. True, it will take longer to bake, but no less tasty. It is better to separate the wings at the joints. It marinates so well.
I'll tell you a secret, if you want a straight crispy crust, then you need to cook for at least an hour or deep-fried.
Below are the most famous wing marinades.
•Barbecue sauce
• Honey-soy
•Honey mustard
•Tomato-caramel with soy marinade
• Onion
• Garlic-mayonnaise
• Mustard-creamy, etc.
And how many more ways of frying are there ... Let's dwell on four good recipes for now.
Choosing a marinade for chicken wings in the oven. Bon Appetit! But remember, they are quite fatty, and sometimes spicy.
There are other good recipes on our site, see these sections:
• Snacks to the table
• What to cook from meat
• What to cook with chicken
Wings in tomato caramel BBQ sauce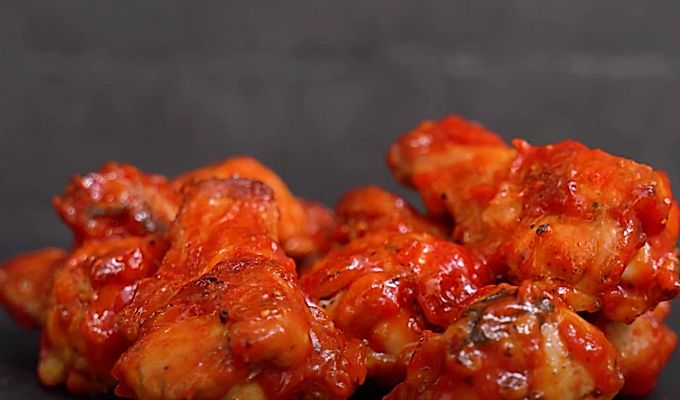 Let's cook delicious chicken wings in the oven. The author uses one kilogram of chicken wings, namely the shoulder part.
The recipe is based on a simple marinade and then separately another tomato-caramel glaze. This sauce is very similar to BBQ. It turns out crispy.
The final sauce is moderately spicy, sour, sweet. Butter gives a very delicate aroma.
Ingredients
| | |
| --- | --- |
| Chicken wings | 1 kg. |
| Soy sauce | 3-4 tbsp (to taste depending on salinity) |
| Garlic | 3+1 cloves |
| Ground black pepper | taste |
| Butter | 50 gr. |
| tomato paste | 50 gr. |
| brown sugar | 30 gr. |
| Salt | 1/3 chilli to taste |
| Hot peppers | taste |
Step by step cooking
The first step is to marinate the wings. We clean 3 large cloves of garlic and chop coarsely enough (then you will need to remove it), for convenience, you can first crush it with a knife.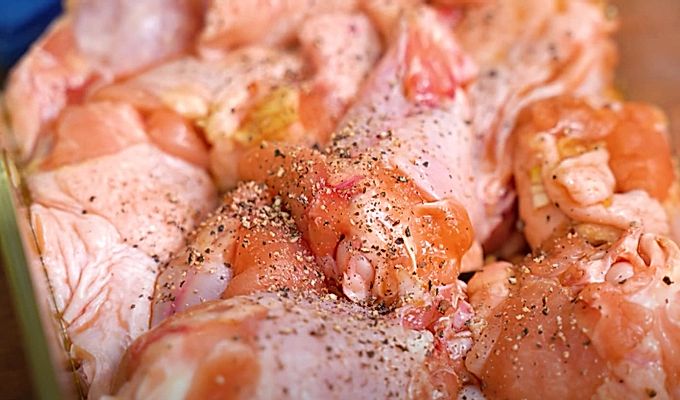 In a deep cup, marinate the meat in soy sauce with garlic and black pepper. Cover with a lid and leave at room temperature for at least 30 minutes, and preferably for 2 hours. At the same time, periodically approach and mix. If the lid is tight, then you can go up and shake it several times.
Put the pickled wings on a baking sheet (on a rug or parchment), pre-clean from garlic. If you have a special grill, then you can put it on it, then you get more crispy ones. We put the oven to heat up to 220 degrees.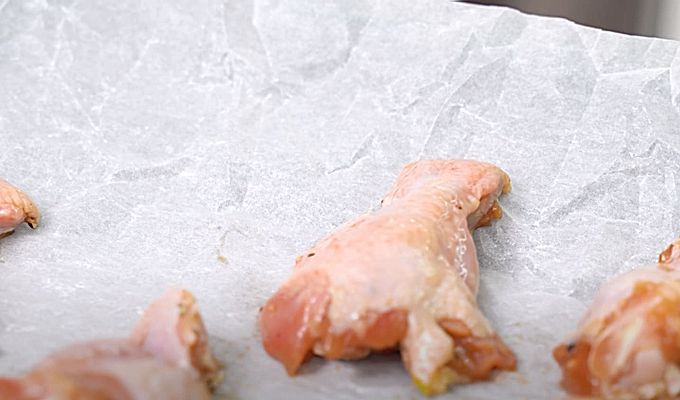 The level in the oven is slightly above average and you need to turn it over at least once for 20-25 minutes.
Before removing the wings from the oven, prepare the sauce. Melt 50 grams of butter, add 30 grams of sugar, 50 grams of tomato paste, hot chili peppers (the author has dried, but you can also use powder), chopped garlic clove, salt to taste. You can also add ground black pepper to taste. If there is no brown sugar, then you can replace it with regular sugar. Do not boil the sauce, otherwise it may exfoliate!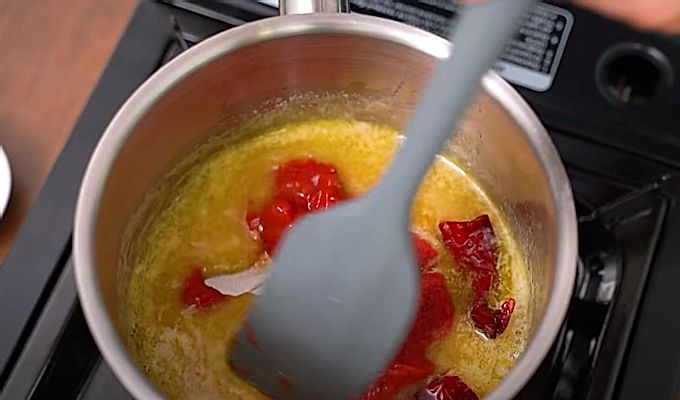 Put the baked, ruddy wings in a bowl, pour the resulting sauce, mix. Now let's marinate for 5-10 minutes and you can serve! It turns out delicious!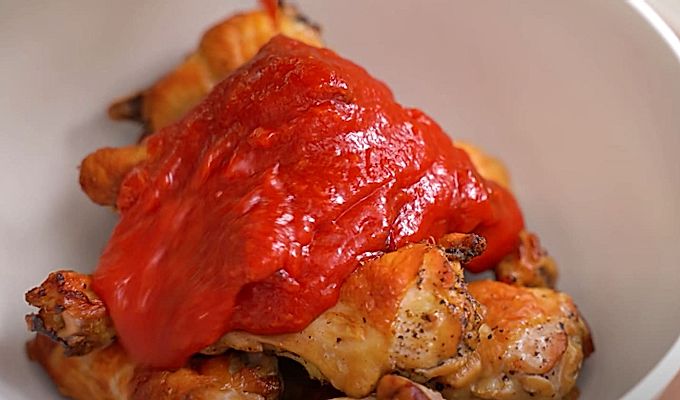 Wings in honey and soy sauce
Ingredients
| | |
| --- | --- |
| Chicken wings | 1 kg. |
| Soy sauce | 2-3 tbsp |
| Garlic | 2-3 cloves |
| Ground black pepper | 1/2 ch |
| sweet paprika | 1-2 tbsp |
| dry garlic | 1 member |
| Honey | 1 tbsp |
| Salt | 1 member |
| Apple vinegar | 1/2 tbsp |
| Sunflower oil | 1 tbsp+1/2 tbsp |
Step by step cooking
Chicken wings cut into 3 parts at the joints. We do not use the smallest part, it is good for broth. The author recommends that spices be applied to chicken wings laid out on a flat surface, perhaps it is easier to follow a uniform amount of spices. Salt, pepper, dry garlic, add sweet or smoked paprika.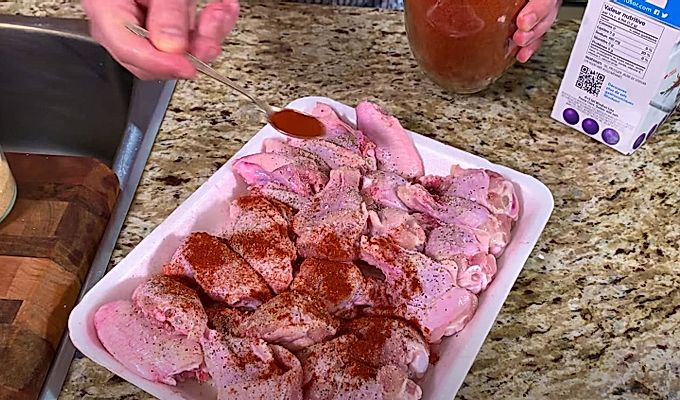 Next, in a deep bowl, mix actively and add a little sunflower or olive oil, and add more spices if necessary. A very important point when cooking the wings in the oven is to divide them into groups (the shoulder on one baking sheet, and the smaller part on the other). This gives you better control over the cooking process. You can use 2 separate trays.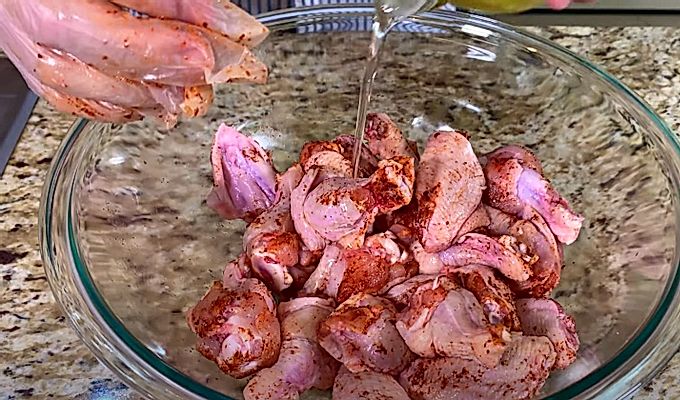 We spread the wings on parchment paper, we do not recommend using foil, the wings can stick to the foil.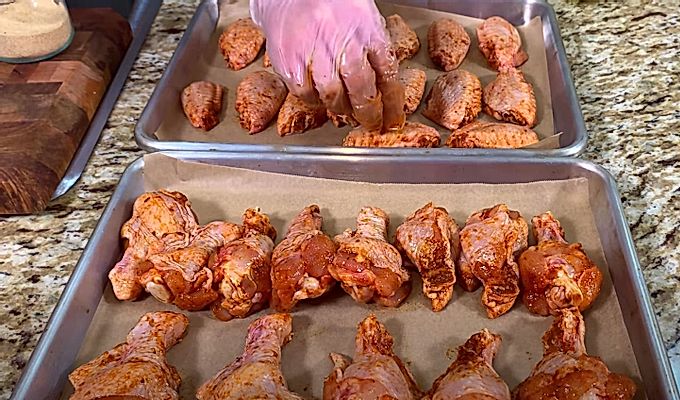 We send it to the oven preheated to a temperature of 220 degrees for 30 minutes. Turn over after 15 minutes. Cooking time will vary depending on the size of the wings and your oven.
We're preparing the sauce. In a deep cup, mix one full spoonful of liquid honey and 2-3 tablespoons of soy sauce. Stir and add 1/2 tbsp apple cider vinegar. You can lemon juice or orange zest, this sauce needs sourness. We mix a little oil and chopped garlic 1-2 large cloves.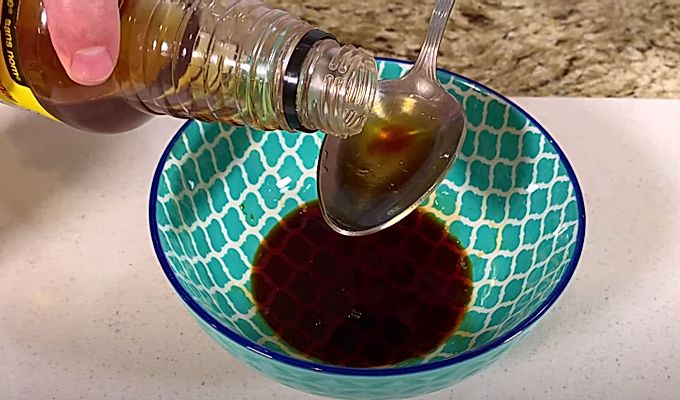 After 30 minutes, with a brush, grease the wings with sauce and send to the oven for another 5-7 minutes. You can increase the temperature in the oven, or turn on the top heat. It is very important to make sure that the garlic does not burn.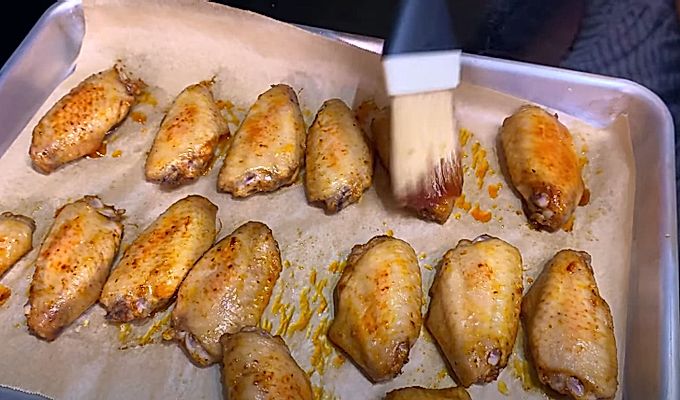 When serving, you can sprinkle with green onions or sesame seeds.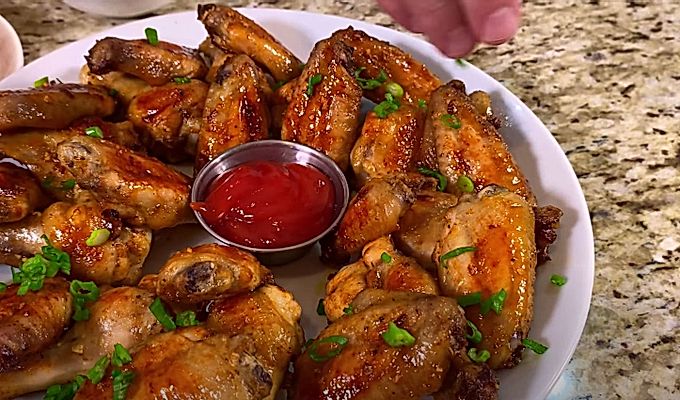 Wings in Korean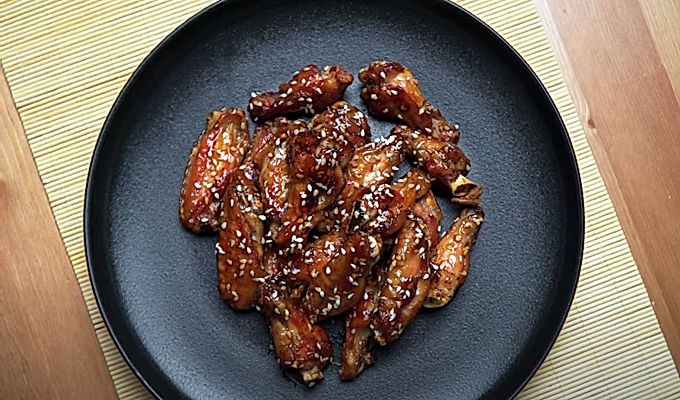 Let's prepare mouth-watering wings of Korean cuisine in sesame sauce. They are not spicy, but salty and in caramel-golden sauce.
The recipe uses soju, a traditional Korean vodka. Most often, the fortress is 20-45 degrees.
If you are against the use of alcohol, you can soak the meat in milk, the effect will be the same. The ingredients are for 2 servings.
Ingredients
| | |
| --- | --- |
| Chicken wings | 500 gr. |
| Soy sauce | 2 tbsp + 3 tbsp |
| Chicken broth or water | 1/3 cup |
| Ground black pepper | 1/2 ch |
| Soju 20 degree | 2 tbsp |
| Sugar | 2-3 tbsp |
| Starch | 1 tsp + water 1 tsp (dilute) |
| Sesame oil | 2 tbsp |
| Sesame seeds | taste |
Step by step cooking
We divide the defrosted wings into joints. Tips are most often not used.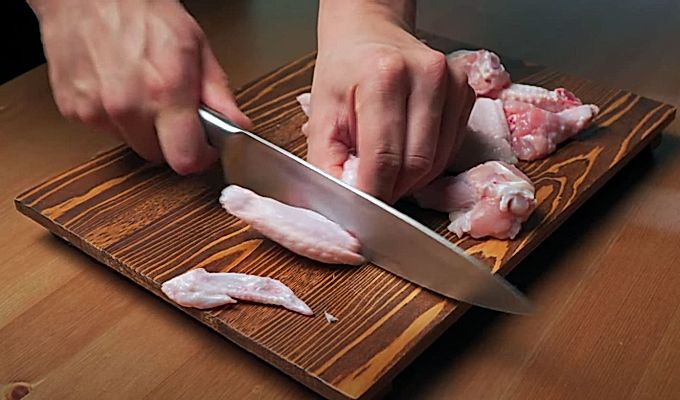 We shift the wings into a deep bowl and proceed to pickling. Pour in 2 tbsp soju. If it is not there, then you can add ordinary vodka, but 1 spoon, respectively. It is used to get rid of the smell and taste of raw skins and meat. 2 tbsp soy sauce, 0.5 tsp black pepper. Mix everything and let stand for 20-30 minutes.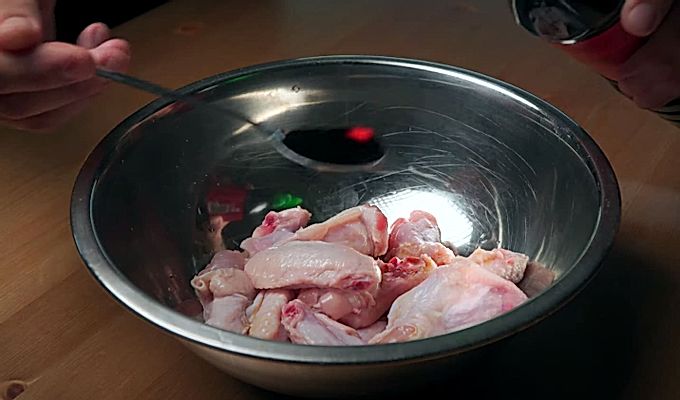 When the wings are marinated, lay them out on parchment and put them in the oven at 250 degrees for about 10 minutes. After we take it out and turn it over. We send again for 10 minutes.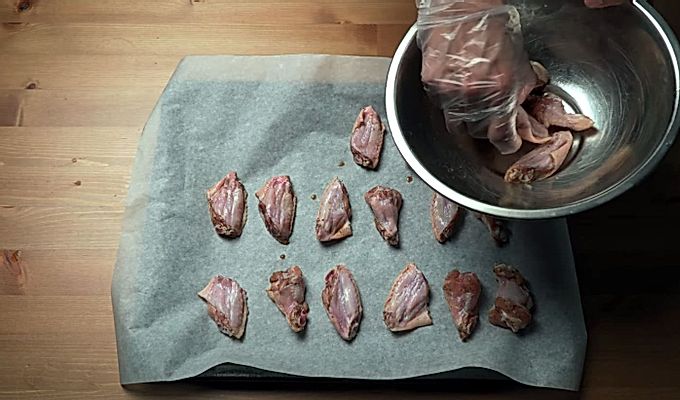 We prepare the sauce in a saucepan or in a small saucepan, heat 3 cups of chicken broth or just water. Add 3 tbsp soy sauce, 2 tbsp sugar. On high heat, wait for it to boil and then reduce the heat to medium and until the sugar dissolves.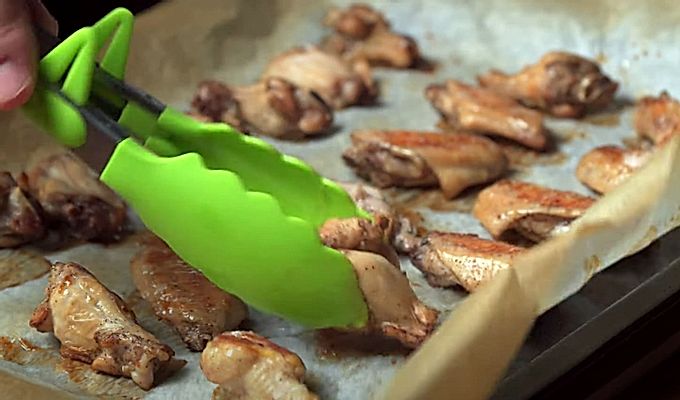 Now you need to thicken the sauce. We take 1 tsp of starch and dilute it in a separate cup with one teaspoon of water. After stirring, add it to the sauce. We stir constantly.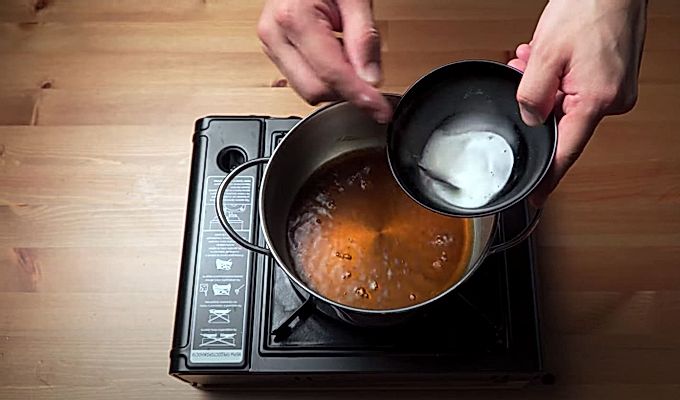 Our sauce has become thicker and caramel in color, now add 2 tablespoons of sesame oil and seeds. Stir and turn off the stove.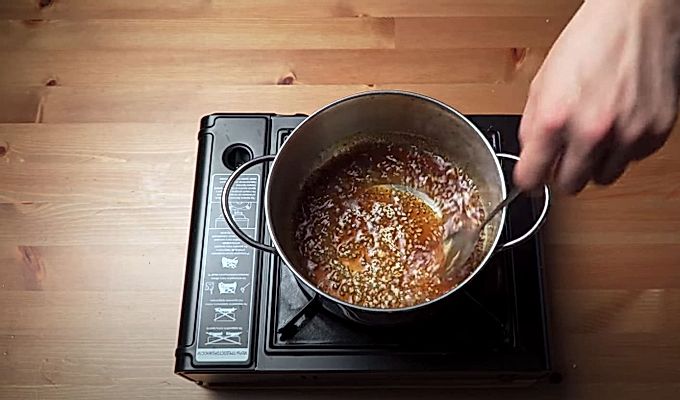 We take out the finished wings from the oven and mix with the sauce. We serve to the table. Bon Appetit!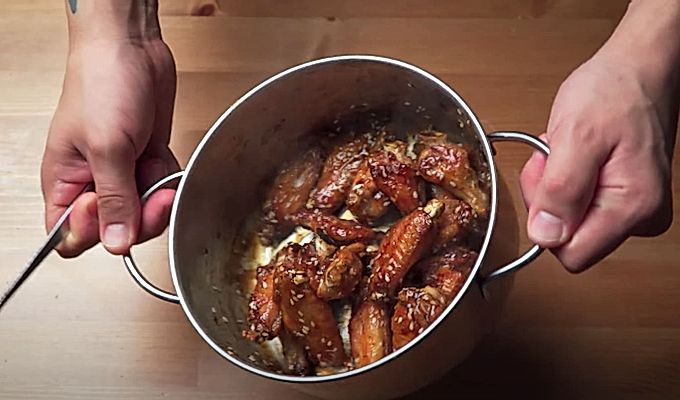 Wings with adjika and mayonnaise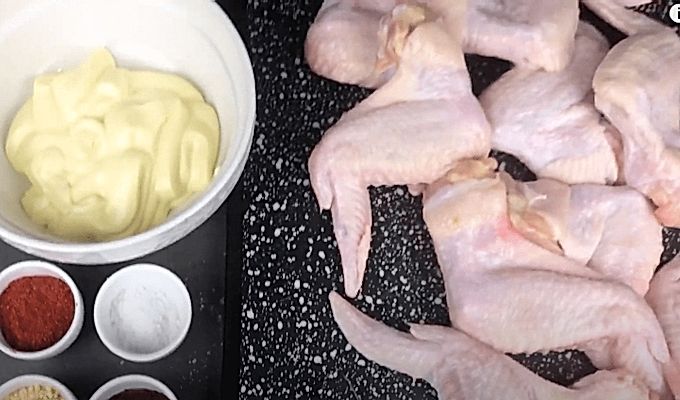 Using this author's recipe, you will cook crispy and glossy wings. Soy sauce and sugar free. But with honey and mayonnaise.
The author roasts the wings in the oven, on the grill. Do not forget to put a baking sheet under the bottom, otherwise it will take a long time to wash the oven. There is a good idea, for example, you can put a cup of vegetables under the wings. And the wings can be planted on spatulas.
They serve well with any tomato sauce.
Ingredients
| | |
| --- | --- |
| Chicken wings | 1 kg. |
| Mayonnaise | 150 gr. |
| dried garlic | 1 tbsp |
| Ground black pepper | taste |
| sweet paprika | 2 tbsp |
| Honey | 2 tsp |
| Salt | 1 tbsp |
| Ketchup | 3 tbsp |
| Adjika | 1 tbsp |
Step by step cooking
In mayonnaise, add one or two tablespoons of spicy adjika, dried garlic, paprika and salt. Mix all ingredients thoroughly.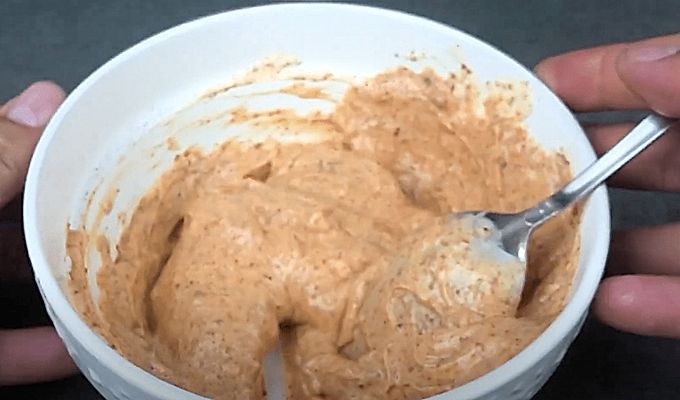 Pour the wings into a container and add the marinade there. Mix well, tamp and leave to marinate for 2-4 hours.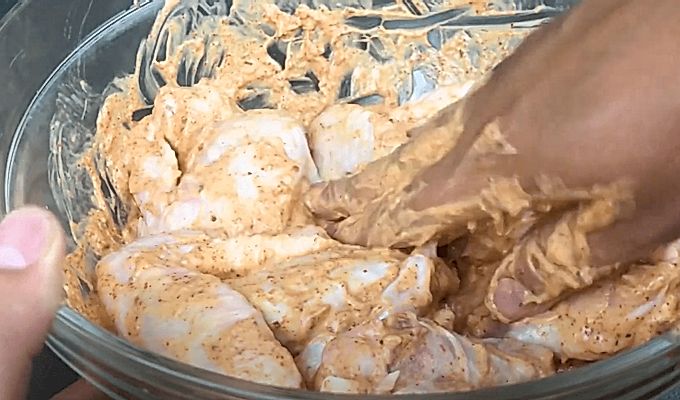 In the meantime, make the glaze by mixing mayonnaise, honey, a pinch of salt and pepper to taste.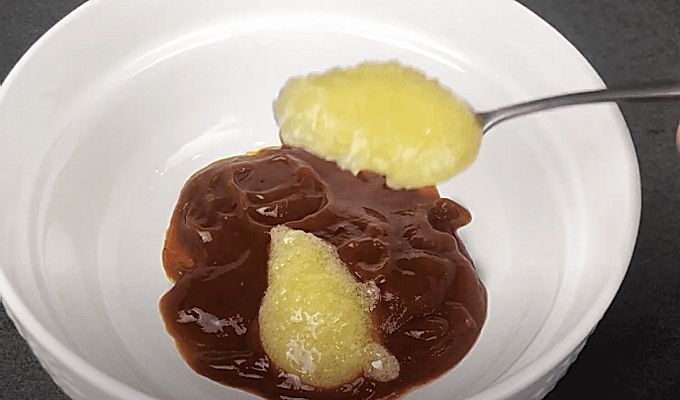 We spread the wings on the grill, grease them with the rest of the marinade on top. Then we send to bake for 30 minutes at 210 °.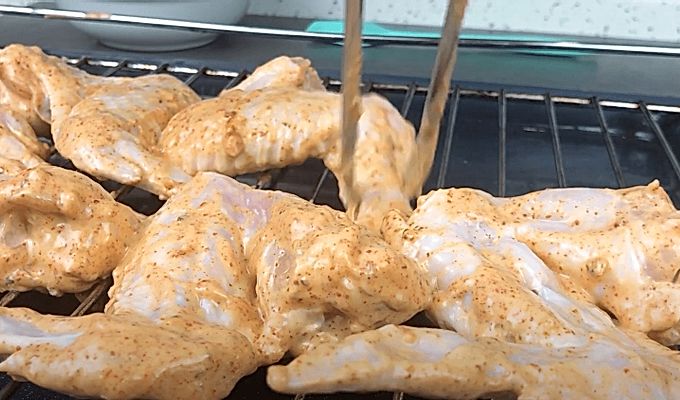 After half an hour, open the oven and grease them with honey-tomato glaze. Then send to bake for another 5 minutes at the same temperature.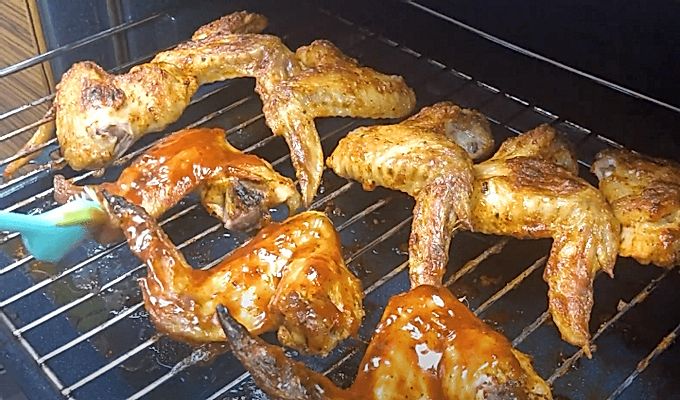 Put the finished wings on a large dish and serve with any tomato sauce. The wings are obtained with a very beautiful crust, the meat crunches directly, has a pleasant aroma and is very appetizing.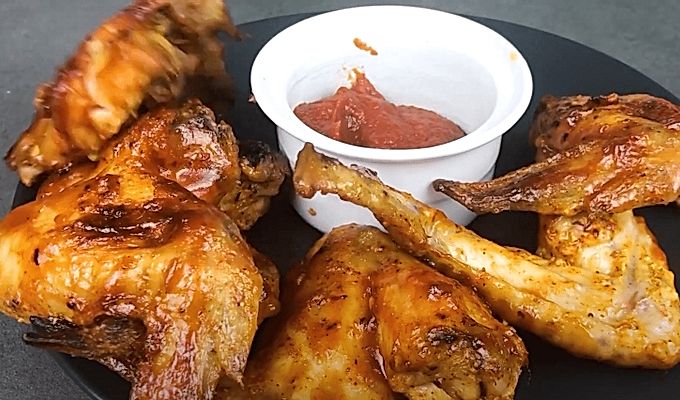 Things to know (Q&A)
How long can you marinate chicken wings?
It is recommended that you marinate chicken wings for less than 24 hours . Over time, the sauces can actually break down the tender meat on the wings. This will result in you losing good meat or even possibly ruining your wings altogether.
Does marinating chicken wings make a difference?
Because overnight chicken marinade before cooking doesn' t really do anything . Yep, that's right. Marinating chicken doesn't moisten, tenderize, or add flavor to your chicken. It's been debunked.
How long does it take to cook chicken wings in the oven at 425?
Depending on the size of wings, at 425° wings will bake for 35-40 minutes . If baking at 450°, wings will take a few minutes less so check them at 35 minute
Do I cover wings when baking?
Do I cover the chicken wings when cooking them? Yes , if you're cooking it in the oven, no if you're grilling. Uncover the chicken 10 minutes before it's done to make the skin crispy.
Can you marinade chicken wings for too long?
How long you should marinate your chicken wings? Less than 24 hours – You need to be careful not to marinate the meat too long because the acidity from lemon or vinegars can actually damage the meat by breaking it down too much!
How long can chicken wings marinate in the fridge?
2 days

Marinated chicken can be kept in the fridge for 2 days ; after that, any uncooked marinade should be discarded.
Is it OK to marinate chicken for 3 days?
You can marinate chicken, steak, pork, and lamb for too long. And the meat doesn't like that at all. Generally speaking, you shouldn't marinate meat for more than a day .
Can you marinate chicken wings for 48 hours?
Some marinades need just a short time, but this really tastes amazing if you let it take up space in your fridge for at least 12 hours, preferably up to 48 hours. They taste great at room temperature, so you can even cook them in advance. Prep time, as always, includes marinating time.
Does marinating chicken wings work?
Does marinating chicken wings work? Yes, it does . The acidic nature of the lemon juice tenderizes the wings to absorb the flavors of the marinade. When cooked, you get juicy, tender, delicious wing
Does marinating chicken make it better?
Marinade prevents the meat from drying out and making it chewy. It helps in tenderising the chicken and makes it juicie
Does marinating chicken actually work?
Because overnight chicken marinade before cooking doesn't really do anything . Yep, that's right. Marinating chicken doesn't moisten, tenderize, or add flavor to your chicken. It's been debunked.
How do you keep chicken wings from drying out in the oven?
If you don't have a rack, spray the foil with nonstick baking spray to prevent the chicken from sticking. Place the chicken wings in a single layer on the rack and bake for approximately 35 minutes, flipping halfway throug
Do you cover baked chicken with aluminum foil?
Preheat oven to 350 degrees F (175 degrees C). Rub each chicken breast with olive oil, then place in a lightly greased 9x13 inch baking dish. ... Cover dish with aluminum foil and bake in the preheated oven for 45 minutes. Check chicken and remove cover if desired.
How long does it take to cook chicken wings at 325 degrees?
When ready to eat, let the chicken wings thaw in the refrigerator overnight, then bake the chicken wings for 25-30 minutes at 325 degrees F or until heated throug