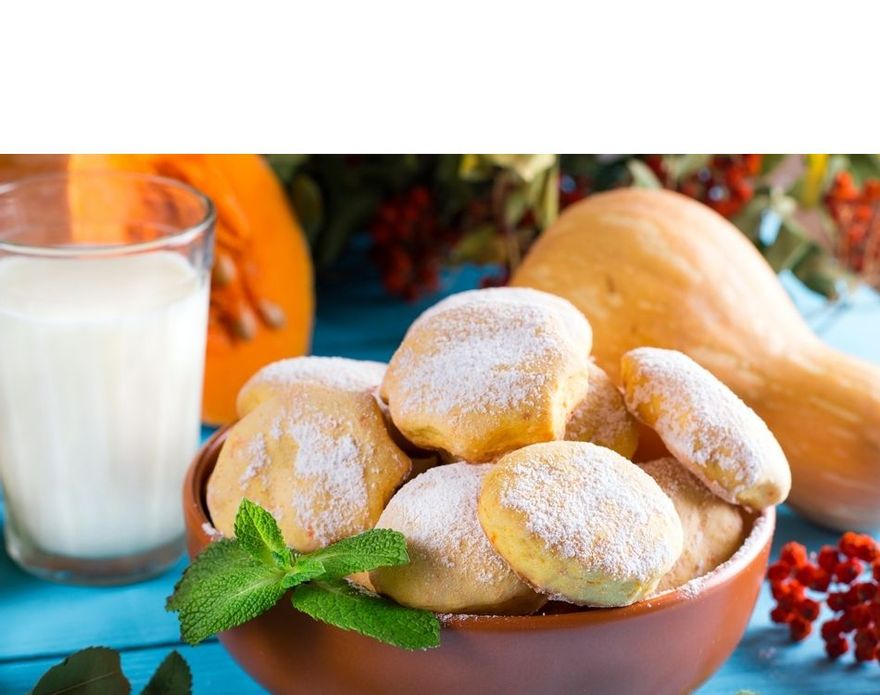 I really love baking with sour cream, it turns out delicious, tender, soft, with a barely noticeable creamy aroma. And if you add pumpkin puree to the dough, then the products become also useful! Soft pumpkin cookies on sour cream will delight everyone with their taste, aroma and texture - from small to large!
General \ asset cooking time: 1 hour 20 minutes \ 30 minutes
Servings Per Container: 6 Servings
Calories (100g): 227 kcal
Cost: very economical
How to make pumpkin cookies with sour cream
Pumpkin - 150 g
Chicken egg - 1 pc.
Sugar - 90 g
Sour cream - 100 g
Flour - 300 g
Soda - 0.25 tsp
Salt - 1 pinch (s)
Lemon zest - 1 tsp
Powdered sugar - 3 tbsp
Preparation:
First you need to bake the pumpkin and make the pumpkin puree. If you already have a pre-made or store-bought canned puree, then use it. And I will tell you how to make fresh pumpkin puree.

Pumpkin for pumpkin cookies on sour cream can be baked with a peel, then it will be very easy to separate it.

Cut the pumpkin into slices of equal thickness.

Transfer the pumpkin slices to a baking dish, the bottom of which can be sprinkled with a few drops of vegetable oil (then the pumpkin will not burn to the bottom). You can also line a baking sheet with parchment paper and place the pumpkin slices on top of it.

Bake in the oven at 170 degrees for 25-30 minutes.

The finished pumpkin should be soft and easy to pierce with a fork or knife. Take it out of the oven and let it cool.

Remove the skin with a knife and place the pulp in a bowlblender or deep bowl. Puree the mass until smooth.

Beat a medium-sized chicken egg with a mixer with sugar until lightweight.

Add sour cream of any fat content to the egg beaten with sugar (the higher the fat content of the sour cream, the softer the finished cookie will turn out). Beat again with a mixer.

Add pumpkin puree, lemon zest and mix well. Don't ignore such a minor ingredient as lemon peel, it is quite appropriate here. The finished biscuits are aromatic with a light citrus tinge. Instead of lemon peel, you can use orange peel.

Sift flour with soda and a pinch of salt to the resulting liquid mass. Stir with a spatula until a viscous and thick dough is formed.

Next, the dough needs to be lightly kneaded with your hands onthe table so that it becomes even more homogeneous without unnecessary seals and lumps. The dough will stick slightly to your hands, but you no longer need to add flour, otherwise the finished cookies will be dry and hard. This should only be done if the dough is very liquid and there is no way to knead it with your hands.

The cookies can now be shaped. There are several options: either roll up walnut-sized balls, flatten them a little and place them on a baking sheet (it is advisable to cover it with parchment paper), or roll out a layer of dough 0.5-0.7 cm thick and cut out the blank with a curly mold.

The future cookies will have a delicate creamy shade, if you want to achieve a golden brown crust, grease each piece with whipped yolk.

Bake in the oven at 180-200 degrees for 12-15 minutes.

The finished biscuits easily fall behind the parchment paper, theylight and aromatic.

Now you can generously sprinkle the cookies with powdered sugar, which is convenient to do with a strainer.

Soft pumpkin cookies with sour cream go well with warm milk, tea or cocoa.