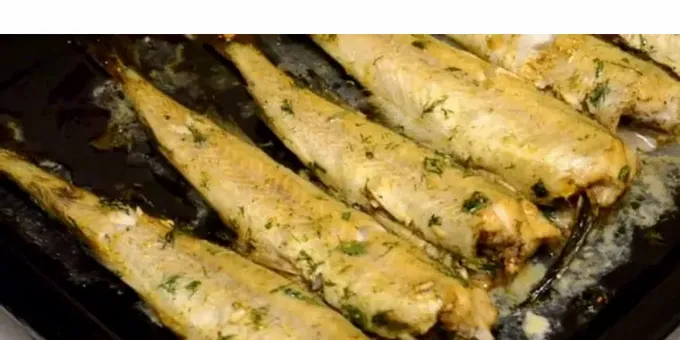 On the eve of the holidays, every housewife strives to cook a lot of delicious dishes so that a plentiful feast remains in the memory of the family and guests for a long time. As a rule, after long "dance steps" in the kitchen, you don't want anything from the word "in general", fatigue is so great.
I offer very simple recipes for the crown dish of our parents - pollock fish with marinade. The preparation of such fish snacks does not require any time, physical or financial investments, which is very important today.
Choosing the ingredients
Any white (preferably sea) fish is suitable for this simple dish, but pollock or its fillet is considered the most optimal (read - budgetary).
You can pickle both vegetables - stewed carrots with onions and all kinds of seasonings - and herbs with various spices.
Vegetable oil for the dish should be refined, odorless.
Salt - any grinding, exactly the one to which the hostess is "used to".
As for the choice of where and in what to cook - in a frying pan, oven, slow cooker, this is also at the discretion of the "kitchen attendant" for the pre-holiday period.
Pollock recipe under the original marinade in the oven
Ingredients
| | |
| --- | --- |
| Pollock (headless) | 6-7 carcasses |
| Onion | 2-3 pcs. |
| Garlic | 4-5 cloves |
| Pepper black or white ground | 2 pinches |
| coriander seeds | ½ tsp |
| Paprika | 2-3 pinches |
| Salt | 1½ tsp |
| Fresh cilantro and dill | 1 bunch |
| Vegetable oil | 150 ml |
| Lemon juice | with ½ citrus |
Step by step cooking baked pickled pollock
In fact, pollock is considered a lean dry fish. To prepare a fish dish and get juicy pollock or its portioned pieces at the exit, the fish needs to be marinated. I will share with you how to cook marinated pollock - a simple and easy-to-cook fish snack.
Wash well and remove fins from 6-7 headless pollock carcasses.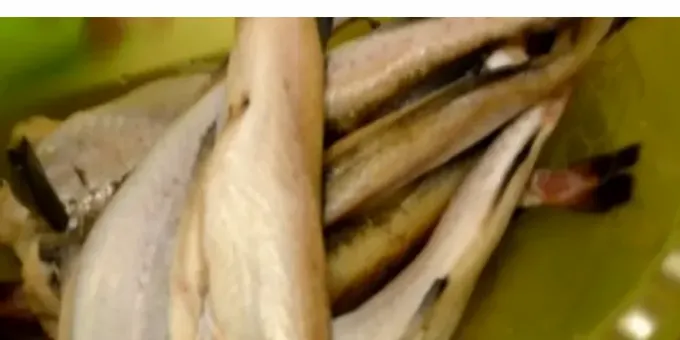 Carefully free from thin black films the inside of the abdomen of each carcass.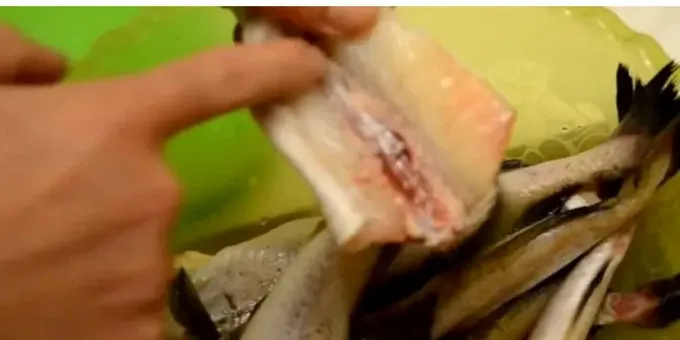 Arrange the fish on a large dish, sprinkle with 1½ tsp. salt and a couple of pinches of black or white ground pepper.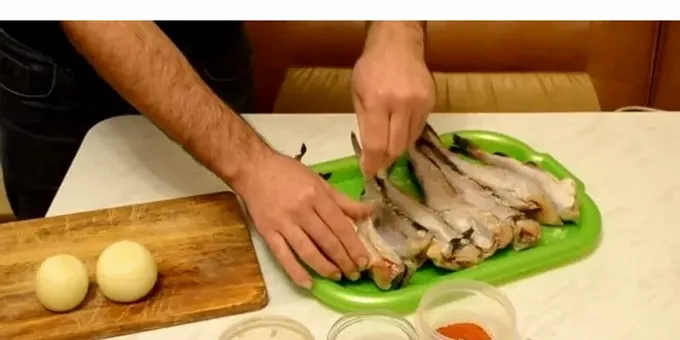 Crush ½ coriander seeds in a mortar and sprinkle pollack on top.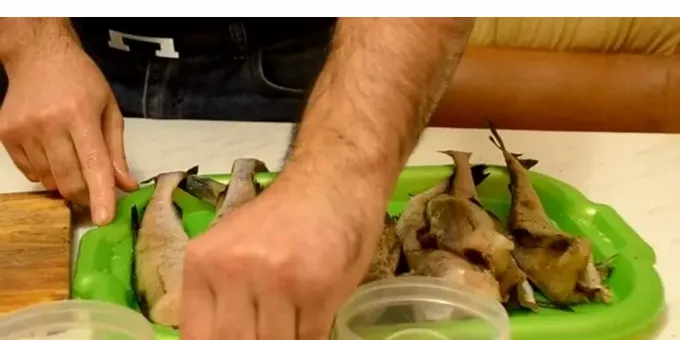 Then season the fish with spices with two pinches of paprika.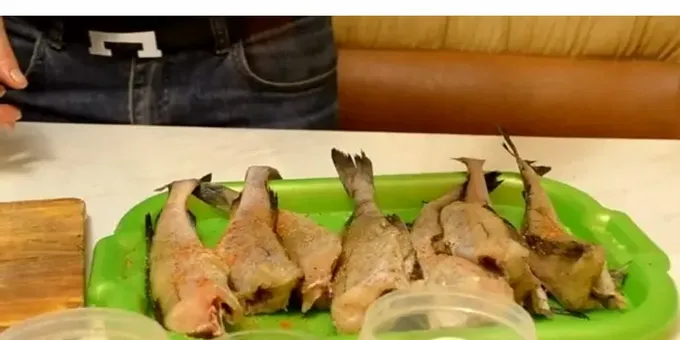 Dissolve two medium onions in half rings, squeeze them with your hands, mix with pickled pollock and set aside the container with the pickled product for ten minutes.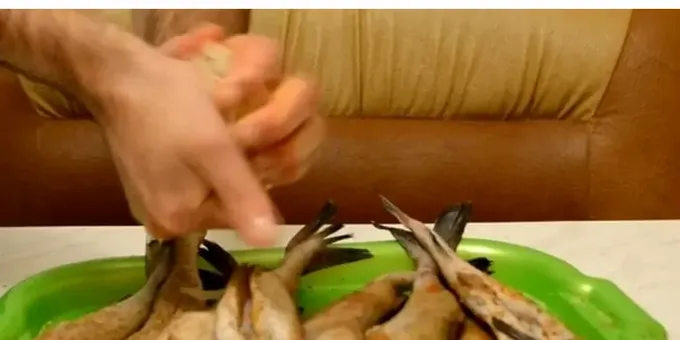 Crush 4 garlic cloves with the flat side of a knife.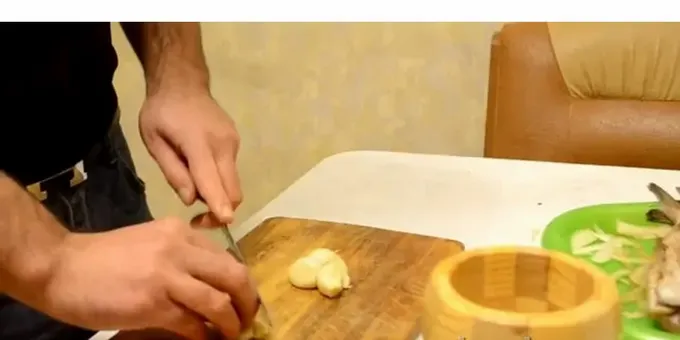 Finely chop a bunch of cilantro and a bunch of dill.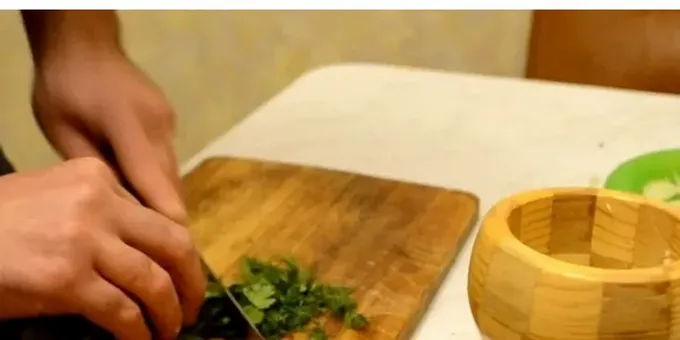 Fold crushed garlic with chopped herbs in a mortar. Pour 150 ml of vegetable oil into the mortar.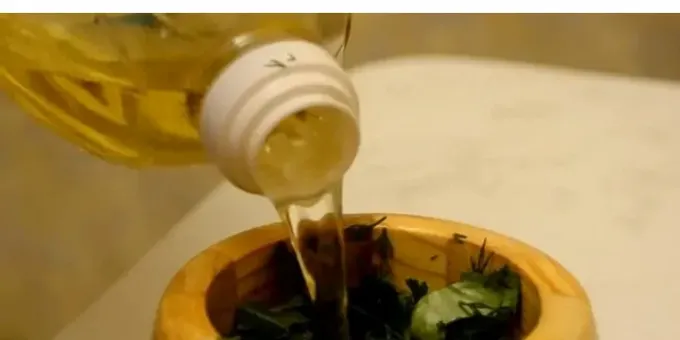 Add juice from half a lemon and thoroughly grind the entire contents of the mortar with a pestle.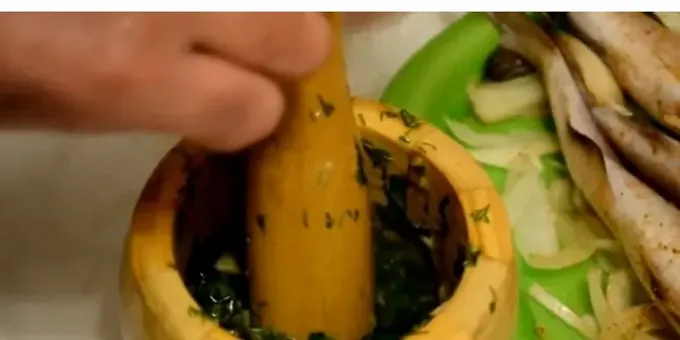 Pour the green mass over the marinated fish and let stand for another 50 minutes.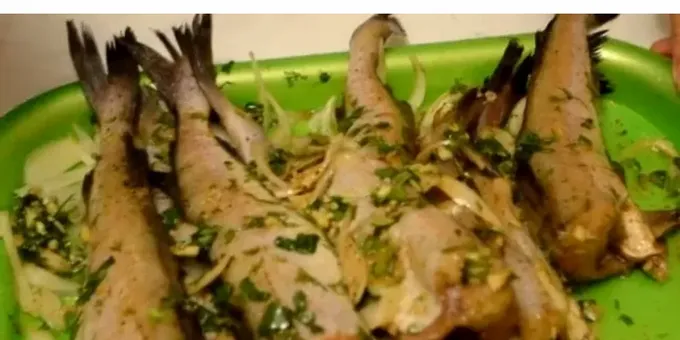 After an hour, put the pickled pollock on a baking sheet, without lubricating the bottom with oil. Bake 15 min. in an oven preheated to 200°C.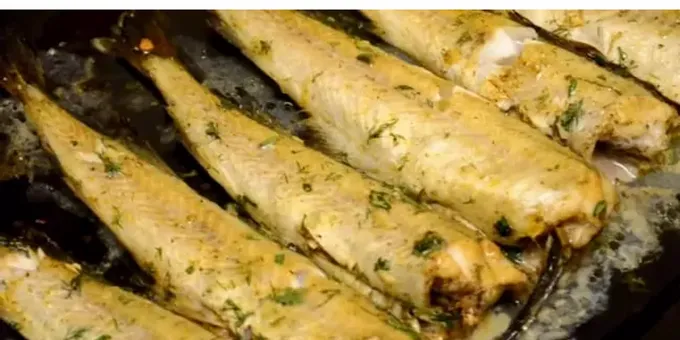 [youtube url="https://youtu.be/BYsiYhf8vxY"]
Recipe for pollock under a classic marinade
Cooking time - 25-30 minutes.
Yield - 4 servings.
Calorie content - 86.4 kcal / 100 g.
Kitchen utensils: cup, bowl, board, frying pan, knife, measuring spoon, container for the finished dish.
Ingredients
| | |
| --- | --- |
| Pollock fillet (portions) | 400 g |
| Onion | 2 pcs. |
| Raw carrots | 4 things. |
| tomato paste | 1 st. l. |
| Water | ½ stack |
| Table vinegar (apple), 9% (optional product) | 1 tsp |
| Wheat flour | 1-2 tbsp. l. |
| Bay leaf | 2 pcs. |
| peppercorns | 5-7 pcs. |
| Granulated sugar | 1 tsp |
| Vegetable oil | 1-3 art. l. |
| Salt | pinch |
Step by step cooking fish fillet marinated in a pan
For this classic dish, the simplest sea fish is suitable. To simplify the cooking process, I recommend buying pollock fillet and cooking it under the marinade.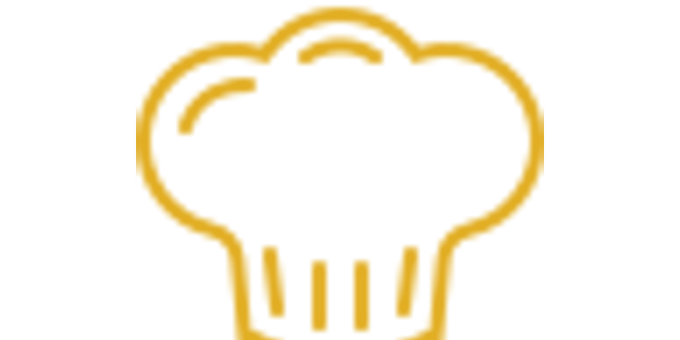 Cut 400 g of fish fillet into portions and lightly salt.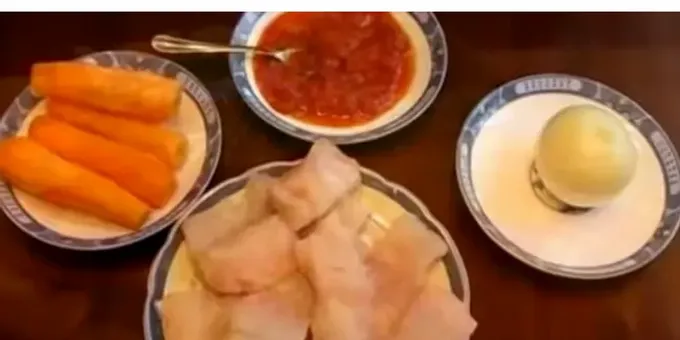 Dissolve two medium-sized onions in half rings.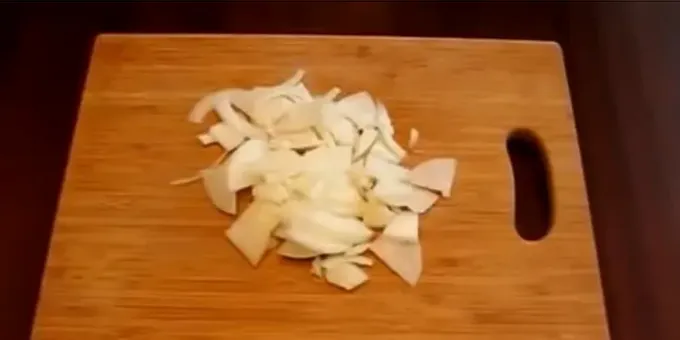 Grate four carrots on a coarse grater.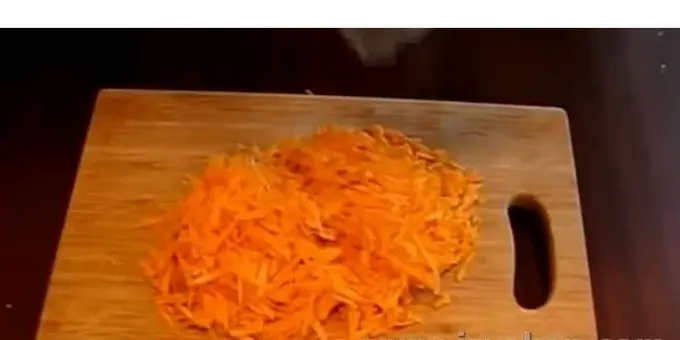 Pour 1-2 tbsp into a flat plate. l. wheat flour and roll each fish piece in it.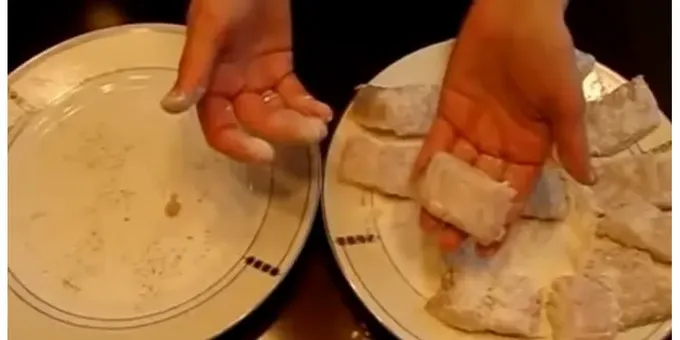 Heat up in a frying pan 1-2 tbsp. l. vegetable oil and fry portioned pieces over high heat until half cooked.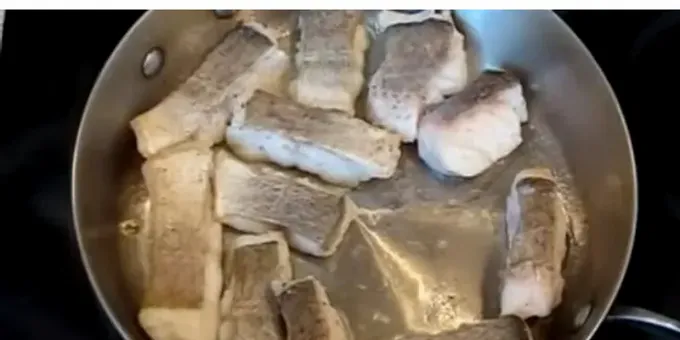 As soon as the pieces of pollock grab a crust, remove the fish from the pan, if necessary, add another 1 tbsp. l. vegetable oil, put the chopped onion and fry for 2-3 minutes.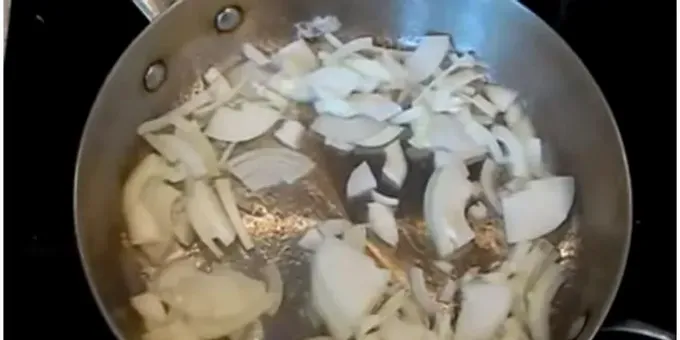 As soon as the onion becomes transparent, add grated carrots to the pan and simmer for 3-4 minutes.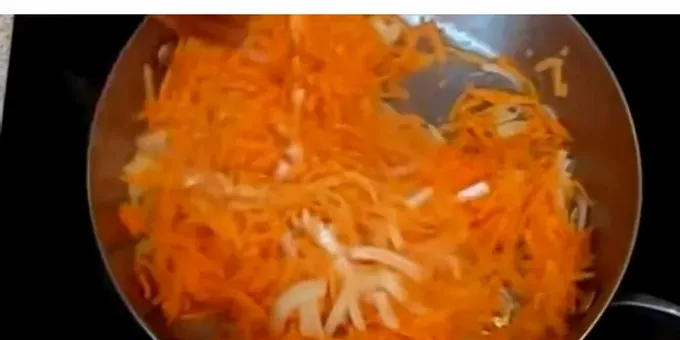 When carrots soften, add 1 tbsp. l. tomato paste diluted with 2 tbsp. l. water and 1 tsp. vinegar.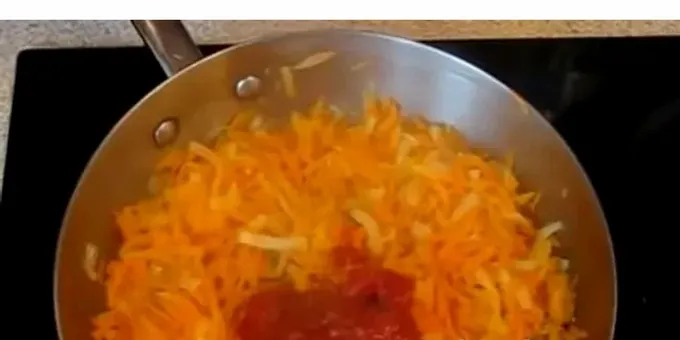 Pour ½ cup into the contents of the pan. water, bring to a boil and add 2 pcs. lavrushki, 5-7 peppercorns, 1 tsp. sugar, a pinch of salt.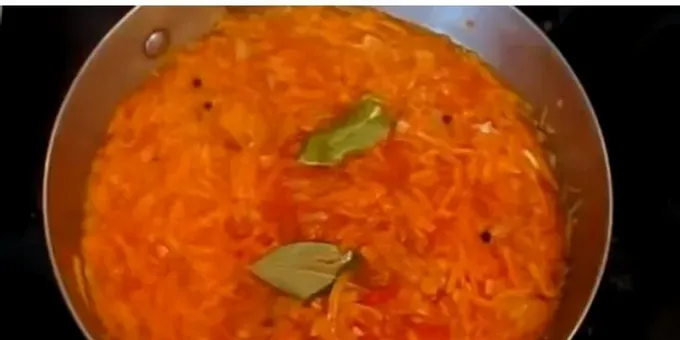 After 5 min. after boiling, put the fish pieces in the pan, distributing them so that the marinade covers them on all sides, and simmer under a closed lid for 7-10 minutes.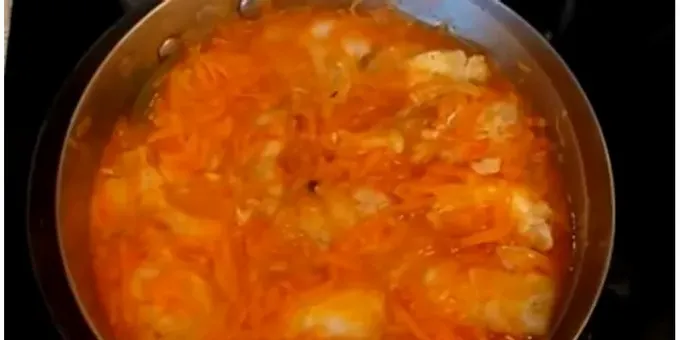 I recommend watching a master class from Irina Khlebnikova on how to cook pollock fillet under a classic carrot and onion marinade.
Pollock recipe under marinade in a slow cooker
Cooking time - 35-40 minutes.
Yield - 3-4 servings.
The value of 100 g of the product is 104.9 kcal.
Kitchen utensils and appliances: grater, knife, board, 2-3 flat plates, cup, measuring container, spatula, blender, multicooker of any model.
Ingredients
| | |
| --- | --- |
| Pollack carcass without a head | 3 pcs. |
| Onion | 2-3 pcs. |
| Carrot | 3 pcs. |
| Tomatoes, fresh or canned in their own juice | 3 pcs. |
| Salt | 3 tsp |
| Granulated sugar | ½ tsp |
| Flour | 1-2 tbsp. l. |
| Bay leaf | 2 pcs. |
| Cloves, black and allspice peas | 4-5 pcs. |
| Vegetable oil | 2 tbsp. l. |
| Table vinegar (apple), 9% or lemon juice | 1 tsp |
| Water | ½ stack |
Step-by-step cooking of sea fish under a "coat" of marinade
I offer the most unpretentious recipe for cooking fish in a slow cooker known to me. I'm telling you how easy it is to cook a whole pollock fish under a marinade using kitchen appliances.
Defrost, wash and cut the fins from three carcasses of pollock and cut them into portions. Salt each piece (this will require 1.5 tsp. salt) and roll in 1-2 tbsp. l. flour.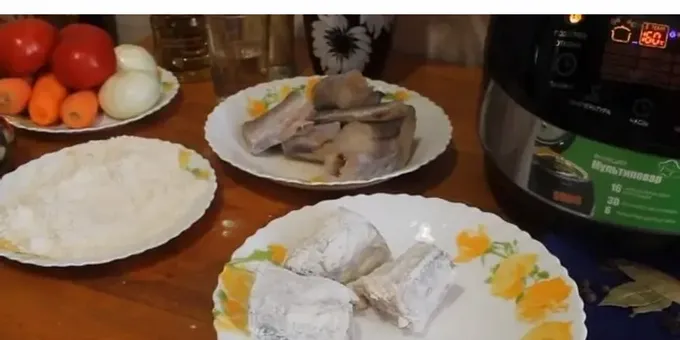 Pour into the multicooker bowl 1-2 tbsp. l. vegetable oil and start the "Frying" mode for 15 minutes. While the oil is heating, chop 2-3 onions into ring quarters and grate three large carrots on a coarse grater.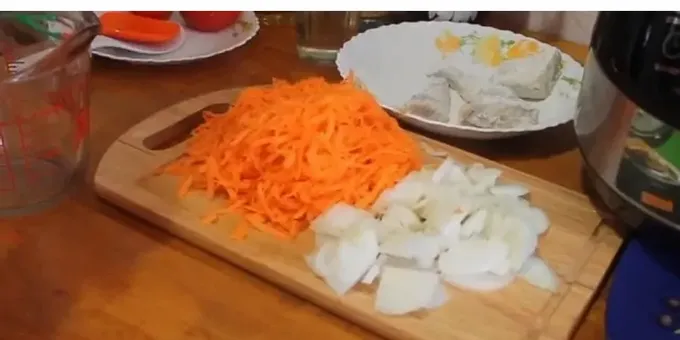 Fry fish pieces in hot oil until golden brown for 5-7 minutes. from each side.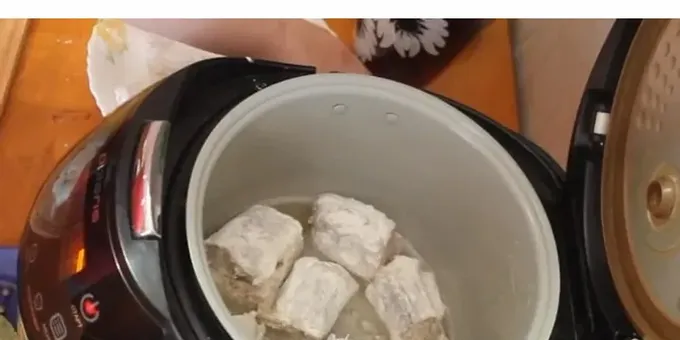 Dissolve three fresh or pickled tomatoes in a blender into a tomato puree.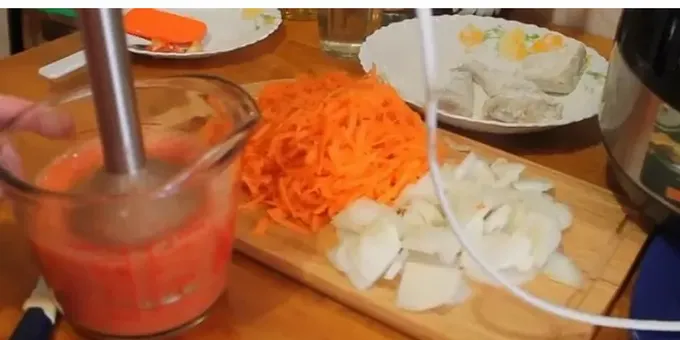 Remove the fried pieces of pollock from the bowl and fry chopped onion with grated carrots for 7-8 minutes.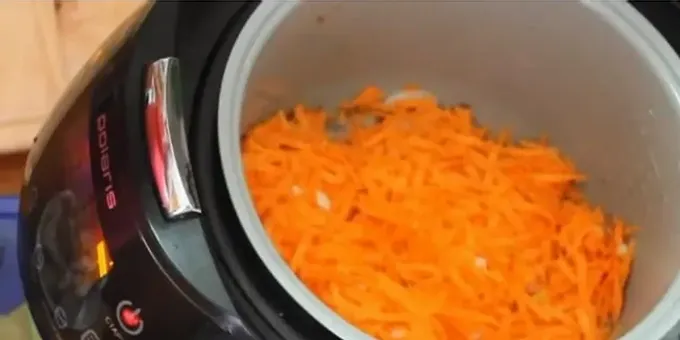 Pour the tomato puree into the prepared vegetable mixture and mix thoroughly.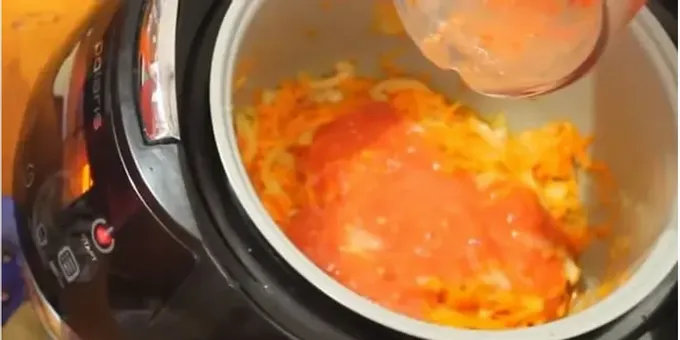 Without waiting for the boil, put a couple of laurels into the contents of the bowl, 4-5 peas of black and allspice, as well as 4-5 pcs. carnations. After boiling, add ½ tsp to the vegetable mixture. sugar, 1 tsp vinegar and 1.5 tsp. salt.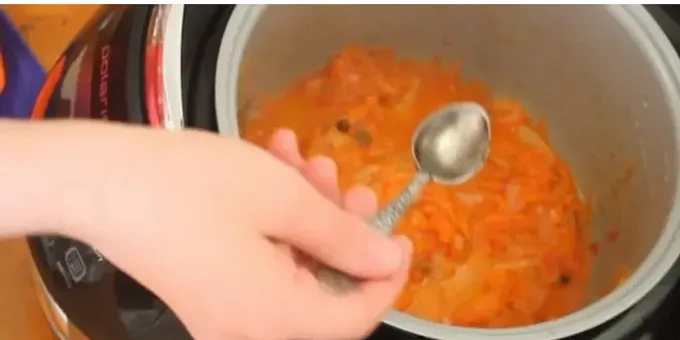 Mix the contents of the bowl, then evenly lay out and drown the fried fish pieces in it. If necessary, add ½ stack. water.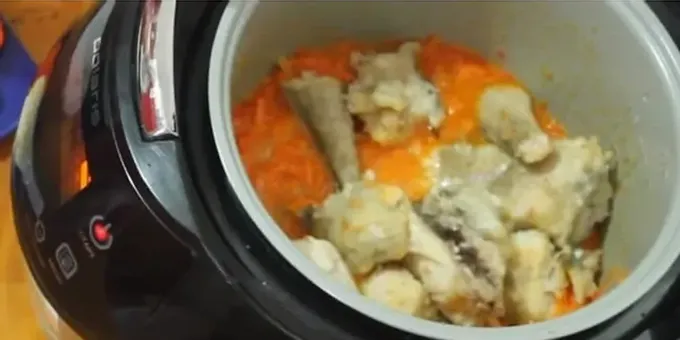 Cover the multicooker with a lid, change the "Frying" mode to the "Extinguish" mode. In 20 minutes. the dish is ready.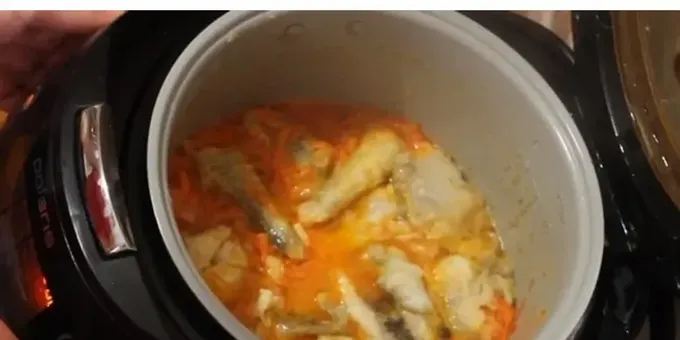 I suggest watching a video with a simple preparation of fried pollock under a marinade in a slow cooker.
Serving and decoration
Pollock under the marinade is an independent fish dish. It is eaten hot and cold. Sometimes with a side dish, but more often they serve sea fish under a vegetable "blanket" separately, as an appetizer. Chopped greens or whole sprigs of dill and fresh leaves of parsley, celery, cilantro are used as decoration.
Recipes for the holiday table
Any feast is rarely complete without original cooked seafood. I offer a choice of several fish dishes as an excellent cold appetizer. As an option, cook two or three types of batter, and you will get excellent and different fish dishes:
squid rings in batter will look festive on the table, the most important thing is that they are prepared simply and quickly;
children really like crab sticks in batter, and this dish can become the main decoration of a children's holiday table;
treat your friends to fried pink salmon - the most versatile dish of all existing fish snacks;
looks good on the table, with amazing taste cod in batter, see how quickly the fish dish simply disappears from the table;
well, and under the "curtain" I propose to prepare the sole in batter for the New Year's table as a unique homemade delicacy.