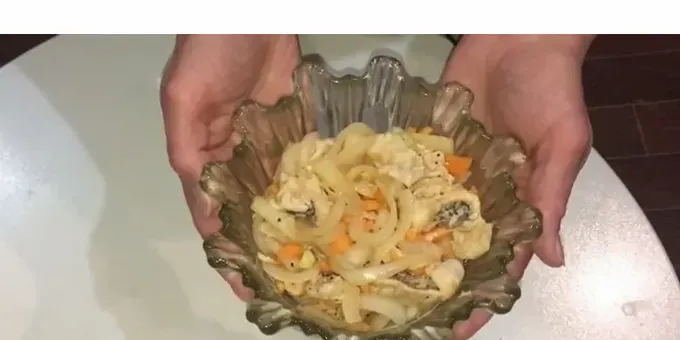 Oriental and East Asian cuisine has occupied a significant position in the domestic cuisine. Spicy, spicy and unusual for our taste dishes have become much more often served both for family dinners and for festive feasts. Today, you rarely surprise anyone with salads or appetizers made according to traditional Korean recipes.
So I want to share with you how to make hee from pike, based on the simplest recipe. I draw your attention to the fact that the dish is not cooked on fire and is not baked, but is considered raw-boiled in acetic acid, and not in table 9% vinegar. This is precisely the cold cooking of tender fish meat. And the ideal super-spicy seasoning for this dish was, is and remains soy sauce.
Recipe for classic Korean pike hye
Ingredients
| | |
| --- | --- |
| Name | Quantity |
| Pike (large) | 1 fish |
| Onion | 1 PC. |
| Carrot | 5-6 pcs. |
| Garlic | 2 cloves |
| Vinegar essence 70% | 1 st. l. |
| Paprika | 1 tsp |
| coarse salt | 1 st. l. |
| Black peppercorns | 8-10 pcs. |
| Seasoning for fish | optional |
How to choose the right ingredients
To prepare a Korean snack, you can buy absolutely any, both freshwater (river, lake, pond), and sea or ocean fish.
The size of the fish carcass is not of fundamental importance, but it is advisable to choose a large individual.
In heh, you can add any "Seasoning for fish" to your liking.
Korean Traditional Fish Appetizer Step by Step
The principles of cooking traditional Korean hye fish from pike or from any other fish are identical. The procedure for preparing this salad appetizer is also the same. Initially, three simple steps should be taken - remove the scales from one large pike, gut and wash the fish, and then cook the fillet from the pike carcass:
With a sharp knife, run along the back, cutting to the ridge.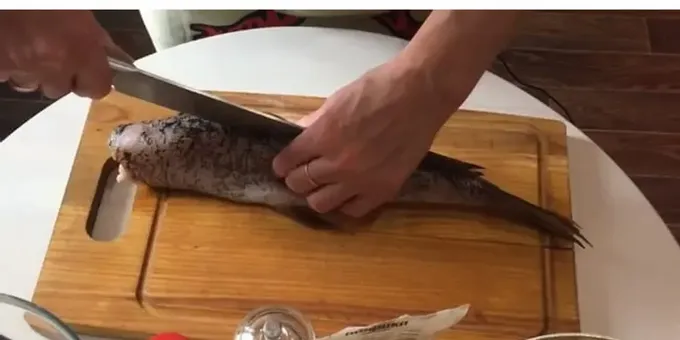 Remove dorsal fin.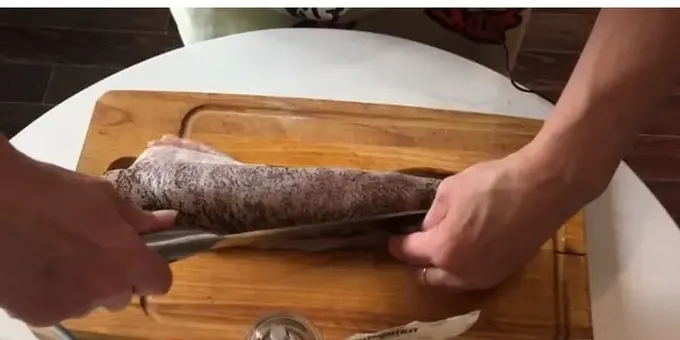 Next, cut out the pelvic fins.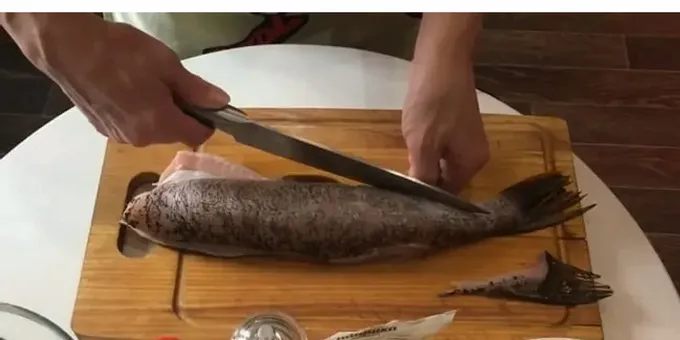 Cut off the tail fin.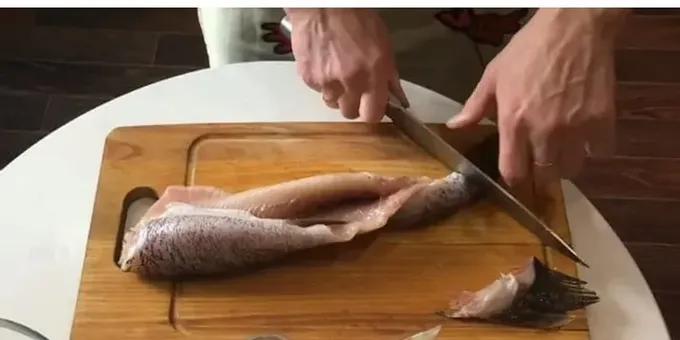 Using a knife, remove the meat from the ribs and free the fish skeleton from the pulp.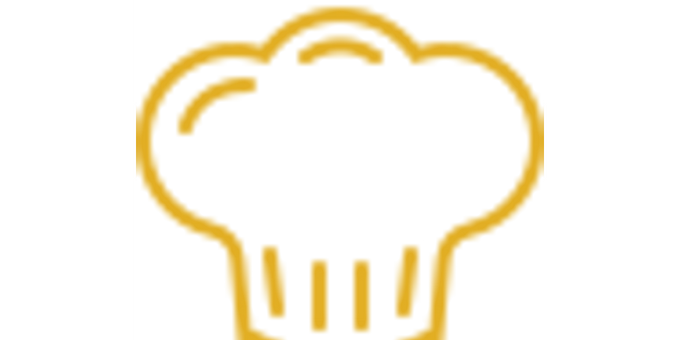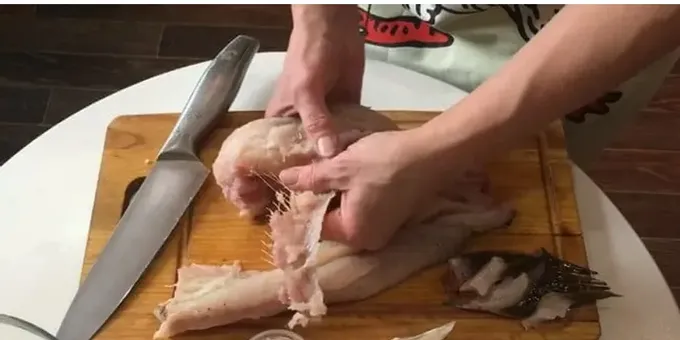 Marinating pike
Divide each pike fillet lengthwise into two parts.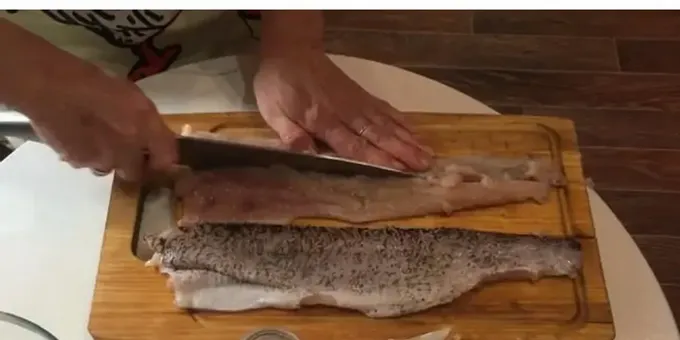 Cut the dorsal, more fleshy part into sticks, 0.5-1.0 cm thick.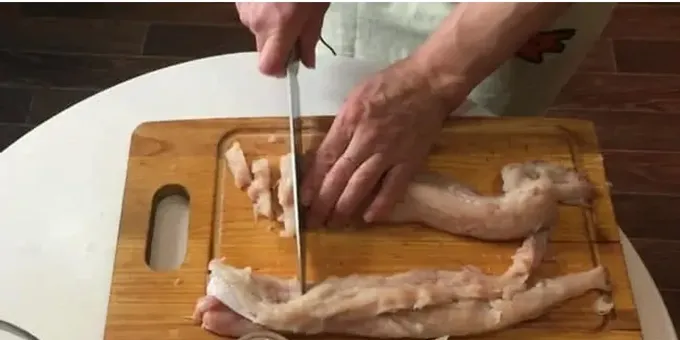 Dissolve the abdominal part in pieces, 1.0-1.5 cm thick.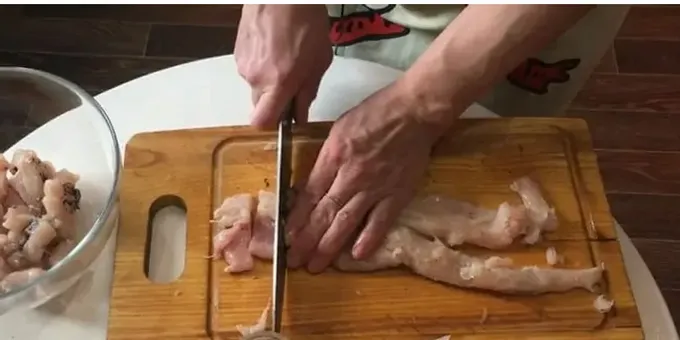 Place the sliced ​​pike into a large bowl. Add to fish 1 tbsp. l. salt.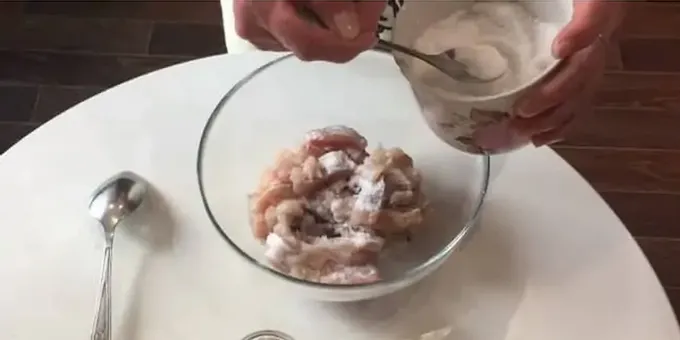 Pour an incomplete tablespoon of 70% acetic acid there, and mix thoroughly.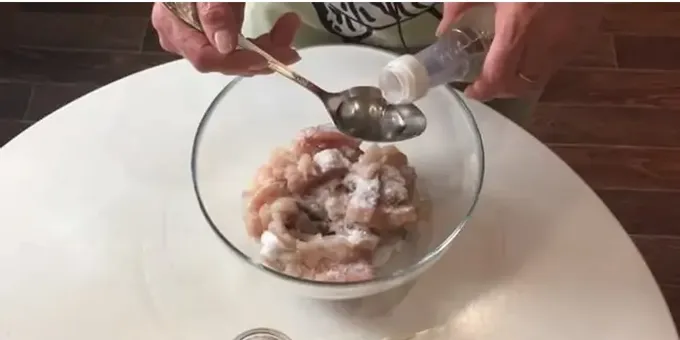 Cover the bowl with the fish with a plate and set aside for 15-20 minutes. for pickling.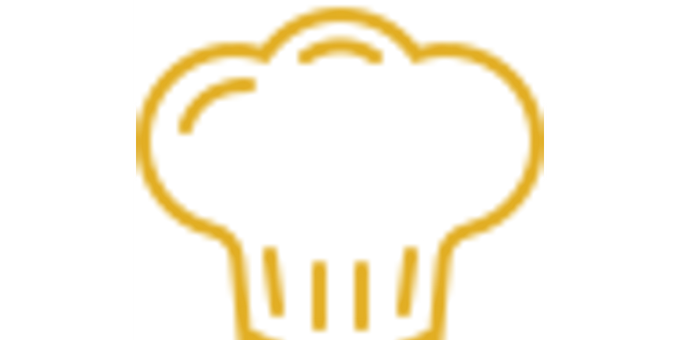 Important! Under the influence of acetic acid, the bones of river fish are thoroughly softened, and small ones even dissolve, so there is no need to remove them from pike fillets.
While the pike is marinating, you need to prepare the vegetables.
Dissolve one large onion into thick half rings and put in a cup.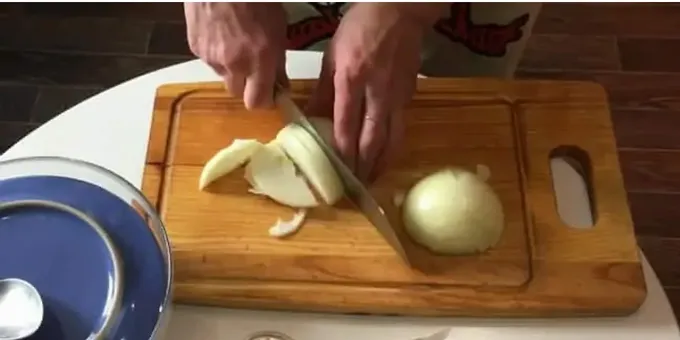 Manually or on a special grater, chop 5-6 medium carrots into thin strips and put them on the onion.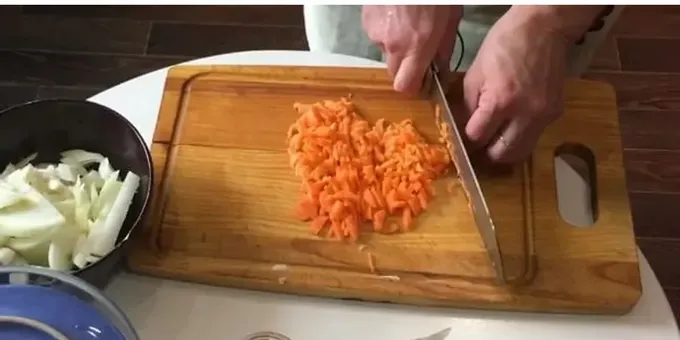 Grind two cloves of garlic either with a press, or crush with the flat side of a knife, chop and send the garlic to the rest of the vegetables.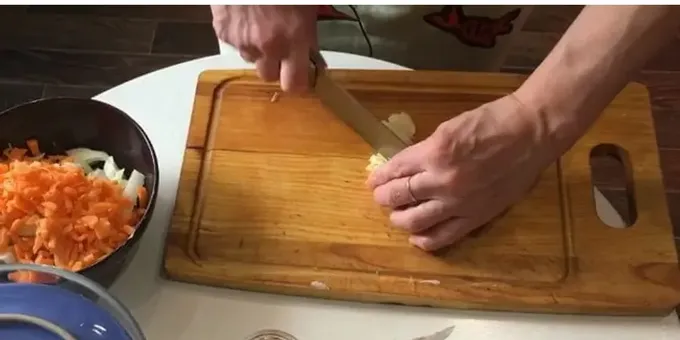 Pike heh marinated at home - small pieces of fish, change color and become white in a quarter of an hour. The fish gives juice, which in no way needs to be poured out.
cooking heh
Mix the fish in a bowl thoroughly. Combine marinated pike pieces with chopped vegetables and mix by hand.

Pour 1 tsp into the contents of the bowl. paprika.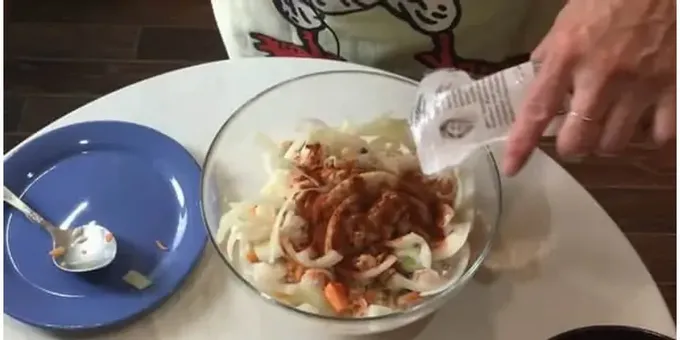 Fill the prepared dish with freshly ground black pepper, or 8-10 black peppercorns crushed in a mortar.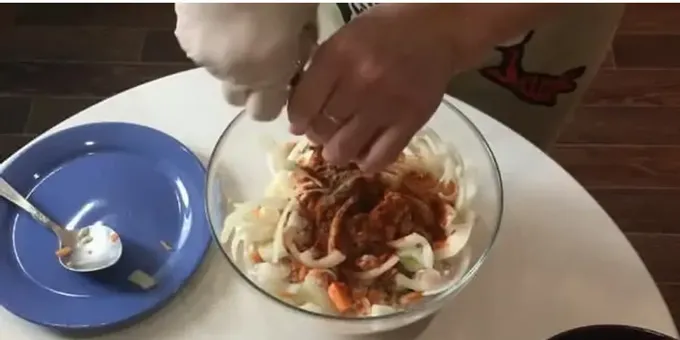 Mix the contents of the bowl again, compact and put under oppression for two hours.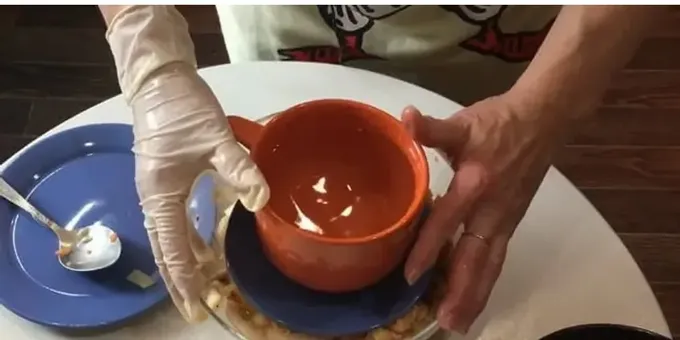 After two hours, mix the fish with vegetables again, put in the refrigerator for 7-8 hours, and only after that he can be served in Korean.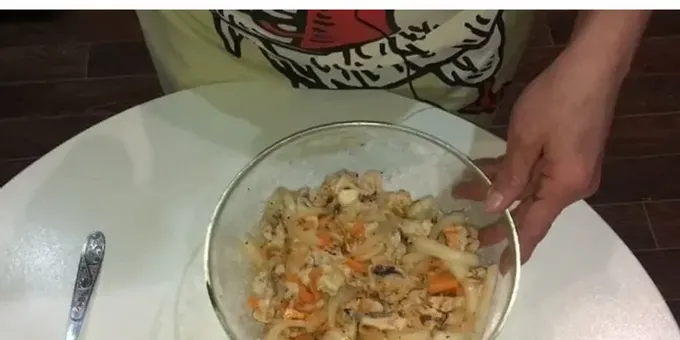 A short master class of cooking heh from pike in Korean style with carrots. A must-see for everyone, as the author of the recipe gives extremely important advice.
And you can also find out how easy and simple it is to prepare canned river fish at home for the winter.
Game of taste and serving heh
Hye is a traditional Korean dish served as a light, low-calorie snack. The same dish can be served at the table for a quiet family dinner.
The level of sharpness and piquancy is perfectly regulated by all kinds of spices. A little more red hot pepper, and heh will turn out spicy. By adding suneli hops, the taste of the dish will acquire delicate spicy shades. Fresh cilantro leaves will give a piquancy, and a few drops of soy sauce will give a unique, truly "Korean" taste.
Common truths
Traditional Korean hye is prepared only from well-chilled, but not from frozen fish.
They clean the fish carcass very carefully, removing all the black thin film from the intrauterine part.
It is better to remove the skin from the fish carcass for cooking heh to make the dish more tender.
Healthy Recipes
The diet of a person should be complete, the menu should be varied, and the food should be tasty and nutritious. I offer a small selection of recipes for second and first courses to diversify the daily menu.
Try to cook a very interesting fish dish, for some reason attributed to Polish cuisine (although the Poles themselves are surprised by this), and try out the recipe for fish in Polish with an egg, suggesting a new dish to your home. Be prepared for the fact that the reaction of admiration for your culinary talent can be quite violent.
What about traditional Korean food? Take an interest in the funchose recipe with chicken and vegetables for a variety of homemade dinners. You will definitely like it, and you will often cook oriental dishes based on "glass" noodles.
As for quick first courses, all kinds of hodgepodges are good in winter:
Serve a hot hodgepodge with sausage and pickles according to an instant recipe to household members who have come from frost, and you will turn out to be the most skilled hostess;
no less tasty is the recipe for making a hodgepodge with sausage and smoked meats, which is also served piping hot;
Well, for home gourmets, I suggest that you familiarize yourself with and make friends with the recipe for hodgepodge with sausage and olives, which can become the signature dish of your home.