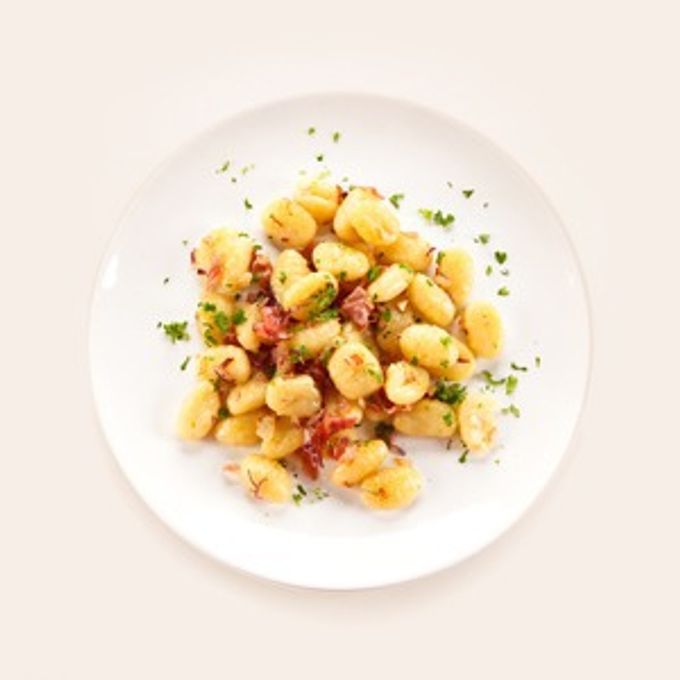 Gnocchi from semolina - instead of porridge from an ax
Last week we talked about the fashion for peasant food and how the "poor" cuisine turned into a rich one. Culinary delights inspired by country food are great, but what about when there are a couple of thousand rubles left before the salary or when the purchase has to be made in conditions of a very average assortment? For when you want to adequately feed yourself and loved ones. And the harsh reality limits the fantasy, we have prepared five recipes for basic budget dishes of varying degrees of complexity. All of them are nutritious and consist almost entirely of available local products. The ingredients are simple, but in order for them to open as expected, you have to tinker with an hour or two. But at the exit you will get a delicious dinner at minimal cost. All recipes are for 2-3 servings.
Warm salad with seasonal vegetables
Roasted pumpkin and beets are great for salads and pair perfectly with soft cheese, but often we forget about it, obsessing over pumpkin soups and vinaigrettes. If you have nuts lying around, lightly dry them in a pan and chop them - they will complement the dish.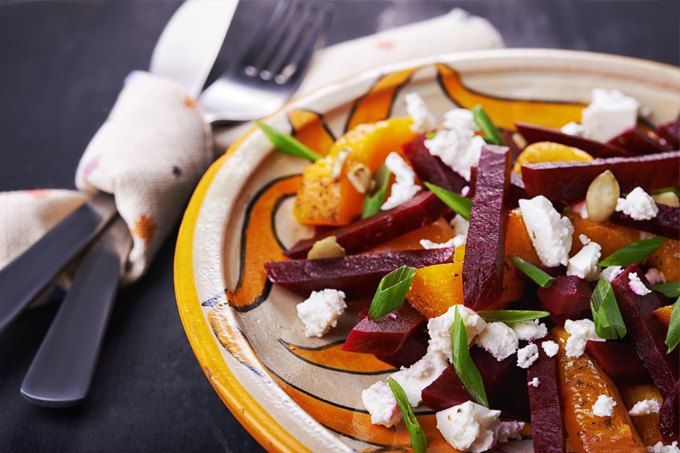 Ingredients:
small pumpkin - ⅓ pc.
small beets - 3 pcs.
red onion - ½ pc.
pomegranate - 1 pc.
feta cheese - 75 g
herbs (rosemary, thyme or fennel)
1 bunch
For refueling:
wine vinegar - 1 tbsp. l.
olive oil - 3 tbsp. l.
mustard seeds - ½ tsp
Cooking:
Preheat oven to 190 degrees. Remove the seeds from the pumpkin, cut it into large oblong slices. Peel the beets and onions and cut into six equal slices. Put the vegetables on a baking sheet, then sprinkle with herbs and lightly drizzle with olive oil. Grind the coriander seeds with salt and black pepper, season the vegetables with the spice mixture and bake for about 40 minutes. When the vegetables begin to caramelize and turn golden brown, remove them from the oven and remove the herbs.
Place the vegetables in a salad bowl and let them cool slightly. Mix dressing ingredients and pour over warm vegetables. Cut the pomegranate in half and remove the skin, remove the seeds and add them to the vegetables. Sprinkle the salad with chopped feta and toss lightly.
White fish ear
There are an incredible variety of fish soup varieties - soon we will share recipes for fish soups from different national cuisines. This fish broth is an easy way to make the most of your base foods. Any fish will do.
Ingredients:
white fish (cod, catfish, grass carp) - 400 g
potatoes - 2 pcs.
carrots - 1 pc.
onion - 1 pc.
bay leaf - 1 pc.
dill, parsley
peppercorns
salt
Cooking:
Peel the vegetables, cut the potatoes into large slices, carrots into strips. Clean the fish, gut and cut into cross pieces. If using a fillet, cut it into large cubes. Send a whole onion to boiling water, salt to taste, add pepper and cook for 5 minutes. Then add potatoes and carrots and cook for about 25 minutes. Remove the onion from the soup - it has worked its way out, giving the broth a taste and smell. Now put the fish in the pot and bring the soup to a boil. Add bay leaf and chopped herbs, season the soup with pepper and keep on fire for another 5 minutes.
Ratatouille with eggplant
This Provencal dish is in many ways similar to the Hungarian lecho. The name comes from the words "rata" (colloquial food) and "touiller" (stir) and alludes to the peasant origin of the dish. Eggplants were not included in the original recipe, but now you can't imagine ratatouille without them. Tomatoes are better to choose fleshy, without a large number of seeds.
Ingredients:
eggplant - 1 pc.
zucchini or young zucchini - 1 pc.
tomatoes - 2 pcs.
olive oil
vinegar - 2 tbsp. l.
parsley
salt
ground black pepper
For sauce:
tomato - 1 pc.
sweet pepper - 2 pcs.
garlic - 3 cloves
onion - 1 pc.
bay leaf - 1 pc.
thyme - a couple of sprigs
olive oil
salt
Cooking:
First, prepare the sauce. Chop the onion, remove the seeds from the peppers and cut into cubes. Remove the skin from the tomato, take out the seeds and chop finely. Saute onion in olive oil until soft, add minced garlic. As soon as it gives off a smell, throw pepper and tomato into the pan. Add some thyme and bay leaf, salt and simmer over low heat. When the vegetables soften, the sauce is ready.
Cut eggplant, zucchini and remaining tomatoes into thin slices. Lay some of the sauce on a baking sheet, then lay slices of tomatoes, eggplant and zucchini in several layers. Put the baking sheet in the oven, preheated to 200 degrees, and bake until the top layer of vegetables is golden brown. Mix olive oil, minced garlic, vinegar, salt and pepper. Spread the mixture evenly over the surface of the dish. Season the ratatouille with finely chopped parsley.
Chicken baked with vegetables
It seems to be the most boring dish imaginable. But no: few people can bake the perfect chicken, because here there are some life hacks. Feel free to stuff the bird with any fruit you find in the kitchen: the goal is to achieve sweet and sour juice and a delicate aroma. Apples, plums, pears or quince are quite suitable.
Ingredients:
chicken - 1 pc.
onion - 2 pcs.
carrots - 2 pcs.
garlic - 1 pc.
lemon - 1 pc.
apples - 2 pcs.
fresh herbs (thyme, rosemary or sage) - 1 bunch
olive oil
ground black pepper
salt
Cooking:
Take the chicken out of the refrigerator half an hour before cooking. Preheat the oven to 240 degrees. You don't need to peel the vegetables - just wash and cut them (we don't peel the garlic cloves either, but you can crush them slightly). Put the vegetables in a deep baking dish, drizzle with olive oil and send to the oven. Brush the chicken with olive oil and then season with salt and pepper. Cut the apples into large slices, and make many holes in the lemon with a thin knife or fork. Stuff the chicken with fruits and herbs and place on a baking sheet on top of the vegetables.
Reduce the temperature in the oven to 200 degrees and bake the dish for 80 minutes. If vegetables lose moisture too quickly during cooking, after 40 minutes of baking, splash some water on them. Remove the cooked chicken from the oven, cover with foil and leave to "rest" for 15 minutes. To divide the bird into portions, remove the fruits and herbs from the bird, make a neat cut between the leg and breast, and separate the legs one by one.
Cheese gnocchi with semolina
Gnocchi is a dumpling from Italy. They are oval and round, large and small, made from semolina, wheat flour, potatoes or polenta, with or without eggs - in general, how many Italians, so many recipes. We offer in every sense a light, but close to authentic version of ricotta with semolina. These gnocchi are very tender, fragrant and sweetish in taste.
Ingredients:
semolina - 600 g
ricotta - 250 g
basil - a couple of sprigs
grated nutmeg - 1 pinch
zest of ¼ lemon
ground black pepper
salt
Cooking:
Mix lemon zest, basil and ricotta. If you have parmesan, add that too. Salt the mass, season with pepper and nutmeg. Pour most of the semolina onto the tray so that you get an even layer about 1 cm wide. Take one spoon of the cheese mixture. To give the gnocchi the correct shape, you need to transfer each of one dessert spoon several times to another.
Spread the gnocchi on the semolina tray as they cook (they should not touch each other). Sprinkle the gnocchi with the rest of the semolina and leave for 2 hours: during this time they will become strong and will not fall apart during cooking. Drop the gnocchi into salted boiling water and cook for 2 minutes until they float. The dish can be served with a little butter, sprinkled with parmesan and basil.
Things to know (Q&A)
What is the cheapest thing to make for dinner?
24 Cheap Dinner Ideas For When Life Gets Expensive
Chili Cheese Dog Casserole. Ingredients: 6. ...
Ingredients: 10. Servings: 4. ...
Easy Tater Tot™ Hotdish. Total: 1 hr 10 min. ...
Fried Spaghetti. ...
Tex-Mex Beef and Rice Skillet. ...
3-Ingredient Cheddar-Bacon Chicken Breasts. ...
Vegetable Ramen Pad Thai. ...
5-Ingredient Chicken Alfredo Bubble-Up Bake.
How do you feed a family of 5 for $10?
10 Family Dinners Under $10
Quick and Easy Sloppy Joes. ...
Philly Cheesesteak Pasta Skillet. ...
5-Ingredient Family-Friendly Baked Potato Soup. ...
French Onion Frittata. ...
Slow Cooker Chicken Tikka Masala. ...
Slow Cooker Chicken Parm Meatballs. ...
One-Pot BBQ Chicken Burrito Bowls. ...
Tomato Tortellini Soup.
What can I cook on a low budget?
Breakfast meals
Scrambled eggs. Simply crack several eggs into a bowl (three per person is a good number) and rapidly stir them with a fork until the yolk is well combined with the egg white. ...
Slow cooker steel cut oats. ...
Egg and bean burritos. ...
Overnight oats. ...
Lentil stew. ...
Chili. ...
Ham and beans. ...
Grilled cheese and tomato soup.
What is a cheap healthy dinner?
10 Healthy Dinners for About $10
10 Healthy Dinners for About $10. ...
Roast Chicken and Vegetables. ...
Antipasti Penne. ...
Vegetarian Tortilla Casserole. ...
Breaded Pork Chops with Apple-Cabbage Slaw. ...
Bacon and Broccoli Rice Bowl. ...
Beefy Stuffed Sweet Potato. ...
Bean, Kale and Egg Stew.
What can you cook for $5?
Make These 28 Amazing Meals For $5 or Less
Kimchi Fried Rice. ...
Italian Mac and Cheese. ...
Barbecued Black-Eyed Peas. ...
Spaghetti With Garlic, Olive Oil, and Chili Flakes. ...
Pasta Carbonara. ...
Roasted Shrimp Over Spaghetti Squash. ...
Spicy Sloppy Joes. ...
Warm Tofu With Spicy Garlic Sauce.
What to cook for under $10?
16 Inexpensive Recipes You Can Make For Less Than $10
White Cheddar Mac and Cheese With Chicken and Broccoli. ...
Buffalo Chickpea Wraps. ...
Bean and Cheese Burritos. ...
Sheet-Pan Crispy Chicken Strips and Veggies. ...
Roasted Sausage With Broccoli and Fennel. ...
Penne Aglio e Olio. ...
Five-Ingredient White Chicken Chili. ...
Chickpea Masala.
What is the easiest thing to cook for dinner?
Top 10 Easy Dinner Recipes
Baked Spaghetti Recipe.
Stovetop Burgers – How to Cook Burgers on the Stove.
Italian Stuffed Shells with Meat and Cheese.
Creamy Chicken Tortilla Soup Recipe.
Baked Ranch Chicken with Bacon (Chicken Bacon Ranch)
Parmesan Crusted Tilapia Recipe (Baked Lemon Pepper Tilapia)
Oven Fried Chicken Breast.
How can I feed a family of 5 for cheap?
7 Proven Steps to Feed a Family on a Tight Budget
Learn to cook from scratch. ...
Go for wholesome, high nutrient ingredients. ...
Shop by special sales not by a meal plan. ...
Eat some and leave some. ...
No chips, crackers, and soft drinks. ...
Minimize snacks. ...
Grow your own food.
What meals can you make for under $10?
16 Inexpensive Recipes You Can Make For Less Than $10
White Cheddar Mac and Cheese With Chicken and Broccoli. ...
Buffalo Chickpea Wraps. ...
Bean and Cheese Burritos. ...
Sheet-Pan Crispy Chicken Strips and Veggies. ...
Roasted Sausage With Broccoli and Fennel. ...
Penne Aglio e Olio. ...
Five-Ingredient White Chicken Chili. ...
Chickpea Masala.
What food can you buy with $10?
Here is a list of groceries that can be purchased for approximately $10. This list assumes you have a very bare pantry.
...
Surviving on a Budget, $10 Grocery List
Baking Powder (MYO!)
Eggs.
Flour.
Fruits (on sale)
Hamburger.
Rice or Ramen Noodles.
Margarine.
Milk.
What is the cheapest healthiest meal?
Prices may vary based on the store, location, and time of year.
Brown Rice. Great for: Side dishes, rice salads, fried rice, casseroles, soups, and stews. ...
Whole-Wheat or Multigrain Pasta. ...
100% Whole-Wheat Bread. ...
Nonfat Greek Yogurt. ...
Old-Fashioned Oats. ...
Frozen Vegetables. ...
Russet Potato. ...
Fresh Bagged Spinach.
•
What is the cheapest thing to eat for dinner?
Cheap family meals for dinner
Grilled cheese. Nothing says an easy dinner like grilled cheese. ...
Skillet meals. Skillet meals are cheap and fast to whip up any dinner on a weeknight. ...
Sheet pan dinners. ...
Spaghetti. ...
Pizza. ...
Baked potato bar. ...
Tacos. ...
Quesadillas.
What is the healthiest dinner to eat?
10 Simple Dinner Ideas for Healthy Eating in Real Life
Stuffed sweet potatoes. Sweet potatoes are loaded with beneficial nutrients like beta carotene, vitamin C, potassium, and fiber ( 1 ). ...
Grain bowls. ...
Veggie loaded frittatas. ...
Dinner salad. ...
Loaded brown rice pasta. ...
One-pot soups. ...
Curry. ...
Burgers.
How can I eat healthy and cheap?
Get two meals for the price of one by taking home half of your big restaurant meal. You can even ask your server to only serve you half on the plate and package the other half in a take-out container. This technique works especially well for restaurants that are notorious for serving mammoth-sized meals.