Shows and tells Eric Le Provost, chef of the restaurant Le carré
In autumn, canning becomes the main entertainment. And when pantries are filled to capacity with obligatory pickles and marinades, we exhale a little, and then the time for a beautiful life comes. For example, you can take and cook onion jam - the perfect dip for sandwiches and burgers, a suitable addition to baked poultry, cheeses or pates. And also as a spread, if you come across delicious bread.
We decided to get into all the intricacies of preparing onion confiture, for which we invited Eric Le Provost, who heads the kitchen of the Le carré restaurant, one of the most famous French chefs who settled in Russia, to our studio.
"Onion jam is the simplest thing that does not require complex products or skills, but it needs patience. The fact is that all the time while the onion is being cooked, it must be constantly stirred - first to fry, then to quickly expel the juice from it, and then - so that it does not burn out. Here are a few nuances.
Firstly, I use white onions for cooking: they are sweeter and more tender, but can also be cooked, for example, from red.
Secondly, I make refined olive oil confiture: I like it better, it's delicious, and this recipe is suitable for those who do not eat animal fats. But it is also prepared with butter: it makes the confiture more tender and helps the onion get a light caramel crust faster.
And thirdly, pepper is very important in this dish, which must be added at the very end so that it does not accidentally burn. I do not advise taking black: it is best suited for meat, and it will spoil the color of the confiture. White pepper goes best here: it is more elegant and more complex."
One.
Pour the olive oil into a deep, heavy-bottomed saucepan. Turn on medium heat: the oil should heat up gradually, not abruptly.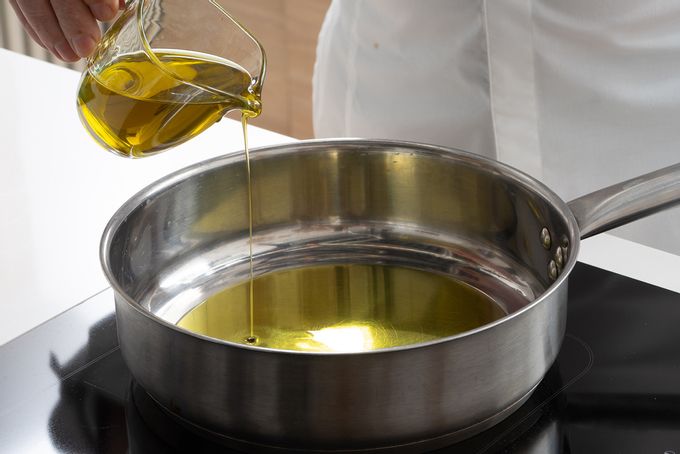 2.
While the oil reaches the desired temperature, cut the onion into thin strips. The thinner the onion is sliced, the softer the texture will be. Ideally, if the thickness of the straw is 1 mm.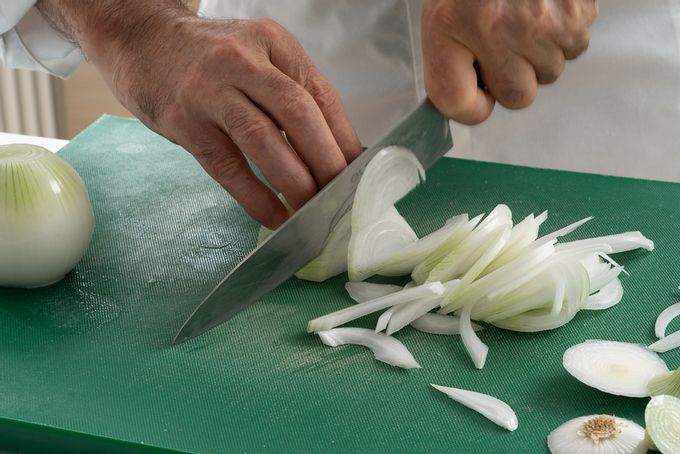 3.
Send the onion to a saucepan with olive oil. Turn on high heat and fry for about 10 minutes. First, the juice will begin to come out of the onion, which will quickly begin to evaporate. If it seems to you that the moisture comes out slowly and the onion does not lend itself to stewing, add a little salt to it. After 10 minutes, the onion should become transparent, if this does not happen, add a few more minutes to cooking.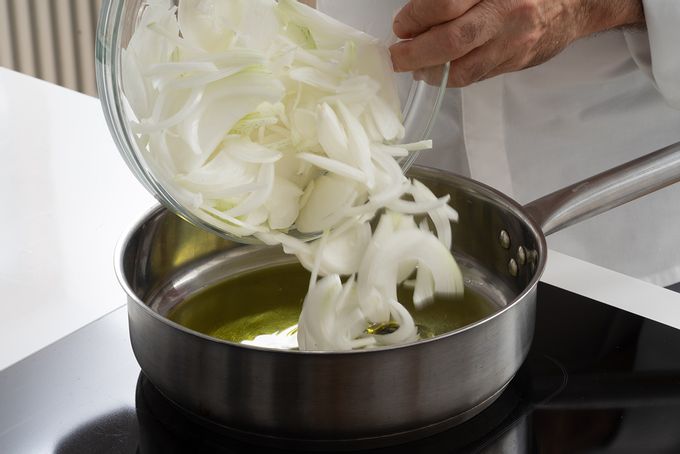 4.
When the moisture has evaporated, turn the heat to medium and simmer the onion until it becomes soft. Before lowering the fire, I advise you to listen to what is happening in the saucepan. If you hear the sound of frying, then there is nothing left of the onion juice and the fire needs to be turned down. A burnt onion is not needed here.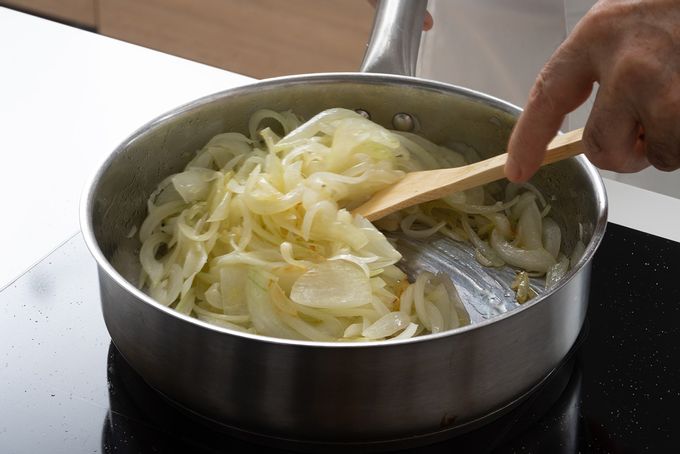 5.
Add honey to the onion, increase the heat and fry for another 2 minutes, stirring constantly. It's great if the honey is liquid: it will be easier to quickly distribute it over the onion mass. At this stage, the onion will acquire a light caramel crust.
6.
Remove the thyme leaves from the sprig. Add them to the onion. Send one or two pinches of ground cinnamon there too. Stew the future confiture until a confident caramel color.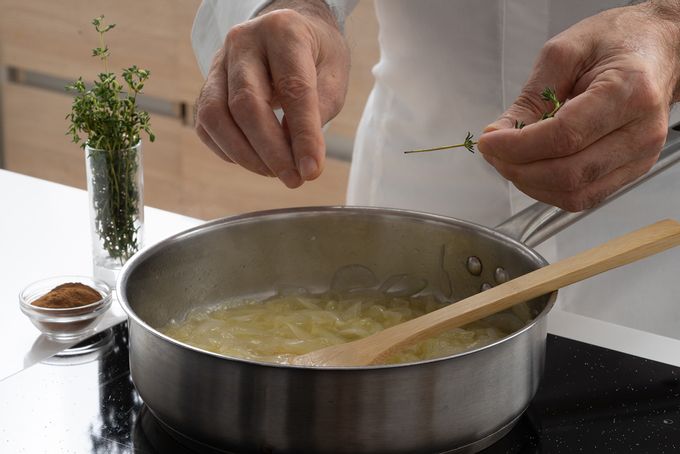 7.
Pour vinegar into the almost ready confiture. Simmer it over low heat, stirring gently.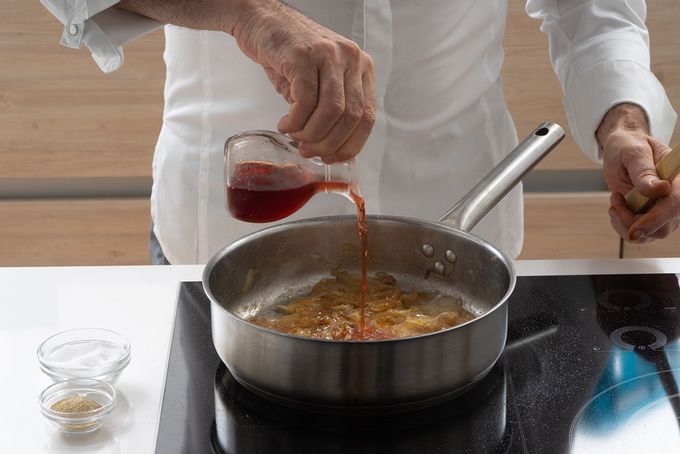 Eight.
When the vinegar has evaporated, the confiture is ready. Add salt and pepper to it, to taste. And in no case do not try to put the pepper before: if it burns during cooking at high temperatures, then the confiture will have a pungent bitter taste. Eat immediately or put in a clean glass jar. You need to store confiture in the refrigerator, preferably no more than a month.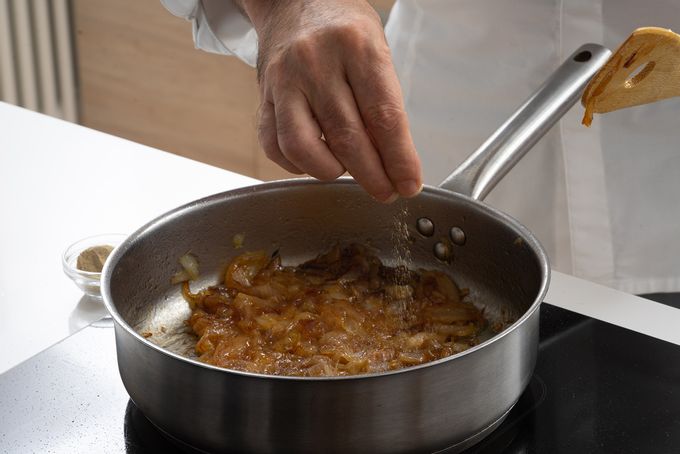 Things to know (Q&A)
What is onion jam made of?
Of course, you will have classic standbys like ketchup and mustard but why not take your burger game to the next level with toppings like Onion Jam, a sweet and savory jam comprised of soft onions with a little bit of bite , some mild heat from the black pepper, and a depth of sweetness and rich flavor from the balsamic .
How long does Onion Jam last in fridge?
two weeks

Add stock, vinegar, and sugar and cook uncovered, stirring occasionally until onions are caramelized, about 30 minutes. Season with salt and let jam cool completely. Jam will last in the fridge covered for up to two weeks
What do you eat with onion marmalade?
What to do with leftover onion marmalade
Marinated roast chicken thighs. Rub free-range chicken thighs and drumsticks with salt, pepper, fresh thyme and plenty of onion marmalade. Marinate for an hour. ...
Oniony cheese on toast. Spread a thick layer of onion marmalade onto 2 slices of sourdough.
How long does caramelised onion keep?
If you don't manage to eat all of your caramelized onions, you can store them easily. They'll keep in the fridge for up to four days . You can also freeze them for up to three month
Can you freeze caramelized onion jam?
Stashed in an ice cube tray, caramelized onions will keep indefinitely in the freezer . But take a BIG PAUSE here. Do not use your fancy cocktail ice tray to freeze them. You're going to want a dedicated tray for what's to come (pro tip: label it
How do you preserve caramelized onions?
Caramelized onions keep well in the refrigerator for about 5 days . This recipes makes about 4 cups. Freezing is a great option to make sure you always have some on hand. You can store them in any air tight container or plastic ba
Can caramelized onions be canned?
To can your lovely caramelized onions, you must pressure can them because onions are low-acid food. Follow your pressure canner manufacturer directions. Prepare jars, lids and rings for canning. (I use wide-mouth half-pints, quilted canning jelly jars or pints
What do you eat with red onion marmalade?
Add it to eggs in the morning, spread it on a sandwich for extra flavor or use it as a topping for fish or chicken at dinner time. And for snacks, serve with a goat cheese or cheddar and baguette slices
What is onion marmalade used for?
Onion marmalade is a sweet and savory jam-like spread made mainly from cooked onions. It is used as a spread to put on many different kinds of food, including meat, crackers, and bread .
What do you eat onion chutney with?
Chutney works best in beef or ham sandwiches , however, they also work perfectly well in a salad sandwich. Cucumber, lettuce, tomatoes, and horseradish with a spread of chutney will definitely make your customers coming back for more. There's nothing nicer than dining out on a Sunday with your family and friends.
Why is onion marmalade called marmalade?
However, this recipe is often called a marmalade – most likely because of the stringy pieces of onion which could resemble stringy pieces of orange rind in a traditional marmalade