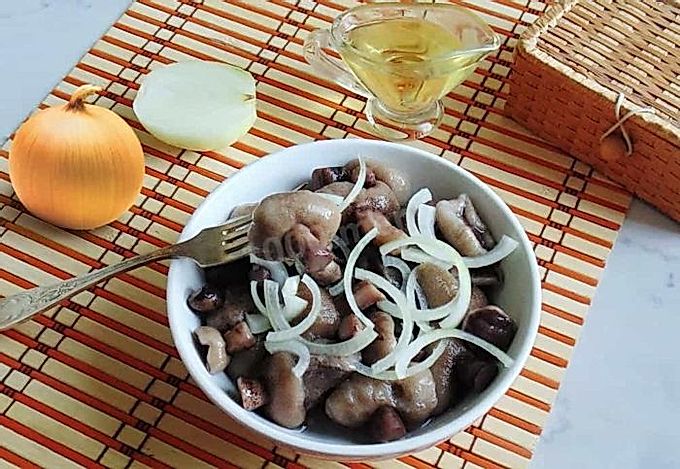 Pickled butter for the winter is one of the best homemade snacks. Mushrooms go well with meat, fish, fried potatoes. In addition, they can be added to pizza, pies, pancakes. Marinating mushrooms is not as difficult as it might seem. Find out the easiest and most popular recipes for pickling butter.
Preparation of butter for harvesting for the winter
For canning, it is necessary to select small or medium-sized mushrooms, clean them of forest dirt, and then rinse thoroughly. After rinsing, fill them with cold water for 20 minutes. Mushrooms need to be dipped in slightly salty water, and preferably in boiling water. Cook for 20 minutes.
Unlike the mushrooms themselves, the jars must be sterilized. This procedure will disinfect the jars from harmful microorganisms and increase the shelf life of future pickles. To sterilize jars, you must:
Preheat the oven to 100-120 degrees.
Rinse jars and lids thoroughly and place inside the oven. If the container is wet, then it must be placed with the neck down to evaporate the water. A dry jar, on the contrary, with the neck down.
Leave the jars with lids in the oven for 15 minutes. For three-liter containers, it will take more time - about 22-25 minutes.
Butter recipes for the winter
There are many different classic recipes for pickling butter, but they all differ from each other. Pay attention to the most popular recipes for making pickled butter for the winter in jars.
Without sterilization
In order to pickle butter in a half-liter jar without sterilization, you will need the following products: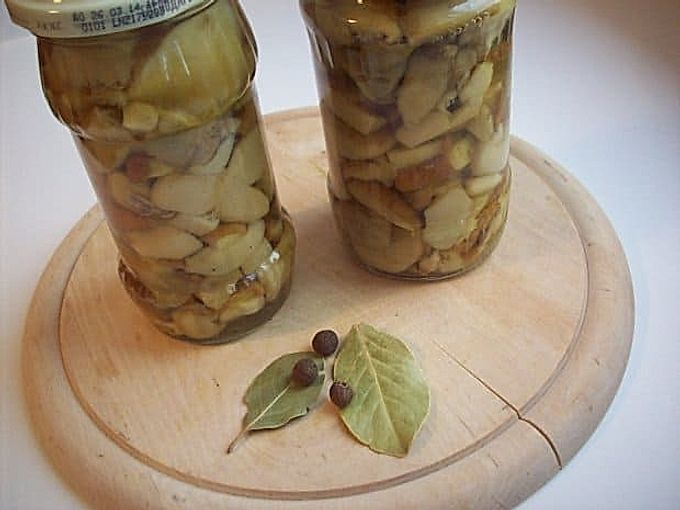 750 g of mushrooms;
1 liter of water;
1 tbsp. l. vinegar;
1/2 tbsp. l. salt;
1/2 tbsp. l. Sahara;
3 black peppercorns;
4 leaves of lavrushka.
Step by step recipe:
Boil the mushrooms for an hour, and then transfer to a container of water.
Add all loose components and wait for a boil, do not remove from heat for about 5-7 minutes.
After the time has elapsed, add vinegar and add the remaining ingredients.
Divide the butter into pre-prepared containers.
Close the jars tightly and wrap them in heat-preserving cloth.
Unsterilized boletus can have a long shelf life, up to about one year.
This option can be presented as an independent appetizer to the table by mixing mushrooms with sour cream. This should certainly please guests or household members.
With carrots
Ingredients: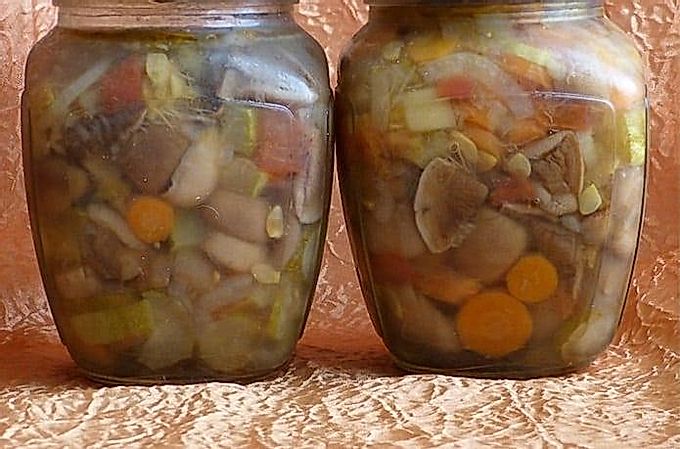 1.5 kg of mushrooms;
3 leaves of lavrushka;
3 pcs. allspice;
3 carnations;
3 g citric acid;
2 tbsp. l. salt;
1 tsp Sahara;
2 tbsp. l. table vinegar;
1/2 tsp cinnamon;
1 onion;
1 medium carrot.
Preparation:
Boil butter in salted water for 20 minutes. Place on a sieve and rinse.
Chop the onions and carrots in any convenient way.
Prepare the marinade: put all the vegetables in it, add spices. Boil.
Put butter in the resulting brine and add water so that it exceeds the level of mushrooms.
Bring the marinade to a boil and cook for about 12 minutes.
Quickly pour the pickles with mushrooms into the cooked jars. It is necessary to top up the marinade along the neck of the container.
Preserve the jars tightly, turn them over and wrap them in a warm towel until they cool completely.
Store pickles in a dark and cool place.
Reference! Lemon juice is optional. Thanks to him, mushrooms do not lose their own color (do not turn black).
With 9% vinegar in jars
Ingredients: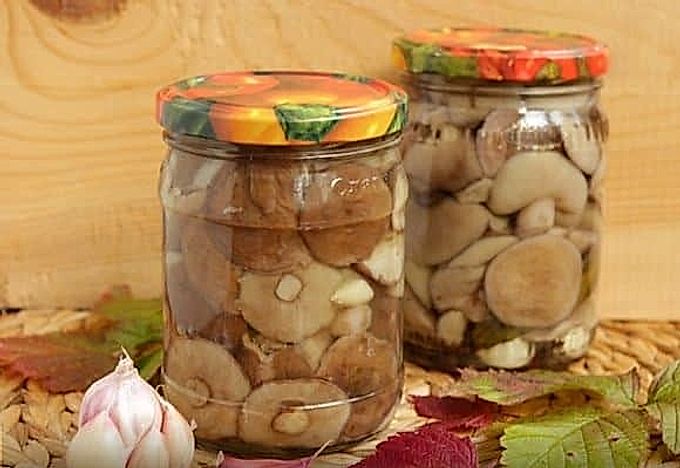 1 kg of oil;
1 liter of water;
9% percent vinegar;
0.5 tsp salt;
2 tbsp. l. Sahara;
if desired, you can add lavrushka, cinnamon, allspice, cloves.
Recipe:
Peeled butter must be boiled in a saucepan, adding sugar and salt. Remove the formed foam. You need to cook until the mushrooms settle. After that, you need to let the boils cool down.