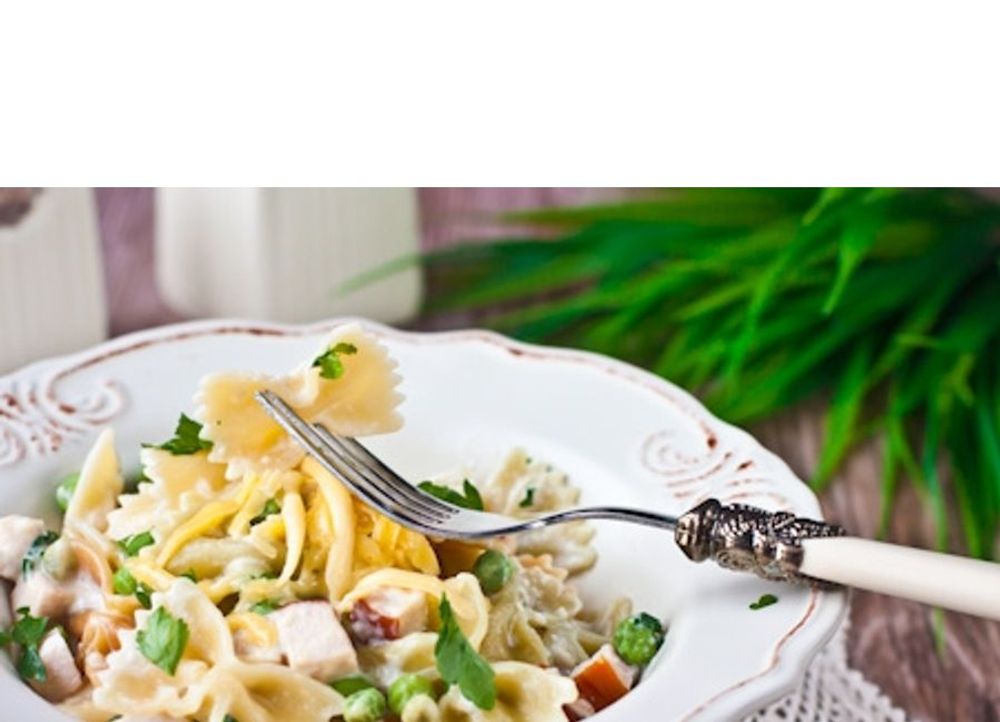 Creamy cheese sauce is perfect with pasta and smoked flavors, be it fish, ham or chicken. And if you add a little bright colors in the form of green peas and parsley, you get an ideal dish for dinner or lunch, it is prepared very quickly, but at the same time satisfying and tasty. And the children are also delighted with him. If you do not give children boiled-smoked meat, then you can replace it with boiled or baked chicken fillet, and use 10% cream.
General \ asset cooking time: \
Servings Per Container: 2 Servings
Calories (100g): 189 kcal
Cost: average cost
How to make smoked chicken and green peas pasta
Pasta - 200 g farfalle
Green Peas - 0.7 cups (250 ml)
Cream - 150 ml 15%
Chicken - 150 g boiled-smoked (breast)
Hard cheese - 50 g
Parsley - handful (s) of leaves
Salt to taste
Black pepper - to taste
Preparation: Step 1
Wash the parsley thoroughly, cut off the leaves and chop them finely. Use fresh or frozen peas; canned peas will not work for this recipe. If using frozen peas, pour it in a bowl for a few minutes with room temperature water and then drain.

You can take any pasta, but with bows (farfalle) this dish looks more spectacular. Shells or penne are also good.

Boil the pasta in salted water until tender, following the instructions on the bag. To speed up the process, I bring water to a boil in an electric kettle, and then pour it into a saucepan, this saves me an extra 5 minutes, since the water boils on the stove much longer.

Add the peas five minutes before the pasta is ready.

While the pasta is preparing, cut the chicken breast into small cubes. Boiled smoked chickenwill give a pleasant aroma to the creamy sauce. By the way, I keep pieces of chicken, ham or sausage in such a convenient container for cheese. Nothing gets ventilated and remains fresh.

We choose any cheese to taste, you can take neutral or spicy with bitterness, it all depends on personal preference. You can also use Parmesan.

Pour the cream into a clean ladle, heat it over medium heat, add the grated cheese (we leave some for serving) and let it melt. Stir so that the cheese does not burn.

Then add the chopped chicken breast and herbs, mix and cook for another minute. Season to taste with salt and pepper.

Drain the pasta and peas. Add them to the creamy cheese sauce and mix well. Put the pasta with sauce on a dish or plate, and sprinkle with the remaining cheese on top.We serve the dish immediately so that the sauce does not cool down.