Fish is an important part of the daily menu for people of all ages. It is very useful and necessary for the body. You can cook it in different ways. Today I propose to consider it in the form of pies.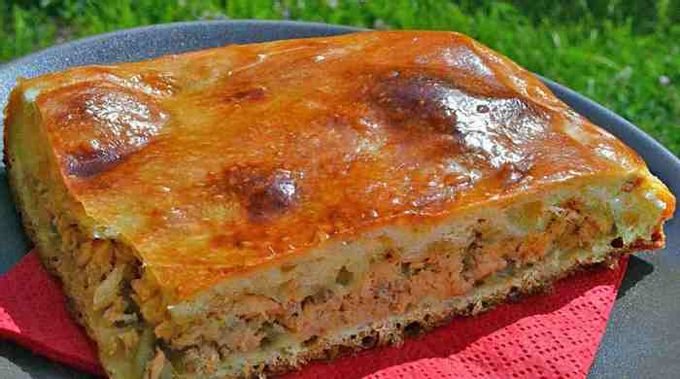 Baking a cake for dinner or for a festive table is always a good idea. Juicy fish is baked right in the dough. Its juice circulates here without flowing out. Why, the filling always turns out juicy. But even here there are secrets and subtleties.
I have prepared for you the most delicious and original recipes for fish pies. Choose any to your taste.
Fish pie with pink salmon from yeast dough in the oven
I offer you a recipe for a pie that turns out to be indescribably juicy and tasty. The dough will be yeast based. The filling consists of fresh pink salmon, onions and pickled cucumbers. Learn more right now.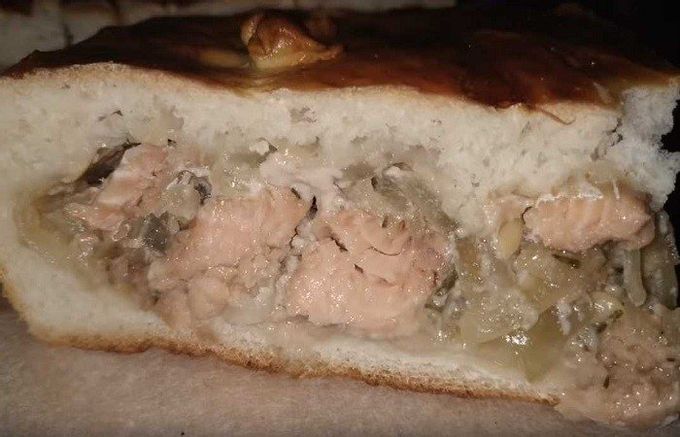 For cooking we need:
Dough:
380 grams of flour
250 milliliters of liquid to choose from - milk, kefir, yogurt or water
2 teaspoons dry yeast
2 tablespoons of granulated sugar
a teaspoon of salt
Filling:
500 grams of pink salmon fillet (you can take other fish)
Tablespoon of oil for frying
4-5 medium sized bulbs
Salt, spices to taste
150 grams pickled cucumbers
Cooking in a form, size 19 * 27 cm.
Cooking:
1. You can prepare the dough with water or a dairy / fermented milk product. In this case, for example, curdled milk is used. We heat it up to about 40 degrees. We pour into a bowl. Pour sugar, salt and yeast here.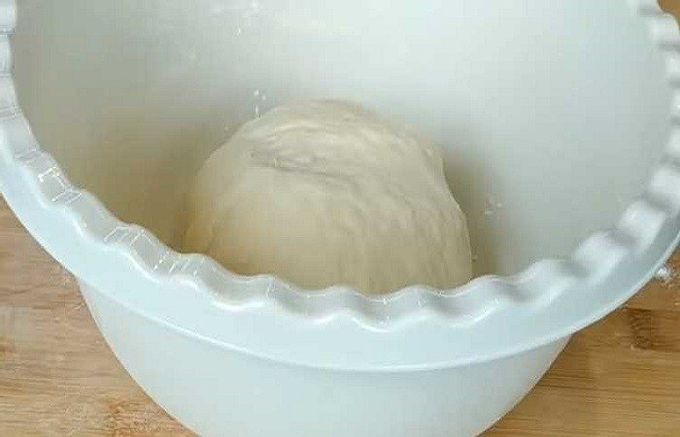 2. Sift 350 grams of flour here. We leave a little more. We'll top it up if necessary. Knead first in a bowl, then on a table dusted with flour. You need to knead for a long time and diligently. At first, the dough may seem watery. But don't add too much flour all at once.
The longer you knead it, the sooner it will stop sticking to your hands.
3. Put the dough in a tall bowl. Cover with a towel or lid. Leave for 1-1.5 hours to rise.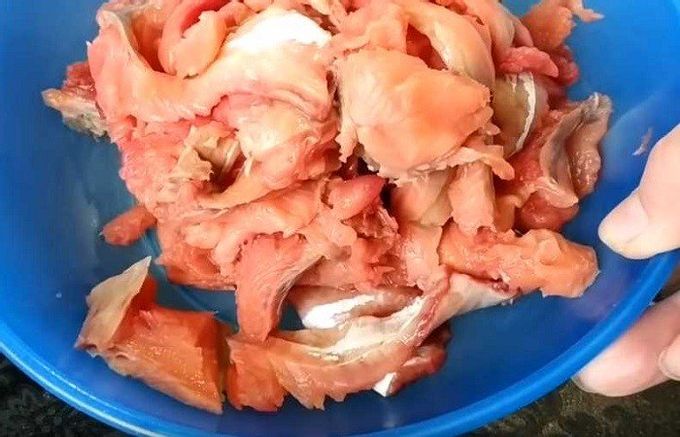 4. Separate the fish from the bones and skin. We leave only the fillet. Cut into random pieces of medium size.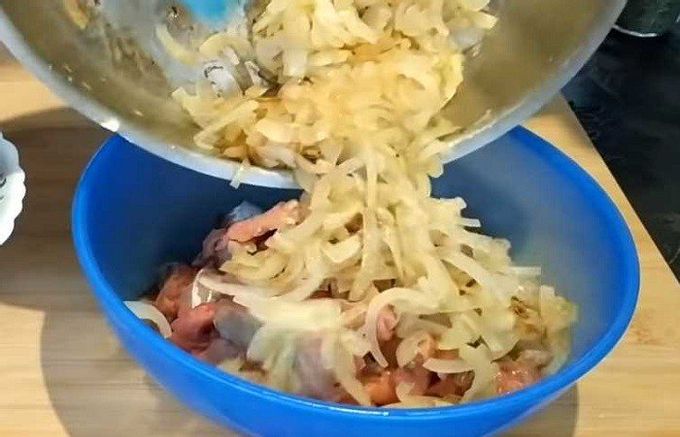 5. Cut the onion finely. Fry in vegetable or butter until soft. It should become translucent. But you don't need to overcook it. We need it to be juicy. We send him to the pink salmon.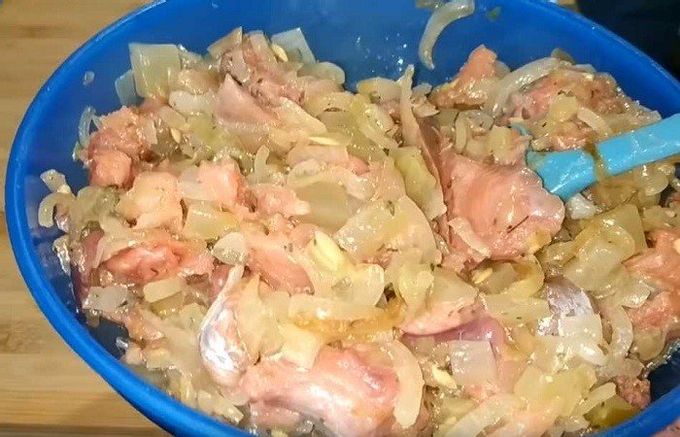 6. Cucumbers cut into cubes. We put them in a colander to get rid of excess moisture. We send it to a common dish with fish and onions. Salt, season to taste. We mix.
If you want, you can not add cucumbers at all.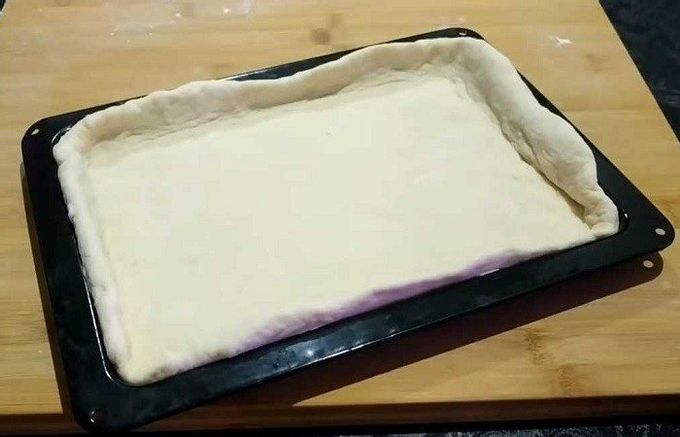 7. Knead the dough that has come up a little. We divide it into 2 parts. One of them is about 2/3 of the total. The second, respectively, 1/3. Let's take the big one first. For now, put the small one in a bowl, under a towel. Roll out into a rectangle and place on a greased baking sheet. We take out the sides.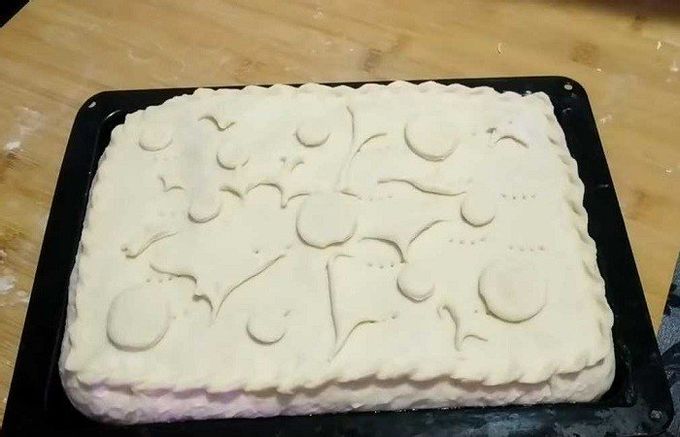 8. If liquid has formed in the bowl with the filling, it must be drained. We spread our filling on the dough. Align. We roll out a small part of the dough. We cover from above, blind the edges. We balance everything. On the surface we stick with a fork in several places. From scraps of dough, you can lay out patterns on top.
9. Then cover with a towel. Leave for half an hour so that the dough comes up a little. Then brush with egg and mix until smooth.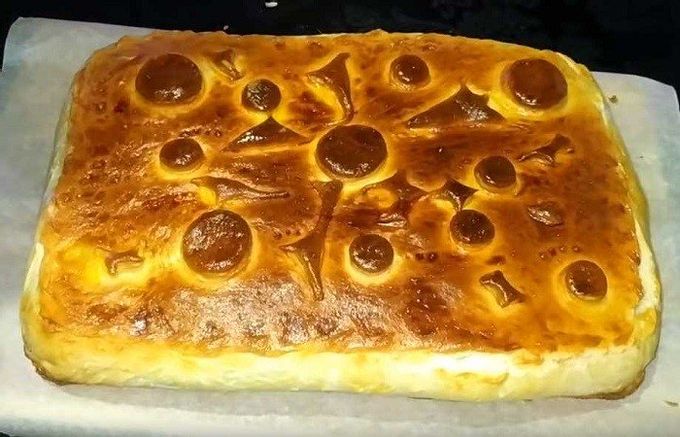 10. We heat the oven to 180 degrees. We send the product here for 20-30 minutes, until the ruddy top. Then we take it out of the oven. Cover with a towel and let stand for another half hour.
Simple, delicious pie with canned fish
A quick and also very successful recipe is a canned pie. This option is more budgetary, faster and easier to prepare. However, it turns out very tasty! Try it!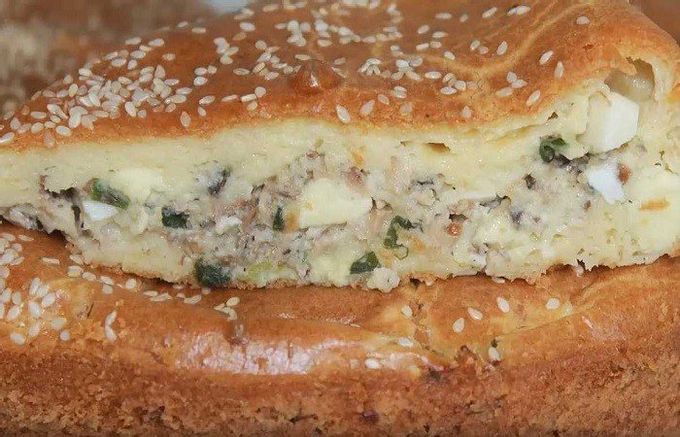 To prepare the test we need:
3 raw eggs
Half a teaspoon of salt
250 ml. sour cream
A glass of flour
250 ml. mayonnaise
Filling:
4 boiled eggs
bunch of green onions
Canned pink salmon or saury - 2 cans (you can also canned food from other fish)
Salt, pepper to taste
Sesame seeds can be sprinkled on top if desired.
Cooking:
1. I propose to start with fish. Put the canned food in a bowl, along with the juice. But we drain some of the liquid. Remove large bones. Optionally, this may or may not be done. After all, bones in canned food are absolutely safe to eat.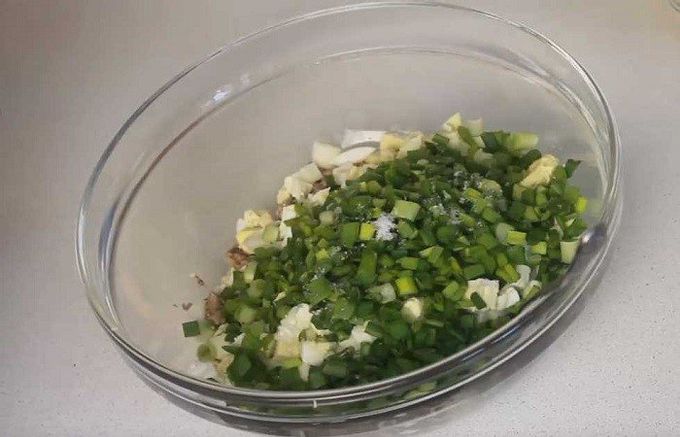 2. Knead the fish with a fork so that small pieces remain, but not a homogeneous porridge. We clean the eggs. Cut into cubes and send to canned food. Finely chop the green onion and put it here.
3. Salt the filling, season to taste and mix.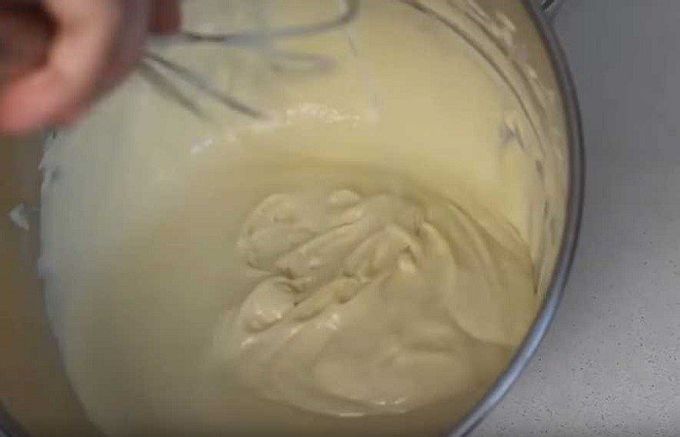 4. Let's move on to preparing the dough. This is done very simply. You just need to put all the ingredients in one bowl and mix. First, it is better to mix sour cream with raw eggs and mayonnaise. When the mass becomes homogeneous, add the sifted flour. Salt, knead everything until smooth.
Do not add all the flour at once. First, enter 2/3 of the part, and gradually introduce the remaining third, depending on the consistency. The mass should be quite liquid, like pancakes.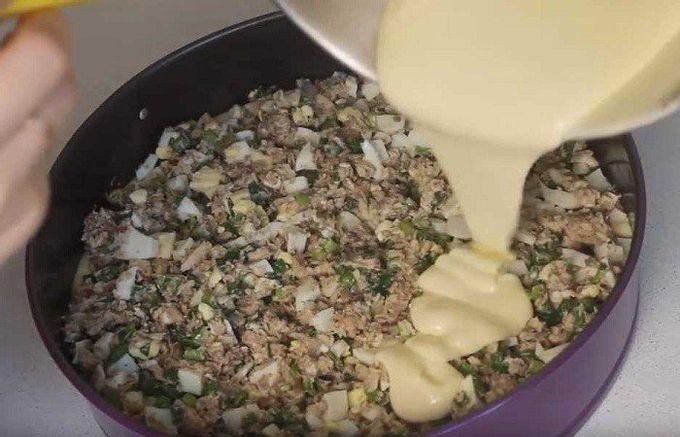 5. We put the oven to heat up at 180 degrees. Form, in this case it is 26 cm in diameter, grease with butter (bottom and sides). Pour half of the batter in here. Distribute in an even layer. Spread the filling evenly. Top with the rest of the dough.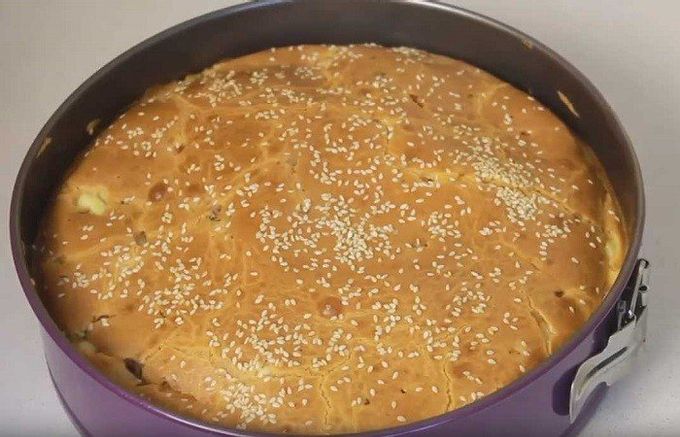 6. Optionally, top with sesame seeds. We send it to an already preheated oven for 25-30 minutes until the top is golden brown. In this form, we take it out of the oven, leave it in the form for another half an hour, covering it with a towel on top. Then you can carefully remove from the mold, cut and enjoy your creation!
Recipe for fish pie with canned food and rice in the oven
The fish and rice pie is one of our family's favorites. Here is a very interesting recipe for you. Highly recommend. The dough is tender, the filling is juicy, the top is soft and ruddy.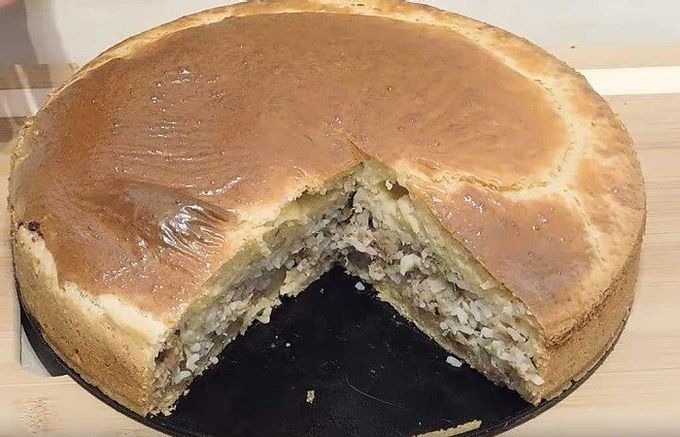 For cooking we need:
Dough:
130 grams of butter
7 grams baking powder
A quarter teaspoon of salt
230 grams of flour
2 tablespoons of milk
Filling:
2 cans of canned fish in oil
2 onions
120 grams raw rice
Greens, spices to taste
Fill:
3 raw eggs
Salt, pepper to taste
7 grams baking powder
4 tablespoons of mayonnaise
5 tablespoons flour
Half glass of milk
Cooking:
1. Onion cut into small cubes or strips. In a frying pan, heat a little vegetable oil and a small piece of butter. We send the onion here and fry it until soft.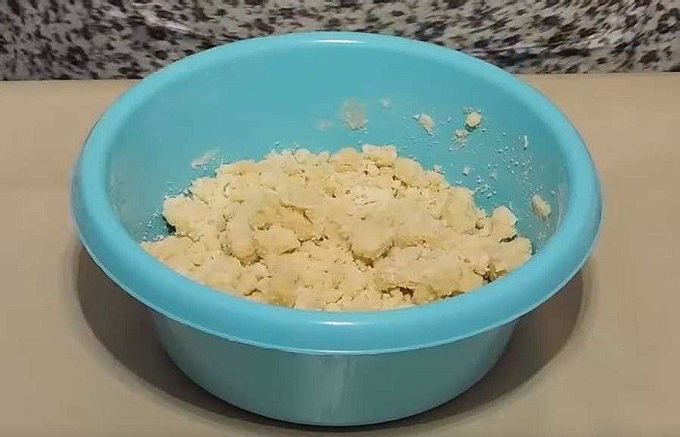 2. Making the dough. Sift the flour and add a pinch of salt here. We also add baking powder. melt the butter. Cool it and pour it into the prepared dry ingredients. We mix everything carefully. At this stage, such a crumbly mass is obtained.
3. Pour milk here and collect the dough into a ball. We send it in a bag, put it in the refrigerator while the rest of the ingredients are being prepared.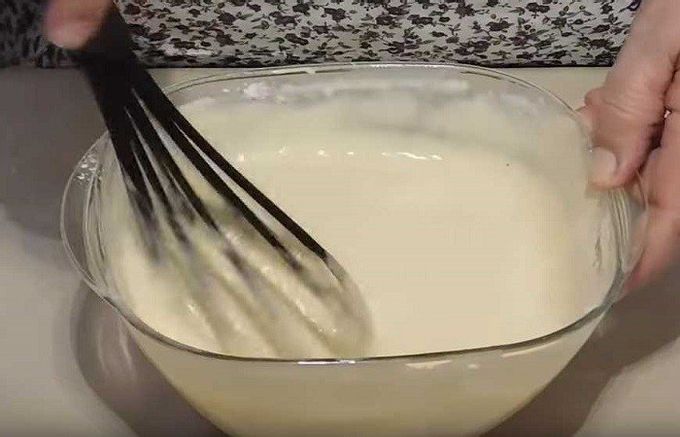 4. Making the fill. Sift flour into a bowl. We also send the baking powder here and mix. Add salt, pepper to taste. Add eggs, mayonnaise and milk.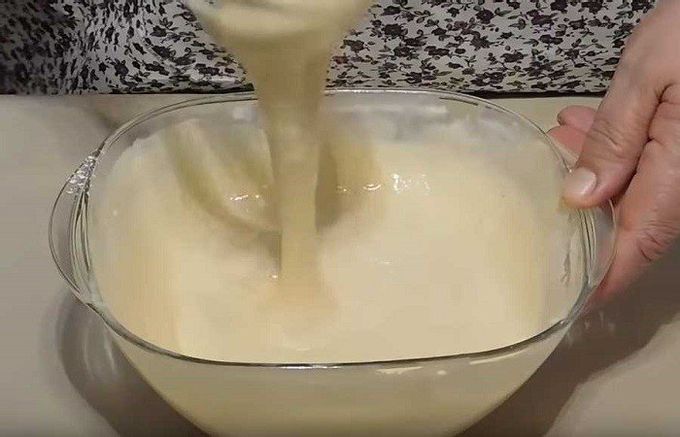 5. We knead everything with a whisk. The mass is thicker than for pancakes, but more liquid than for pancakes.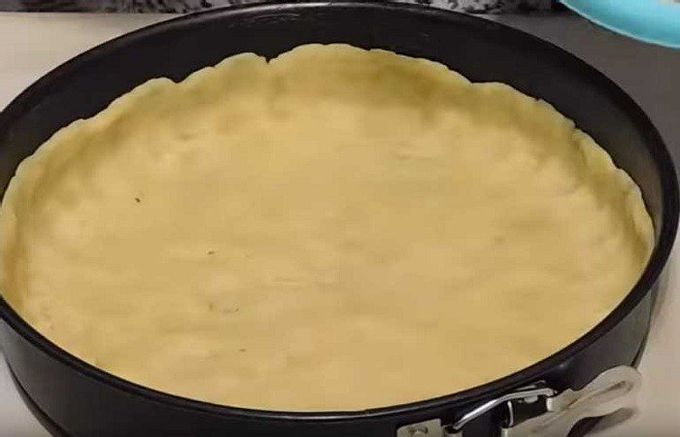 6. Form (in this case, it is round, with a diameter of 26 centimeters), grease with vegetable oil. We take the dough out of the refrigerator, distribute it along the bottom of the mold and remove the sides.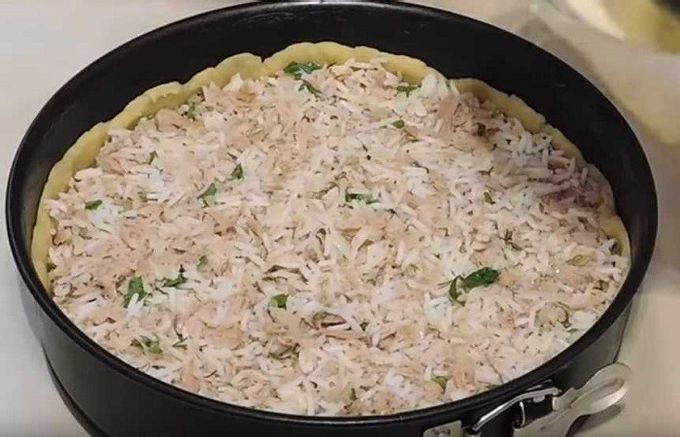 7. Boil rice until tender. We cool it down a bit. In a bowl with it we send chopped greens, fried onions. Drain the juice from the can. Crumble the fish a little with a fork. We send to the general mass. Salt, pepper, mix. We spread this mass in the form with the dough.
8. Pour liquid filling evenly from above. We heat the oven to 180 degrees. Bake for 40 minutes until golden brown on the top. In this form, we take it out of the oven, cool a little, about 20 minutes. Then carefully remove the form. You can cut and serve!
Fish pie from yeast dough in the oven with cabbage
Incredibly delicious pie with cabbage and fish. The dough is thin. There is a lot of juicy and tasty stuffing in the middle. Try it, you won't regret it!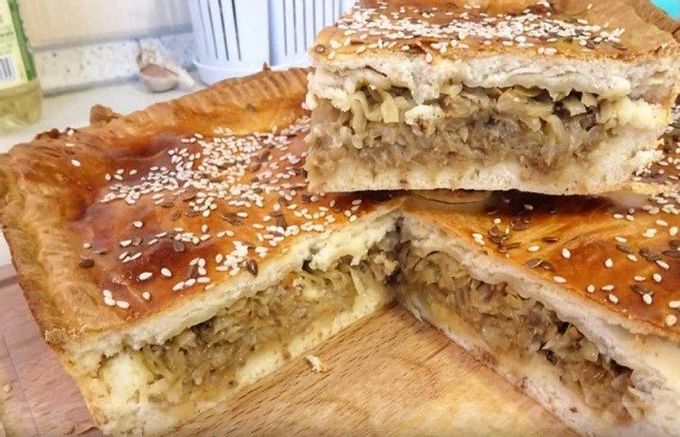 For cooking we need:
Pie dough:
25 grams fresh yeast
A pinch of salt
600 grams of flour (you may need up to 50 grams more)
250 ml. milk
4 tbsp granulated sugar
A raw egg
100 grams of butter
Filling:
medium head of cabbage
1 can of fish
2 medium onions
Cooking:
1. We heat the milk to a warm state (about 40 degrees). Pour into a bowl. Here we crumble warm yeast with our hands.
25 grams of fresh can be replaced with 1 tsp. dry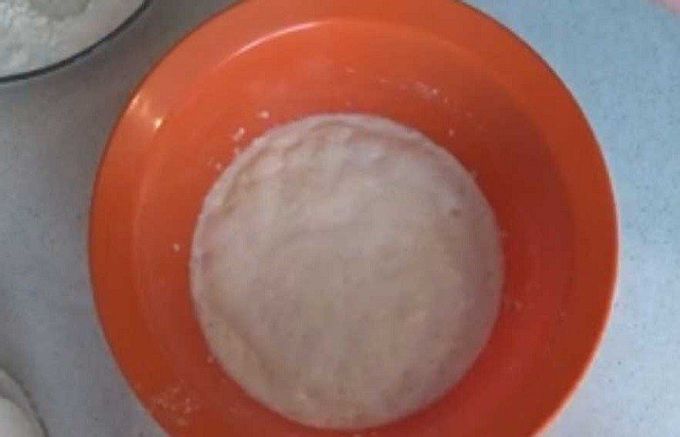 2. Pour a tablespoon of granulated sugar here (from the total mass). Also, from the total, add 3 tablespoons of sifted flour. We mix everything so that the mass becomes completely homogeneous. Let stand warm, covered with plastic wrap, 15 minutes, until fluffy.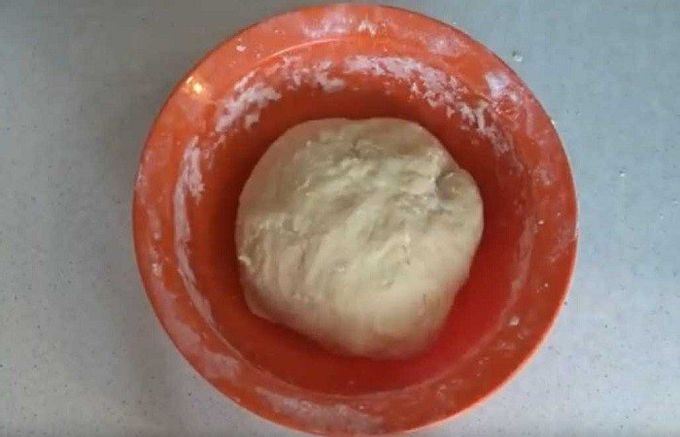 3. Pour the egg here and mix everything well. Pour the rest of the granulated sugar, melted and cooled butter. Salt and mix. Now, gradually add the sifted flour. The dough should be soft, plastic, not sticky to the palms.
The dough now needs to be removed in heat, covering the bowl with a napkin. We leave for about 1-2 hours. It should double in size.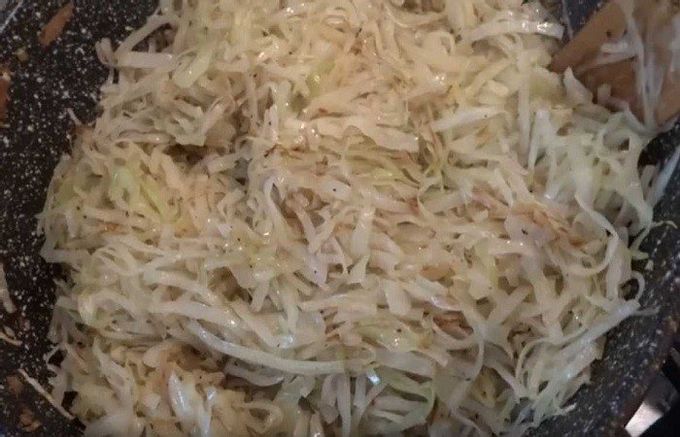 4. Finely chop the onion. In a frying pan, heat the vegetable oil (a little) and send the onion here. Cabbage cut into thin strips. When the onion begins to blush, we send cabbage to it. Salt, pepper to taste. Fry until half cooked.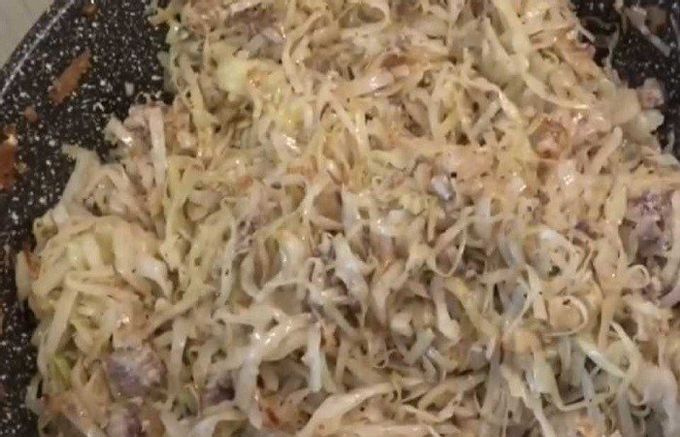 5. Drain the liquid from canned food. Shred the fish a little with a fork. Transfer to skillet with cabbage. Stir, fry for another minute. Then turn it off and let it cool down a bit.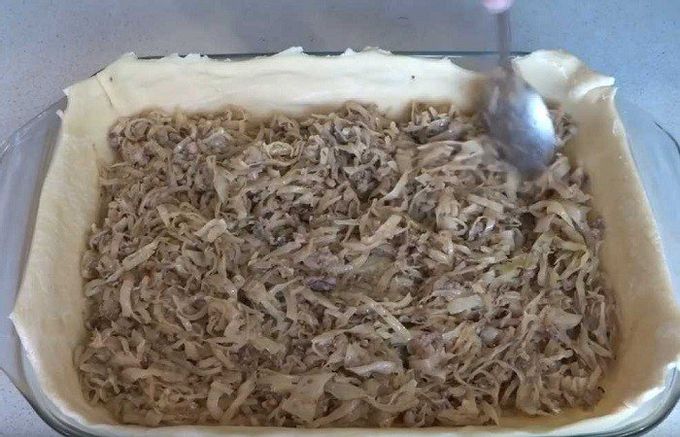 6. Knead the dough a little. You don't need to knead it anymore. We divide into 2 parts - one more than the other about half. We roll out a large one into a layer, about 3 mm thick. Lay out in a baking dish. We take out the sides. We cut off the excess. We distribute all the stuffing here.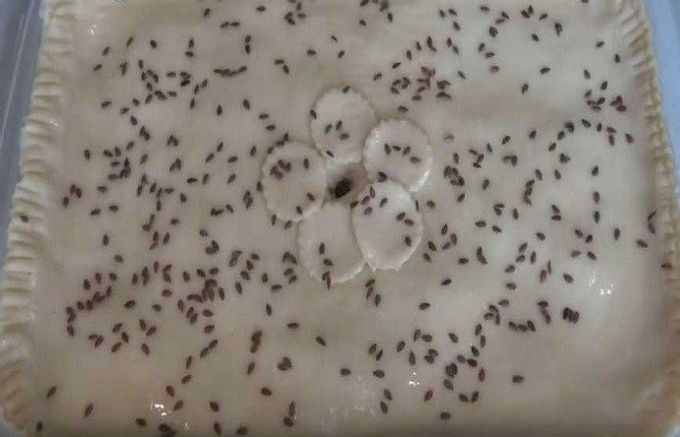 7. Cover with a layer of a smaller part of the dough. We also cut off the excess. Pinch the edges with your fingers or run a fork over them. Lubricate the surface with an egg. Optionally, sprinkle with sesame seeds.
8. In the center we make a hole with scissors to let the steam out. From scraps of dough, if desired, you can make petals and spread them around the hole on the pie. There will be a flower.
We send it to the oven, heated to 180 degrees for 40-45 minutes until golden brown.
Delicious Russian pie with fresh fish and rice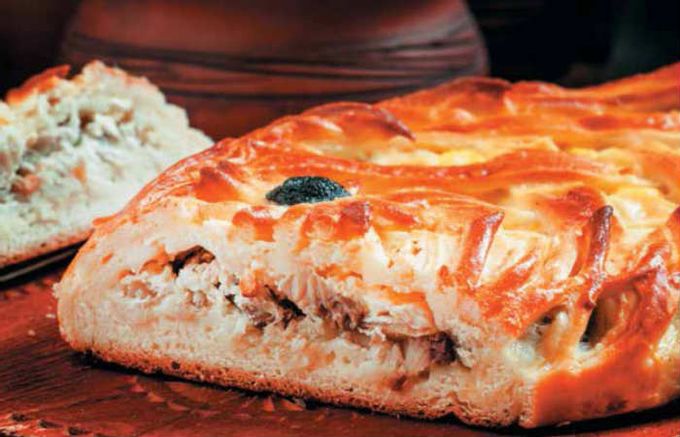 It so happened historically, in Russia they treated pies with special love and honor. And on holidays they occupied a special place of honor on the festive table. Read more…
Filled pie with canned fish in the oven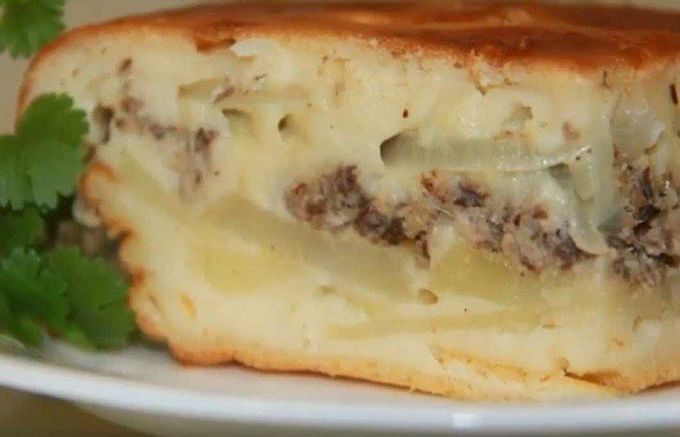 Very tasty and tender - words can not describe. It is prepared from simple and affordable products on a jellied dough. Read more…
Easy puff pastry fish pie with fresh fish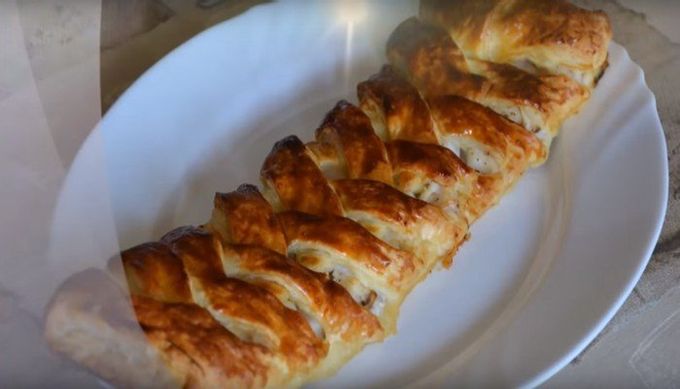 The name of the pie clearly reflects its essence. Everything is very simple, fast and tasty. Read more…
Very tasty and hearty pie stuffed with fish and potatoes. It is incredibly juicy and tender. They can replace the entire lunch. After all, the composition includes fish, and potatoes, and bread. The author of this video offers you such a recipe!