Home Ligurian appetizer
Italy is the birthplace of the simplest and breathtakingly delicious dishes, but in the library of the main recipes of this country there are also complex things. For example, the famous Ligurian cappon magro salad. The first glance at the list of ingredients - and it starts to ripple in the eyes, there are so many of them. But in fact, this salad is very reminiscent of our native Olivier, but in the Italian style, with pesto or similar green sauce instead of mayonnaise, fish instead of meat and layers of various vegetables.
Do not be lazy and look on the Internet for pictures with this salad. As often happens with dishes popular among the people, their design is a separate entertainment. Someone collects the salad in portions (and this is what we propose to do), but often cappon-magro is prepared literally in basins (doesn't it remind you of anything?) And decorate as fantasy suggests, laying out almost pictures on its surface and crowning the work with a whole lobster. Not without urban legends: allegedly in Genoa salad biscuits are soaked in sea water.
We offer you a version somewhat adapted to Russian realities - with hake, shrimps and shellfish. Try this wonderful Italian Olivier and be sure to share your opinion in the comments.
One.
Preparation should begin the day before - that's how long it takes the sauce to reach the correct condition. Finely chop a clove of garlic, mix with coarse salt (take a generous pinch, about half a teaspoon), 30 grams of pine nuts and five olives, add 2 anchovies, grind well in a mortar. You can also use a blender. Then chop 70 grams of parsley and mix with the sauce. Next, transfer everything to a blender, start whipping the sauce, gradually pouring in extra virgin olive oil for a smooth and creamy mixture. Pour by eye - the sauce should be thinner than regular store-bought pesto. At the end, add lemon juice, salt and pepper, all to taste. If you like more herbal and slightly bitter taste - take less juice, like acid - more. Transfer the sauce to a jar or bowl and refrigerate for 24 hours.
If you don't want to spend 24 hours preparing, buy ready-made Genoese pesto in the store - this sauce is based on basil, not parsley, but it fits perfectly with this salad, which also comes from Liguria.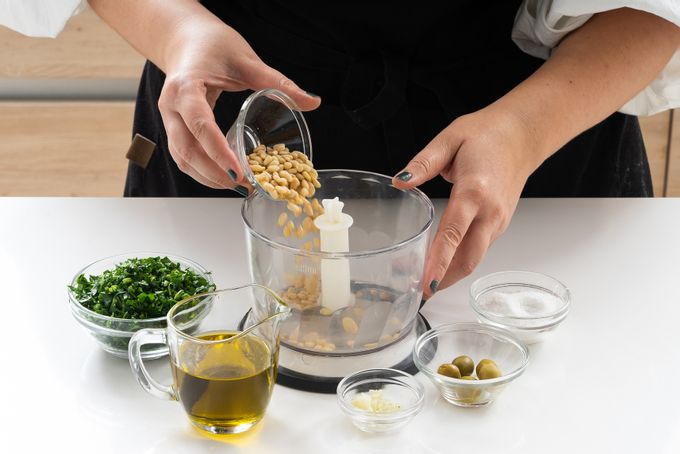 2.
Place hake carcasses in boiling salted water. If you have a frozen fillet, thaw it first. Just make sure the water completely covers the fish. Cook for 5-7 minutes in boiling water.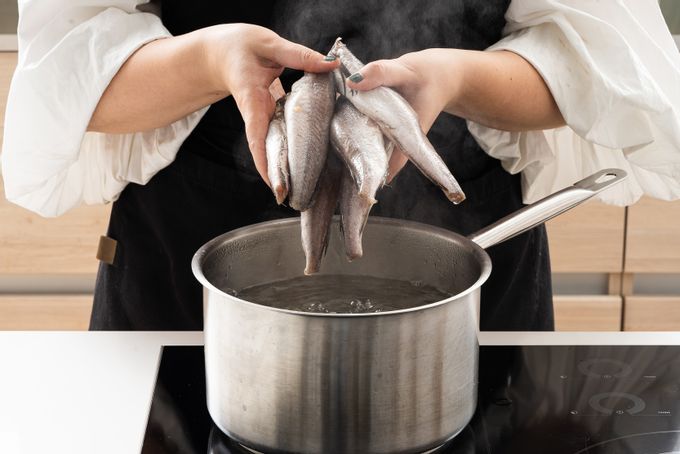 3.
Then drain the water, and clean the fish and carefully remove all the bones from it to a single one. Mix 30 ml of olive oil, juice of one lemon and a pinch of salt, fill the fish fillet with this mixture, leave for 10 minutes.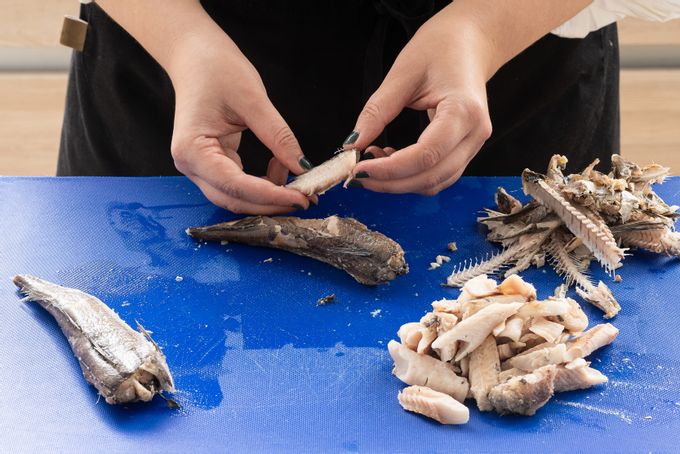 4.
Consistently wash and boil 500 grams of potatoes and 8 carrots, 3 beets, 600 grams of cauliflower. Cook the vegetables until al dente, which means they should not fall apart when pierced with a fork. Cut the vegetables into cubes of the same size - this is necessary so that all the ingredients in the salad come together and keep their shape. Boiled vegetables, instead of laying beautifully in layers, can be mixed into porridge. Also, overcooked vegetables lose their color, and it is important for us that the salad is colorful.
Season each bowl of vegetables with a little olive oil, salt, and white wine vinegar.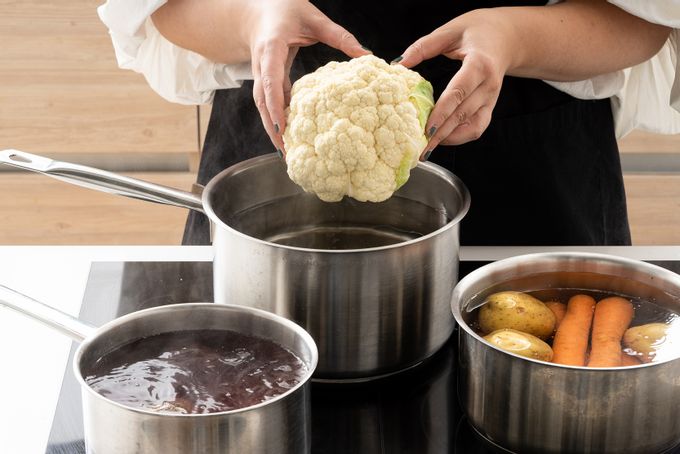 5.
Soak 150 grams of unleavened biscuits in water with a teaspoon of white wine vinegar for 10 minutes. After 10 minutes, lightly mash them with a fork and drain the liquid.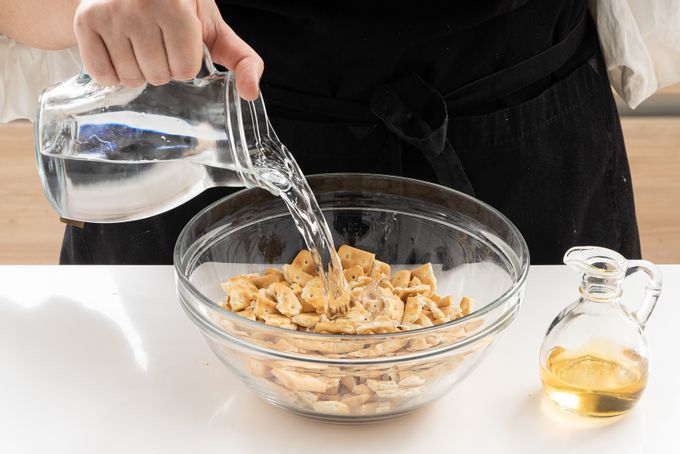 6.
Now the main thing is the assembly of the salad. Put the ring on a plate, put it in sequence: a layer of biscuits, then vegetables (in any order), layering them with green sauce (or pesto). Once you've layered everything, add a layer of sauce on top. Put in the refrigerator for 12 hours.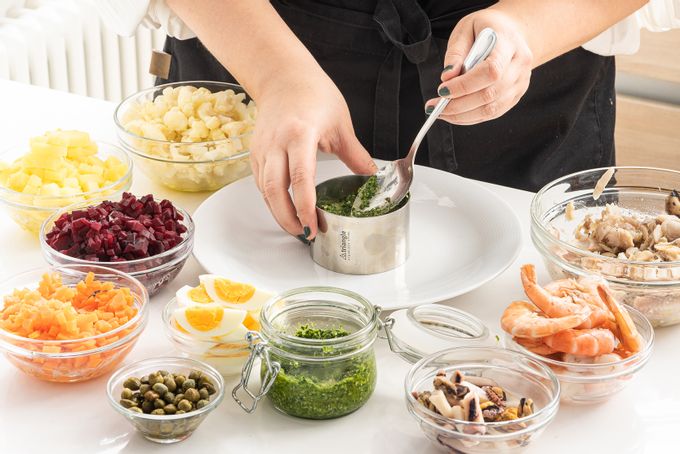 7.
Prepare decoration before serving. Hard boil 3 eggs and cut each into 4 wedges. Boil seafood, you can take a frozen mixture. Use the largest and most beautiful specimens. Boil 8 shrimp. Cool them down.
Remove the ring from the salad, garnish with the clams, shrimp and capers (last to your taste), place the egg wedges side by side and serve.