Good day to all readers of my blog! Today I want to talk about the usual salad with crab sticks according to an unusual recipe. It belongs to Japanese cuisine, although it is not a traditional dish. It has become especially popular in the US and is commonly served in Japanese-American sushi restaurants around the world.
In Japan, it is called - Kani salad, the basis of which is kani, hence the name. Translated from Japanese - "Crab". Imitation crab meat is used, made from white fish such as pollock. The taste is close to real crab. Each crab stick can be easily minced and is artificially dyed red to mimic the leg and appearance of a crab. Kani is cheaper than real crab meat, but of course imitation crab cannot compete with real meat. These crab sticks are available at all local grocery stores and are sold pre-cooked. They are used as an ingredient in various Japanese dishes, including famous sushi and street food.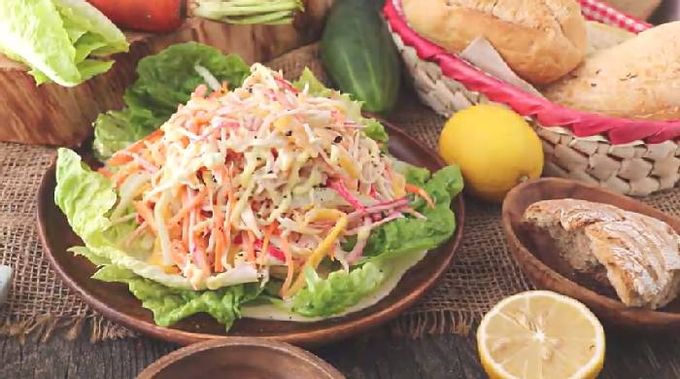 This quick and easy crab stick salad is refreshing, with sweet notes of ripe mango contrasting with the light savory flavors of kani and creamy Japanese mayonnaise. For cooking, you need simple ingredients: kani, cucumber, carrot, mango, Japanese mayonnaise and spices. You can change and diversify the taste by adding some of the ingredients:
Avocado, which will give a creamy buttery taste
Corn kernels - give a juicy crunchy texture
Tobiko is a red-orange roe from a Japanese fish that adds an extra flavor to seafood.
Sesame Seeds – Black sesame seeds will add a nutty and crunchy texture
The most delicious and simple salad recipe with crab sticks
This Kani salad recipe is very simple. I only added ripe mango to give it a fuller flavor, sweet, savory with a hint of spiciness. If you can't find Japanese mayonnaise, the best thing you can do is make regular mayonnaise with almost the same taste. Just add a little apple cider vinegar and a little soy sauce to regular mayonnaise.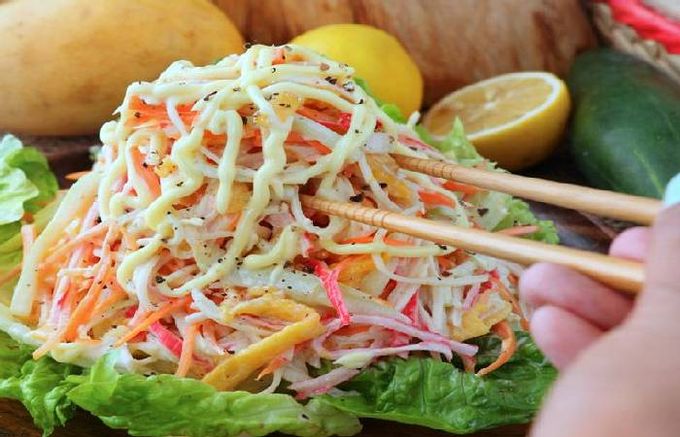 Calories per serving - 276 kcal. Fats - 21 gr. Saturated fats - 3 gr. Carbohydrates 18 gr. Protein -3 gr. Iron - 0.4 mg. Cholesterol - 16 mg. Sodium - 395 mg. Potassium - 272 mg. Calcium - 25 mg. Fiber - 2 gr. Sugar - 11 gr. The calculations are made automatically, so they may differ slightly.
Ingredients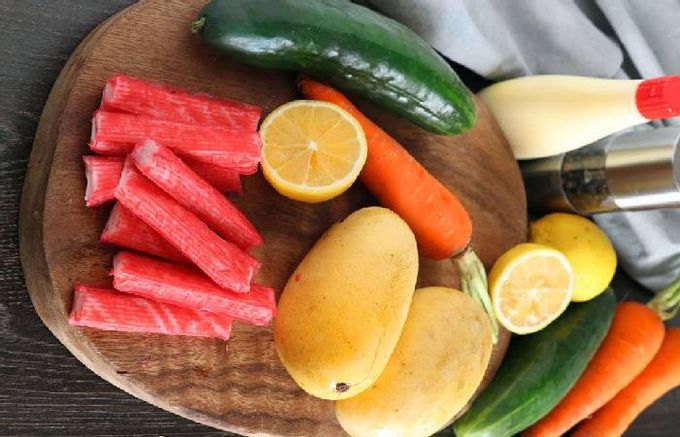 145 gr. crab sticks
1 medium carrot
2 medium cucumbers (or 1 large)
1 medium ripe mango
½ cup Japanese mayonnaise (mayonnaise, apple cider vinegar, soy sauce)
half a lemon
salt
ground pepper
How to make crab salad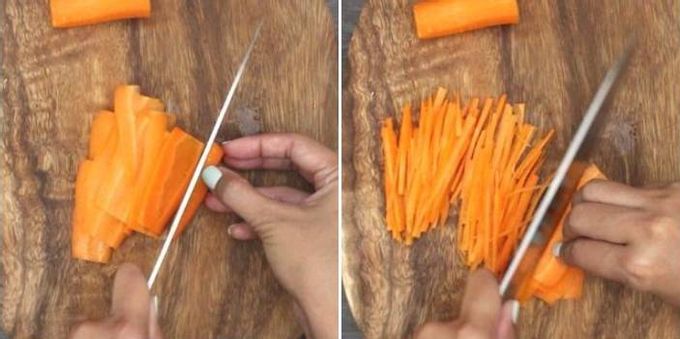 We clean the carrots, cut off the ends. We cut with thin plastics about 5 centimeters long. Then we stack them in a pile of several pieces and cut into strips, as thin as possible.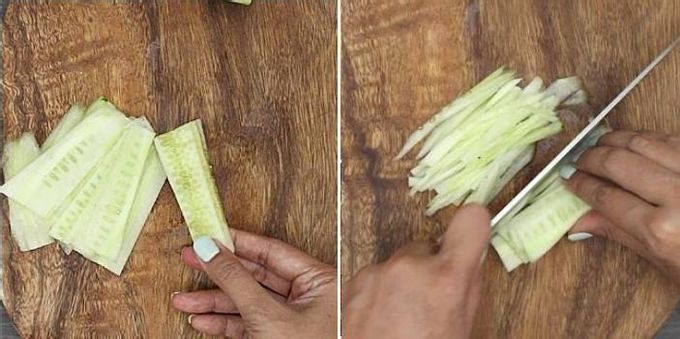 We clean the cucumber from the skin, cut it into 2-3 parts along the length, depending on its size. We also cut into thin plastics, leaving the core with seeds. The core can be discarded or eaten immediately with salt, as I did. Plastics, like carrots, cut into thin strips.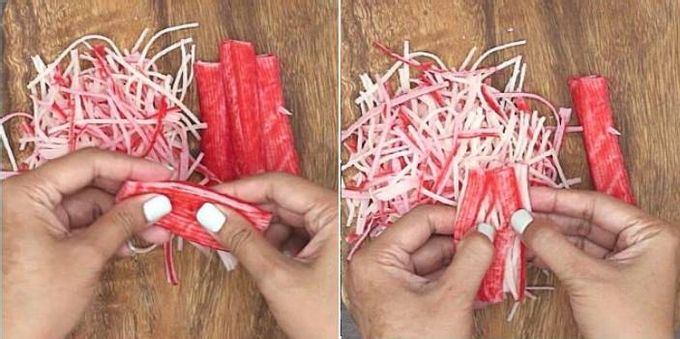 We take crab sticks, if they are frozen, first defrost. Now with your fingers, gently knead them along the entire length to loosen the structure of the meat.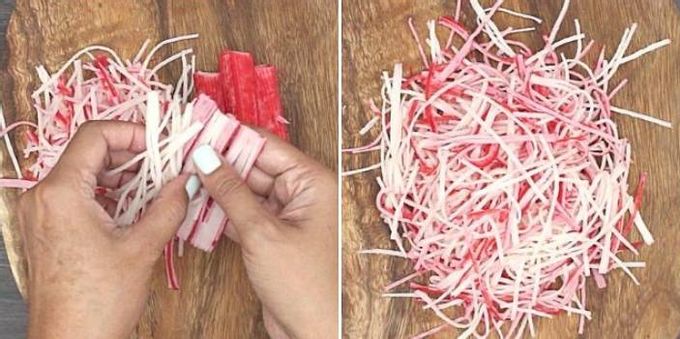 And then we separate the thin strips from each other.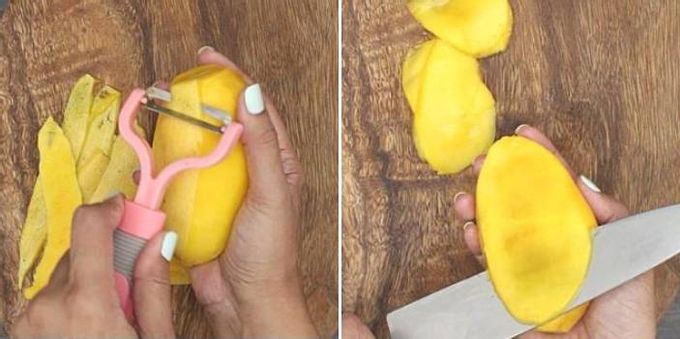 Now the turn for the mango, it should be ripe and juicy. We peel it off. Cut the flesh with thin plastics along the bone on both sides.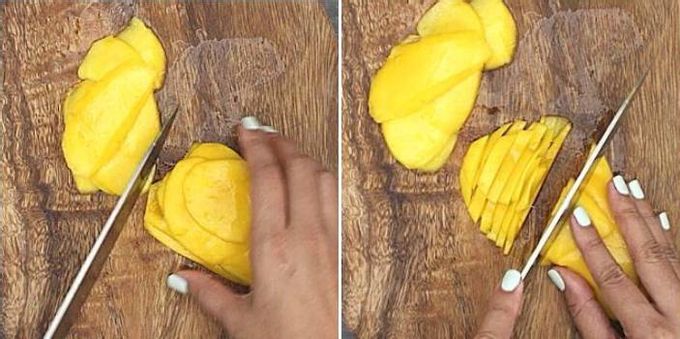 We fold the plastics in a pile and carefully cut into thin strips.
Be sure to use a sharp knife so as not to crush the tender pulp of a ripe fruit.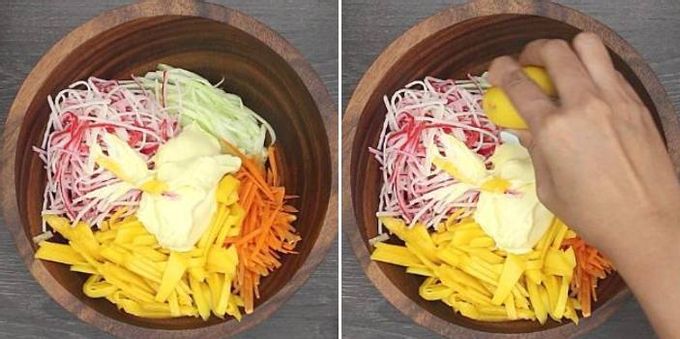 Now we take a large deep bowl, put the chopped cucumber, carrot, mango and chopped crab sticks. We put one, two tablespoons of mayonnaise. We make mayonnaise to taste under Japanese - first add half a teaspoon of apple cider vinegar and a teaspoon of soy sauce to it, mix well. Squeeze the juice of half a lemon on top and mix gently (it is better to do this with two spoons).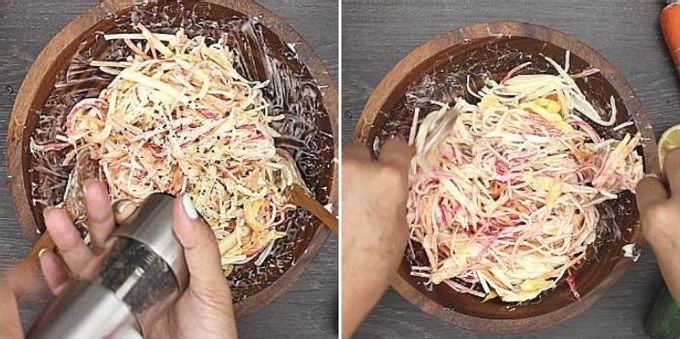 Season with salt and freshly ground pepper, if necessary, and stir again until the ingredients are completely combined.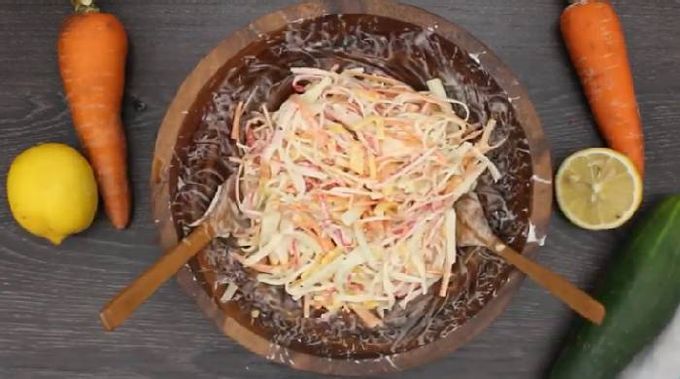 Salad ready. Serve immediately or better put in the refrigerator for 30-40 minutes to infuse.
Delicious salad with crab sticks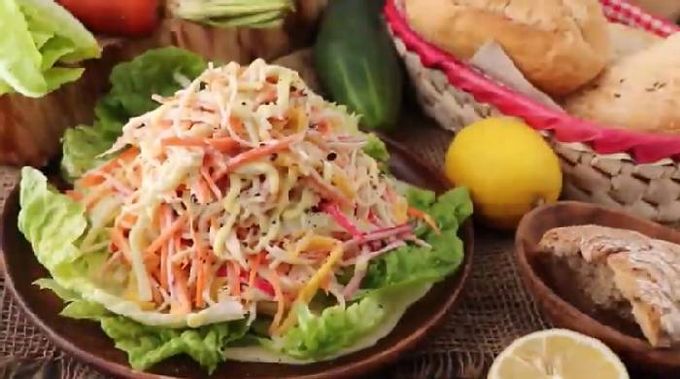 Just before serving, we cover the salad bowl with iceberg or romaine lettuce leaves. Lay the prepared snack on top. You can enjoy the taste.
This is one of the Japanese salads that you can treat guests on a holiday. It is also good for a family lunch or dinner. If you've made ahead of time and won't be serving anytime soon, just leave the salad and dressing ingredients separate in the fridge. Mix everything together right before serving.
Things to know (Q&A)
How do you make crab sticks taste better?
Spritz your crab sticks with lemon, lime, or vinegar .

Whether battered or not, crab sticks tend to taste better when they're spritzed with a strong flavor. Much like battered fish, crab sticks taste amazing with some lemon. Vinegar makes for a stronger, more distinctive punch in the flavor.
What's good with imitation crab meat?
From salads to appetizers, to casseroles and pasta dishes, here are some of the most delicious imitation crab recipes.
Crab Salad. Craving a rich and creamy seafood salad? ...
Hot Imitation Crab Dip. ...
Seafood Macaroni Salad. ...
Cream of Crab Soup. ...
Imitation Lobster Rolls. ...
Crab Rangoon. ...
Copycat Crab Casserole. ...
Seafood Enchiladas.
What main dish goes with crab salad?
It pairs perfectly with hearty whole grain bread , crackers or a bed of mixed salad greens. Serve it with cucumbers and chopped tomato too.
What is crab salad made of?
How do you make crab salad? This crab salad is a mixture of imitation crab flakes, celery, red onion, fresh dill, lemon juice, Old Bay seasoning and mayonnaise . Everything gets mixed together in a big bowl, then you can either chill your salad, or serve it immediately.
How can I make imitation crab taste better?
If you need further taste and flavor on your meal you can add whatever you want. The salt, chilli or sauce are your best bet. Place in the refrigerator for some time so it becomes chilled. You can serve this kind of imitation crab as a sandwich or filling for some other wrap
Should I cook crab sticks?
You can find imitation crab either in the refrigerated or frozen section of stores. They sell several types, including flake-style, chunks, sticks and shreds. Since imitation crab is precooked, you can use it straight from the package for cold dishes, such as dips and salad, or add it to dishes you hea
What brings out the flavor of crab?
Using butter as the main component of your seasoning, in this case, gives you a two-for-one punch by adding flavor as well as moisture to the legs — but you just need to know how to get that butter into the shells so that it can effectively baste the crab mea
How do you eat imitation crab meat?
Imitation crab can be eaten right out of the packaging and doesn't need any cooking. It's actually not "raw", as it's fully cooked during the process of making crab sticks. You can chop them up and add to cold meals like salads and ceviche directly without cooking!
How bad is imitation crab meat for you?
So how bad is imitation crab meat for you? Imitation crab is highly processed and contains food additives like MSG, which can trigger adverse side effects in some people . Compared to regular crab, the imitation crab meat nutrition profile also lacks many of the vitamins and minerals found in fresh crab.
How do you make imitation crab meat taste good?
If you need further taste and flavor on your meal you can add whatever you want. The salt, chilli or sauce are your best bet. Place in the refrigerator for some time so it becomes chilled. You can serve this kind of imitation crab as a sandwich or filling for some other wraps.
What goes well with crab meat?
Here are a handful of the best crab side dishes:
Steamed Artichokes with Garlic and Butter.
Cottage-Cut French Fries.
Roasted Brussels Sprouts.
Lemon and Garlic Butter Dipping Sauce.
Brandy-Infused Mayonnaise Dip.
Twice-Baked Garlic Mashed Potatoes.
Zucchini, Onion and Corn Hash.
Almond Caesar Salad.
What is imitation crab salad made of?
Imitation crab is made with surimi , a paste made out of finely shredded or pulverized fish. After the fish is minced, it is heated and pressed into shapes that resemble meat from a crab leg. The resulting imitation crab looks similar to the original crab in its coloring and texture.
How healthy is crab salad?
Calories, Fat and Cholesterol

Imitation crab is low in calories and fat , which makes it an appropriate addition to your diet if you are watching your weight or trying to shed excess pounds. Choosing low-calorie and low-fat foods is also a healthy way to protect yourself from chronic illnesses such as heart disease.
What is Krab salad made of?
Surimi

Imitation Crab Salad (krab) is actually made with Surimi, a whitefish that is ground them binded with a starch to resemble a crab leg.
Is imitation crab bad?
Imitation crab also has fewer vitamins and minerals than real crab. Like other processed foods that contain stabilizers, preservatives, sugars and added salt, it's best avoided .