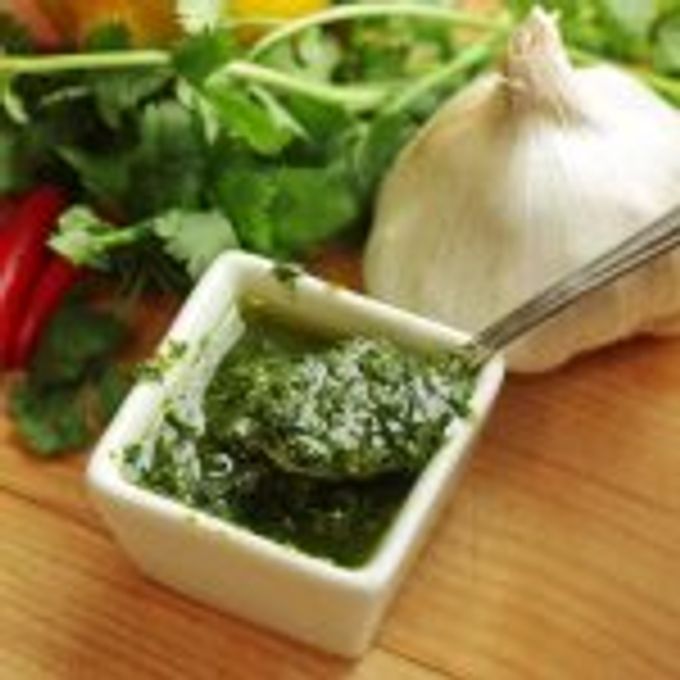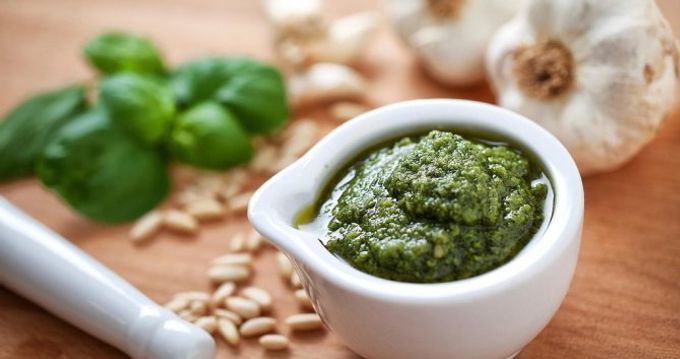 The recipe for this wonderful sauce is surprisingly simple, and even a novice hostess will cope with it, and the first time. Cooking takes about 20 minutes, depending on the nuances of the recipe. The ingredients are exclusively the most affordable and natural, so no season is important for making cilantro sauce - it can decorate your dishes every day all year round. Let's learn how to cook this wonderful sauce!
Sauce with cilantro
Ingredients for making cilantro sauce
spicy cilantro sauce
cilantro -1 bunch (can be replaced with coriander) to taste
Garlic - 2 cloves to taste
Chili sauce 1 tbsp (use sweet sauce or regular hot red pepper)
Lemon juice 50 ml
Lemon zest 2 teaspoons
Honey 2 teaspoons
Oil 100 ml
Salt and pepper to taste
Cilantro sauce for dumplings
cilantro 1 bunch
Olive oil 6 tablespoons
Pickled ginger 1 tablespoon
Rice vinegar 2 tablespoons
Soy sauce to taste
Tomato cilantro sauce
Tomatoes 8 pcs (you can use ketchup or tomato paste)
cilantro 1 bunch
Onion 1 pc (a couple of green feathers will make the sauce even tastier)
Hot pepper 1 pod
Salt to taste
White cilantro sauce
Mayonnaise 1 pack (you can use heavy cream or sour cream)
cilantro 1 bunch
Parsley 1 bunch
Dill 1 bunch
Garlic 2 cloves
Main Ingredients

Greenery
print list
Products not suitable? Choose a similar recipe from others!
This is interesting: Kyiv cake according to GOST

Sour cream sauce
This is a very simple and useful refill. Served with meat, fish, it can also be used as a marinade, for soaking ingredients in dishes that are cooked in the oven and not only.
We will need:
a jar of sour cream - fat content to your taste - 400 grams;
a bunch of cilantro, dill;
garlic cloves - 4-5 pieces;
black pepper and salt - to taste;
spices - optional. Zira is ideal for barbecue;
juice of a third of a lemon.
We're getting ready to ship.
We wash all the greens, peel the garlic. It can be cut finely with a knife or squeezed through a spadefoot. We shift the sour cream from the jar to the gravy boat, chop the greens and combine the components. Salt, pepper, pour cumin, pour in the juice from a third of a lemon. Serve chilled sauce to the table.
Advice! Many people cannot live without mayonnaise, you can mix it with sour cream in equal proportions - very tasty. You can also add ketchup, experimenting with green onions.
For barbecue and baked meat
Meat dishes baked on the grill go well with cilantro sauces prepared using various additional products. The components emphasize the taste of meat products and enhance the pleasant spicy aroma of coriander.
Recipe with tomato paste
A simple, quick way to prepare barbecue seasoning outdoors. To make cilantro sauce, you need a minimum amount of products, you just need to stock up on good tomato paste in advance.
Composition of ingredients:
1 bunch of medium sized cilantro;
50 gr. tomato paste;
5 cloves of garlic;
1 tsp 9% vinegar;
Salt, sugar to taste.
The preparation of the sauce does not take much time, the algorithm of actions is as follows:
Washed greens, dried with paper towels, cut as small as possible.
Sprinkle with salt and mash until juice appears, turning the mixture into gruel.
The garlic cloves are crushed and crushed with a knife, I add sugar to the greens. Tomato paste is diluted with 1 tbsp. a spoonful of water, pour into the total mass along with vinegar and mix.
Fragrant barbecue sauce with fresh cilantro is ready.
Recipe with fresh tomatoes
Fresh tomatoes soften the taste of coriander, this sauce can be used at the same time as a marinade for meat.
The composition of tomato sauce with cilantro includes:
a bunch of cilantro, about 50 gr.;
0.5 kg of well-ripened tomatoes;
1 PC. sweet pepper of medium size;
1/2 bitter pod;
3 art. spoons of olive oil;
5 garlic cloves;
1 st. a spoonful of ground cilantro seeds;
1 st. l. 9% bite;
salt and sugar to taste.
Cooking:
Tomatoes are blanched in boiling water, peeled and finely chopped.
In a saucepan, bring the tomatoes to a boil, reduce the power, cook for half an hour.
Add salt, sugar, ground coriander.
Peeled peppers with garlic are crushed in a blender.
Combine all ingredients with olive oil and vinegar in a saucepan and cook for another 5 minutes.
Cooled sauce with cilantro and garlic is served with barbecue or grilled meat.
Recipe with pomegranate juice
Pomegranate juice combined with cilantro creates a pleasant aroma and tart taste. For cooking, you need freshly squeezed pomegranate juice, which can be replaced with purchased.
The composition of the sauce includes the following components:
a bunch of cilantro;
a bunch of basil;
1 pod of hot pepper;
200 ml. pomegranate juice;
a glass of any dry wine;
3 garlic cloves;
salt and sugar to your taste.
They start cooking with pomegranate juice: pour the squeezed juice into a saucepan, add wine and chopped greens in a blender, garlic and pepper - for those who like spiciness, put the container on the stove and bring to a boil, season with salt and sugar. Cool the sauce, serve with meat dishes.
With pomegranate juice
And our today's selection is completed with an exquisite sauce with cilantro, pomegranate juice and red wine. The perfect dressing for meat for a romantic dinner.
cilantro, basil - a bunch;
a glass of dry red wine;
a glass of pomegranate juice;
starch - ½ teaspoon;
sugar and salt - to taste;
garlic cloves - 3 pieces;
little or no chili;
ground pepper - on the tip of a knife.
A piece of hot pepper, garlic, herbs need to be chopped with a blender. After that, pour the mass with juice and wine, put on a slow fire and add starch. Stirring constantly, cook for 10 minutes, then under the lid for another 15-20 minutes. Sprinkle salt, sugar, pepper to taste. Cilantro sauce can be eaten warm, cold, and even stored in the refrigerator with a lid on.
For fish
Coriander sauces go well with fish products, complement the flavors and vice versa - drown out the specific ones inherent in many marine and river inhabitants.
Recipe with cucumber
With a fresh cucumber scent, the cilantro sauce gets extra flavor. Cucumber pulp softens the taste of coriander.
The composition of the sauce includes products:
50 gr. coriander (this is a small bunch);
1 large cucumber;
50 gr. cream;
1/4 cup flour;
100 gr. mayonnaise;
half a glass of milk;
1/4 part of a lemon;
1 tsp coriander seeds;
1 tsp fish spices;
1/2 tsp finely ground paprika: 1/2 tsp black pepper; a pinch of salt;
sugar to taste.
Soft, gentle seasoning is prepared as follows:
the cucumber is peeled, rubbed on a coarse grater;
fat cream is heated in a water bath;
carefully mix the flour, getting a homogeneous mass;
pour milk, mayonnaise, add all the spices and mix into the total mass; put on fire for 5 minutes;
a minute before the end of cooking add grated cucumber and lemon juice;
a homogeneous sauce is cooled and served with any kind of baked sea fish.
Delicate seasoning is ideal with grilled fish.
Recipe with onions or green onions
Onions, even better green onion feathers, go well with cilantro, together they give a strong taste. To prepare the sauce you will need products:
4 small heads of red onion; can be replaced with a bunch of green onions;
1 bunch (about 50 gr.) cilantro;
3 garlic cloves;
0.5 part of a lemon;
50 ml of white wine;
5 st. spoons of vegetable oil;
1 tsp ground cilantro seeds;
1 tsp spices for fish;
salt, with sugar to taste.
The preparation is very simple:
onion products are finely chopped;
everything, including spices, is poured into a blender, ground into a homogeneous mass; wine, lemon juice, olive oil are added;
everything is finally whipped into a lush mixture;
served fresh with stewed or fried fish.
Recipe with orange and lime
Fragrant seasoning with a pleasant smell and taste of citrus fruits diversifies the harsh taste of coriander, enriches with new flavor notes. To prepare the seasoning you need:
a bunch of coriander;
one orange;
one lime;
members of coriander seeds;
1 tsp ginger powder;
1/4 sunflower oil; salt;
sugar to taste.
It takes 10 minutes to create the seasoning:
orange, lime peeled and cut into pieces;
cilantro without stems finely chopped with a knife;
everything is immersed in a blender, ground;
ground ginger and olive oil are added;
Citrus seasoning from cilantro is ready, usually served with red fish.
Method of freezing raw materials
The most sparing way in terms of preserving nutrients. Sub-zero temperatures create a shock. In the process of freezing, changes in the structure of the plant do not have time to occur.
Where to start, how to properly freeze cilantro for the winter:
Gather freezerable leaves along with petioles.
Sprinkle on a light cloth, remove insects, debris, dried branches.
Next, cut the green mass into arbitrary pieces.
Fill the containers tightly and place in the freezer compartment of the refrigerator.
Delicious recipe! What is milk poured into
For freezing, plastic bags or plastic containers with lids are suitable. You can freeze a mixture of herbs in this way. It is worth signing each package so that the composition of the workpiece is immediately visible.
It is very convenient to freeze cilantro in portioned cubes. Everything is done in the same way, only the grass is laid out in small forms. For better adhesion, it is worth moistening the mass with water. Harvesting cilantro for the winter is stored for up to three years.
Step by step recipe with photo
My cilantro and onion. dry and chop coarsely. Cut garlic, chili pepper and ginger into medium pieces.
We shift everything into a blender or food processor and grind into a homogeneous mass. Add lemon juice, sugar and salt. We beat again.
Serve with meat, poultry or fish. Bon appetit)
Cilantro sauce is the most fragrant dressing for picnics and holidays
Every day we cook a lot of different food, but, as a rule, the recipes are traditional, familiar to housewives. After all, the easiest way is to do something that has long been familiar and everyone likes to taste, but sometimes you want something new. But there is not always time for that, and the result may not be what was expected. Although the risk is noble, but when it comes to dinner for guests or for a husband, no hostess wants to spoil everything. How to diversify the diet simply without spending a lot of time and without culinary loss? This can be done by preparing a new dressing for meat or fish every time - tasty, fast, fragrant. And today it's cilantro sauce.
Garlic
Garlic is present in every dressing recipe, but we advise you to cook another version of the sauce. It is tasty, fragrant, spicy and, most importantly, very useful in the cold season. So, let's prepare another cilantro and garlic sauce, where these two components will be the main ones.
We will need:
cilantro - a large bunch;
coriander (cilantro seeds) - a teaspoon or a little less;
garlic - a medium-sized head;
tomato paste - 100 grams;
sour cream - a tablespoon;
salt, pepper - to taste;
warm water - three tablespoons.
We're preparing the sauce.
Wash cilantro greens, dry and chop finely. We heat boiled water and dilute tomato paste or ketchup. Add a spoon or two of sour cream, mix well. You need to grind the coriander or buy a ready-made seasoning right away, combine it with salt and spices, pour it into a paste. We rub or crush the garlic, put it in a bowl with sour cream and pasta sauce, put the greens here, and stir. Serve chilled.
This is interesting: Wheat-brick bread recipe with photo
Spicy greens with the brightest taste
Before you learn the recipes, a couple of interesting facts about the herb. Cilantro is a rather unusual plant - it is loved and hated. But it is noteworthy that a person who could not bear the aroma of grass one day begins to calmly eat it. Also, many change their minds after greens have helped cure a number of diseases. Doctors often prescribe cilantro to eat when a person has problems with blood vessels - a slight bruise turns into a bruise. A bunch a day, and everything returns to normal.
Cilantro has a rich vitamin and mineral composition, which gives it the ability to heal a person. It is also a powerful defense against attacks by viruses and bacteria. So maybe you will change your mind if it was negative about aromatic herb.
Take note of the best cilantro dip recipes and spice up your usual meal!
For chicken
The sharp, bitter taste of coriander enriches the delicate taste of chicken meat, adds a fresh aroma. Recipe for seasoning with nuts is a traditional Georgian sauce that is served with chicken dishes. Walnut further saturates the seasoning with amino acids and minerals.
Seasoning consists of the following simple components:
a bunch of cilantro;
100 gr. chopped walnuts with a knife;
a bunch of dill;
3 cloves of garlic;
half a lemon;
50 ml of table wine;
1 tsp ground coriander seeds;
salt to taste.
Prepare the sauce very quickly:
cilantro and dill leaves are finely chopped with a knife;
everything runs into a blender, including spices;
everything turns into a homogeneous mass, which is salted and sugar is added to taste;
the finished mass is seasoned with table wine.
The sauce is served with Caucasian chicken dishes such as "satsivi" or "chicken tobacco".
Rules for the selection and preparation of grass for storage for the winter
Cilantro should be of high quality, without stains, yellowness. Especially if it is used not only for cooking, but also for cosmetology and treatment.
The bundle should be fresh, without brown marks on the cut. If it is dried up, yellow, then the greens were cut a long time ago, it has not been lying for the first day.
Leaves should not be twisted, sluggish. Color - green, delicate. If there are spots, then it rots, even if it still smells like normal coriander.
Smell is also very important. Breathe in the aroma of the beam. If it is sharp, spicy, specific, then you can buy such grass.
Interesting: rub one piece of paper between your fingers. If the aroma is strong, then the cilantro has recently been plucked.
Usually, Chinese parsley is sold without stems, but sometimes with petioles, even roots. The latter should be dry, rough, elastic, without rot.
Preservation in marinade
This method is used mainly by those people who are in the country, where there is no refrigerator. Adding acetic acid is the only way to prepare for the winter:
Healthy clean plants are collected, cut into pieces of any size.
Glass jars are sterilized with hot steam, cooled and dried.
Then stuffed with herbs and poured with marinade.
It is very pleasant, remembering the warm, sunny summer, to open a jar of such a sauce in winter and wash a couple of skewers of hot barbecue with it. About everything in order. I made this sauce last year at the request of my husband. Our tomatoes grew so fast that we didn't have time to eat them, and it was decided to somehow prepare them for the winter.
Tomato sauce with cilantro, ready-made jar
I liked the sauce very much, and therefore this year I cook it again and already in large quantities.
For the sauce we need:
tomato juice from tomatoes - 4 l,
2 heads of garlic (you can taste it, one was enough for me)
a bunch of fresh cilantro - 100 g,
Bulgarian pepper - 3 pcs.,
hot red pepper - 1 pc.,
vegetable oil - 0.5 cups or 125 ml,
salt without a slide - 2 tbsp. spoons,
sugar - 5 tbsp. spoons
allspice peas - 5 pcs.,
cloves - 3 pcs.,
vinegar - 1 teaspoon.
sauce ingredients
Cooking
Tomatoes for juice (about 4.2 kg) are cut into 4-8 parts, depending on the size, cut out the stalk, grind in a meat grinder.
How to cut tomatoes
Scroll through a meat grinder
Cook tomato puree for 1.5-2 hours over low heat, without covering with a lid, evaporate excess moisture so that the sauce becomes thicker.
Boiling tomato juice
After evaporation, instead of 4 liters, approximately 3 liters of juice remain. Add salt and sugar and taste. Then add seedless peppers chopped in a blender, peeled garlic and cilantro. Cook everything together for another 30 minutes.
Garlic and cilantro for sauce
Add vegetable oil and vinegar, cloves and pepper. Cook for another 15 minutes. We get cloves. Pour hot sauce into sterilized jars, roll up and store in a cool place on the veranda or in the refrigerator.
The sauce can be eaten with barbecue, pasta, boiled potatoes, just with bread, added to soups. A very versatile workpiece is obtained, try it!))
Our greenhouse, all the tomatoes are cut for sauce, only cheriki are left
Ready sauce in the greenhouse
Things to know (Q&A)
How do I make good tomato sauce?
8 Ways to Elevate Canned Spaghetti Sauce
1 - Extra virgin olive oil. Adding a good amount of a flavorful olive oil will go a long way in infusing flavor into your sauce. ...
2 - Fresh garlic. ...
3 - Meat. ...
4 - Hot pepper flakes. ...
5 - Red wine. ...
6 - Fresh or dried herbs. ...
7 - Cheese. ...
8 - Cream and/or butter.
What are the three main components of tomato sauce?
The cooked tomatoes, some fat (usually cured pork fat) and flour are cooked together until thick, and seasoned with salt and pepper. Onions or bell peppers may be added as well.
What is the classic tomato sauce made from?
Making a classic homemade tomato sauce is easy and so flavorful. This version starts with a mirepoix blend of onions, celery, and carrots for additional flavor and uses canned tomatoe
How do I make tomato sauce taste more tomatoey?
1. Reduce it on the stove or in the oven. To concentrate the flavor of your sauce, cook it down so that some of the water evaporates , leaving you with something thicker and more tomato-y. As your pot of heats up and your noodles cook, let your sauce simmer on the stovetop for at least 10 to 20 minutes.
How can I make my tomato sauce better?
Flavor It

Even better, season it! Taste the sauce once it's warm and add some seasoning . Maybe it needs a touch of salt, red pepper flakes, or some fresh garlic to liven it up. You could add dried or fresh herbs too: oregano, basil, thyme, tarragon, parsley—they're all grea
How do you make a good sauce?
9 Essential tips for making better sauces
Start with fresh ingredients. ...
Make your own stock. ...
But don't kill yourself over it. ...
Thicken with starch. ...
Thicken without starch. ...
Master pan sauces. ...
Create an emulsion. ...
Taste as you go.
Why put a carrot in spaghetti sauce?
The secret ingredient is chopped carrots, which give the tomato sauce a fresh flavor and add a nice sweetness . Once the tomato sauce is puréed, you'll never see the carrots, but you'll definitely taste the differenc
What are the components of tomato sauce?
It consists of salt belly of pork, onions, bay leaves, thyme, tomato purée or fresh tomatoes, roux, garlic, salt, sugar, and pepper .
What are the main ingredients in a sauce?
Sauces typically contain a liquid, thickener and various flavorings and seasonings . French mother sauces use milk (béchamel sauce), white stock (veloute), brown stock (Espagnole), clarified butter (Hollandaise), and tomato (tomato sauce) as the liquid base for each type of sauc
What are the three types of sauce?
Sauces
Barbecue Sauce. A thick tomato-based sauce containing a variety of spices and flavorings. ...
Cocktail Sauce. A sauce similar to ketchup. ...
Horseradish Sauce. ...
Hot Sauce. ...
Taco Sauce. ...
Soy Sauce.
How do they make tomato sauce?
Put tomato pulp in a low wide saucepan over high heat. Add salt, olive oil, tomato paste, garlic, basil and bay leaf. Bring to a boil, then lower heat to a brisk simmer. Reduce the sauce by almost half, stirring occasionally, to produce about 2 1/2 cups medium-thick sauce, 10 to 15 minutes.
Is traditional pasta sauce the same as tomato sauce?
What is this? Spaghetti sauce and pasta sauce, on the other hand, are different names for the same thing . Spaghetti sauce is often made from tomato sauce, but it doesn't have to be. There are countless spaghetti sauce recipes out there, including marinara, pomodoro, bolognese, and arrabbiat
Where does tomato sauce come from originally?
Tomato sauce is first referenced in the Italian cookbook Lo Scalco alla Moderna (The Modern Steward), written by Italian chef Antonio Latini in 1692 . Meanwhile, a recipe for pasta with tomato sauce appears in the 1790 cookbook, L'Apicio Moderno, by chef Francesco Leonard
How do you make tomato sauce more tomatoey?
1. Reduce it on the stove or in the oven . To concentrate the flavor of your sauce, cook it down so that some of the water evaporates, leaving you with something thicker and more tomato-y. As your pot of heats up and your noodles cook, let your sauce simmer on the stovetop for at least 10 to 20 minutes.
How can I intensify tomato Flavour?
Cooking the tomatoes low and slow in olive oil and heavy seasoning will concentrate their flavor, drawing most of the water out. Drizzle your tomatoes with olive oil and generously season with salt and pepper, then roast in a 200-degree oven for about an hour to an hour and a hal
How do you add flavor to tomato sauce?
Flavor It

Maybe it needs a touch of salt, red pepper flakes, or some fresh garlic to liven it up. You could add dried or fresh herbs too: oregano, basil, thyme, tarragon, parsley—they're all great! Want to go next level? Toss in some chopped anchovies (or anchovy salt), olives, or some lemon zest and/or juic
How do you fix tomato sauce that is too sweet?
"To reduce the sweetness, add vinegar or lemon juice, 1 teaspoon at a time, while heating the sauce ," Richards notes. One way to tone down spiciness without adding sugar is to add coconut milk. The tomato flavor of some sauces can be too intense. Add cooked mushrooms to a tomato sauce to calm down this flavo