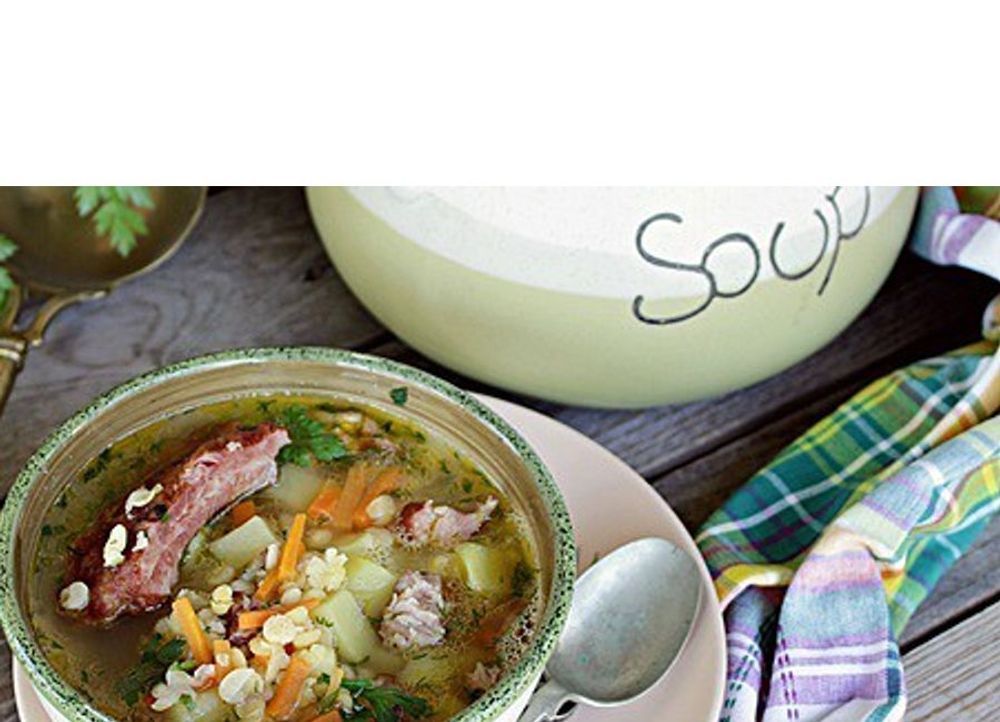 Autumn ... and it's a pity that the weather is changing - it is noticeably colder, piercing winds, autumn rains and slush are not far off ... and more and more often I want to include in the menu hot, warming the body and soul, dishes, soups, for example. Thick, rich, nourishing, aromatic ... still worth continuing?
Here, let's say, pea soup with smoked ribs is the perfect, classic combination of bright taste and mouth-watering aroma.
Having prepared this soup once, it will immediately delight you with its original taste and smell and, possibly, will become a frequent guest on your table. In addition, its affordable, quick and easy way of cooking is captivating - this is just a godsend for any housewife who wants to diversify the everyday menu of her household.
General \ asset cooking time: \
Servings Per Container: 10 Servings
Calories (100g): 83 kcal
Cost: very economical
How to Make Smoked Ribs Pea Soup
Pork ribs - 500 g hot smoked
Water - 2.5 l
Carrots - 1 pc. into broth
Bulb onion - 1 pc. into broth
Celery stalk - 1 sprig (s)
Peas - 250 g dry
Carrots - 1 pc. for frying
Bulb onion - 1 pc. for frying
Vegetable oil - 3 tbsp
Potatoes - 3 pcs.
Salt to taste
Bay leaf - 1 pc.
Greens - 1 handful (s)
Preparation: Step 1
Dry peas should be rinsed well in several waters. Finally, soak in cold water and leave to swell for several hours.

If you have whole peas, it is best to do this in the evening; well, crushed grains are enough for soaking for only 2-3 hours.

Already swollen peas, before cooking, must be washed again and discarded in a colander.

This procedure should not be neglected, because, firstly, with soaked peas, the soup will cook much faster. And secondly, there is an opinion that in this way we get rid of the "flatulence" provoked by peas - it's already nice, isn't it ?!

Smoked ribs should be washed a little, and then cut along the seeds into portioned pieces - so later it is more convenient to work with them, and simply put them in a saucepan without difficulty.

Measure out the right amount of water and pour into a saucepan.
Put chopped pieces of smoked ribs, peeled onions, carrots and a celery stalk in the same place.

Bring to a boil, then reduce the heat to medium, cook for about half an hour.

Most often, when cooking the ribs, foam does not form, but if it does appear, it must be removed with a slotted spoon.

Note: the question is often asked - whether or not to add vegetables to the broth when cooking ribs; many do not do this, because then vegetable frying is still put in ... well, and I add, it seems to me that this makes the soup with a richer and more aromatic taste.

Well, smoked meats have saturated the broth with their taste, it's time to get them along with vegetables that we no longer need.

Pour our soaked peas into the strained, boiling broth and cook for 10-15 minutes. In no case do not salt at this stage, peas are cooked in salted water much longer.

Ribs a littlecool to remove the meat from the bones. Cut the meat into small pieces and also send to the pot with peas.

For those who wish, you can also leave a few smoked ribs, unpeeled from the bone - my husband, for example, loves to nibble them afterwards.

While the peas are boiling, let's start cooking the frying. To do this, peel the onions and carrots.

And then cut: onion into small cubes, and carrots into small cubes ... well, I like it so much, but in principle, you can grate it on a coarse grater or also cut it into cubes, like onions - the choice here is individual, as you like.

Heat vegetable oil in a skillet. With the heat reduced, first fry the onions until softened, then add the carrots and simmer for a few more minutes. I do not recommend deep frying, so as not to interrupt the smoked taste in the soup.