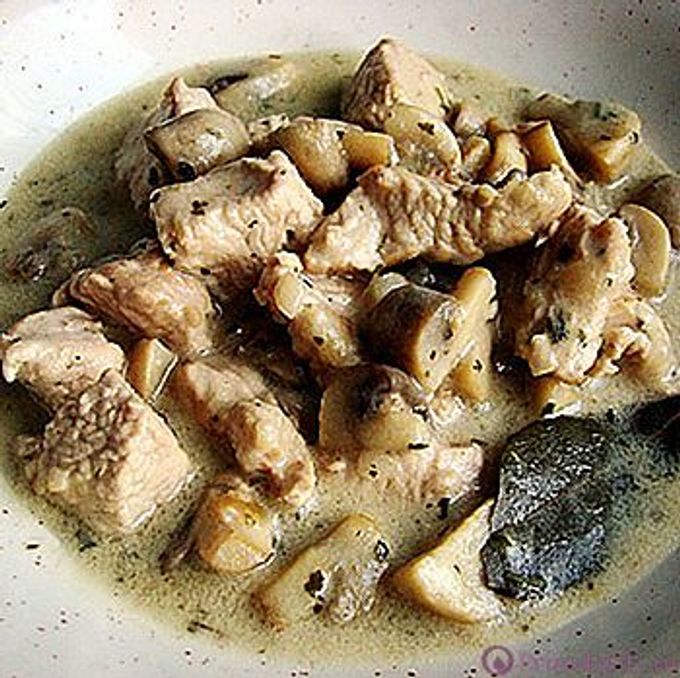 Goulash is a traditional Hungarian dish, which is a thick meat soup. However, now it has become widespread, and it is prepared not only from meat, but also from mushrooms too. Mushroom goulash is more considered a second course than a first course. For its preparation, the hostesses use many different recipes.
How to cook champignon mushroom goulash with sour cream
This is a classic recipe for goulash with champignons, which will take quite a bit of time to prepare - just over an hour.
Ingredients:
500 g of champignons;
two bulbs;
green or red bell peppers;
vegetable oil 3 tbsp. l.;
1 st. l. flour;
a spoonful of tomato paste;
200 g sour cream;
salt, pepper - to taste.
To cook champignon goulash with sour cream, follow this scheme:
Wash the mushrooms and boil them in lightly salted water for about 10 minutes.
Throw the boiled mushrooms in a colander, rinse well with water again and let it drain.
Cut the prepared mushrooms into small slices, onions into cubes, fry these two components in a pan in sunflower oil until golden brown.
While the mushrooms and onions are fried, chop the sweet pepper. The taste of goulash depends on the type of pepper chosen. If you add yellow or red pepper to the dish, you will feel a slightly sweet taste, green pepper will add piquancy to goulash.
Add tomato paste and sour cream to the vegetables, and simmer in this sauce until tender. If you want the mushrooms to be softer, you can first add a little water, stew, and only then put sour cream and tomato paste.
Add salt and pepper to the dish about five minutes before it's done. Pour into the pan 1 tbsp. l. flour, mix well, simmer for another 5 minutes and turn off.
Boiled potatoes, mashed potatoes or a salad of raw vegetables are best served as a side dish for champignon goulash with sour cream.
Recipe for meat goulash with champignons
Pork goulash with champignons will be a good addition to any side dish.
For this recipe for pork goulash with champignons, you will need the following products:
pork - 500 g;
champignons - 300 g;
the bulb is large;
medium carrot;
two tomatoes;
1 st. l. flour;
any dry herbs - 2 tbsp. l.;
salt, pepper - to taste;
vegetable oil - for frying.
Cook meat and champignon goulash as follows:
1. Cut pre-washed and slightly dried meat into small cubes, approximately 2 by 2 cm.
2. Put the pan on the fire, pour vegetable oil and heat it well. Put small pieces of pork in a hot pan and stir quickly so that the meat is evenly crusted on all sides. Transfer the fried pork to a container where the goulash will be stewed.
3. Mushrooms cut into several parts, if they are large. If small, leave them like that. Put in a pan and fry just like the meat. Transfer the browned mushrooms to a cauldron or pan to the meat.
4. Pour half a glass of water into a container with fried ingredients, cover with a lid and simmer over low heat.
5. Peel the onion, cut it into small cubes and roll in flour. Fry the onion in the same pan where the mushrooms and meat were fried, adding a little vegetable oil.
6. Add grated carrots to the onion, fry for 3 minutes.
7. Grate the washed tomato on a coarse grater, holding the vegetable by the skin, then it will need to be thrown away. Add this tomato paste to the onions and carrots, also put dry herbs in the pan, salt, pepper, add a quarter cup of hot water, cover and simmer over low heat for three minutes.
8. Transfer the contents of the pan to a cauldron, and again simmer everything for 25 minutes, adding liquid if necessary.
Determine the readiness of goulash by the softness of the meat.
Mushroom pork goulash with champignons and sour cream
To prepare pork goulash with champignons and sour cream, you will need the following products:
500 g of pork pulp;
300 g of champignons;
200 g sour cream;
refined vegetable oil;
salt and pepper.
Cooking process:
1. Rinse the pork pulp well, remove the fatty layer, dry and cut into medium pieces.
2. Pour oil into the pan, heat up and put the pork. Fry for 5 minutes, stirring regularly.
3. Wash the mushrooms and cut lengthwise into 4 parts.
4. When the meat is lightly browned, add mushrooms to it and continue to fry everything together.
5. Reduce the heat to a minimum, pour the pork and champignons with sour cream. If desired, sprinkle with spices designed specifically for these products.
6. Mix the contents of the pan well, cover and simmer for 15 minutes.
7. Try the meat for readiness, if necessary, it can be stewed longer.
Serve this delicious dish with rice, noodles, mashed potatoes, buckwheat or wheat porridge.
Recipe for chicken goulash with champignons in sour cream
To prepare chicken goulash with champignons, use the following ingredients:
chicken - ½ part;
bulb;
carrot;
champignons - 300 g;
tomatoes - 5 pieces;
a tablespoon of sour cream;
1 st. l. tomato paste;
flour - 1 tbsp. l.;
sunflower oil - 3 tbsp. l.;
butter - 20 g;
seasoning for chicken;
salt pepper;
water.
Chicken goulash with champignons in sour cream is prepared in the following way:
1. Finely chop the onion, grate the carrots. Fry until cooked in vegetable oil.
2. Mushrooms cut into small plates, place onions and carrots. Fry until cooked through for 10 minutes.
3. Peel off the tomatoes. To do this, make an incision on top with a knife and dip them in boiling water for a few minutes. Cut them into medium-sized pieces, add to the mushrooms and simmer until all the liquid has completely evaporated.
4. Meanwhile, while the vegetables are stewing, prepare the chicken. Cut it into small cubes, using only the fillet, salt, pepper, add spices. Fry in a separate pan until golden brown and send to the vegetable mass.
5. Prepare the sauce: mix sour cream, tomato paste and flour, add a pinch of salt. Mix everything well and pour this mixture over vegetables and chicken.
6. Simmer under the lid for 15 minutes.
Mushroom goulash recipe. Calorie, chemical composition and nutritional value.
Nutritional value and chemical composition of "Mushroom goulash".
The table shows the content of nutrients (calories, proteins, fats, carbohydrates, vitamins and minerals) per 100 grams of the edible part.
Nutrient
Quantity
Norm**
% of norm in 100 g
% of the norm in 100 kcal
100% normal
calories
62.4 kcal
1684 kcal
3.7%
5.9%
2699
Squirrels
2.5 g
76 g
3.3%
5.3%
3040 g
Fats
4.3 g
56 g
7.7%
12.3%
1302
Carbohydrates
3.3 g
219 g
1.5%
2.4%
6636 g
organic acids
0.1 g
~
Alimentary fiber
2 g
20 g
ten%
sixteen%
1000 g
Water
86.1 g
2273
3.8%
6.1%
2640 g
Ash
0.782 g
~
vitamins
Vitamin A, RE
76.6 mcg
900 mcg
8.5%
13.6%
1175 g
beta carotene
0.459 mg
5 mg
9.2%
14.7%
1089 g
Lutein + Zeaxanthin
0.068 mcg
~
Vitamin B1, thiamine
0.068 mg
1.5 mg
4.5%
7.2%
2206
Vitamin B2, riboflavin
0.213 mg
1.8 mg
11.8%
18.9%
845 g
Vitamin B4, choline
0.1 mg
500 mg
500000 g
Vitamin B5, pantothenic
0.906 mg
5 mg
18.1%
29%
552 g
Vitamin B6, pyridoxine
0.156 mg
2 mg
7.8%
12.5%
1282
Vitamin B9, folate
17.935 mcg
400 mcg
4.5%
7.2%
2230 g
Vitamin C, ascorbic
34.89 mg
90 mg
38.8%
62.2%
258 g
Vitamin E, alpha tocopherol, TE
1.95 mg
15 mg
thirteen%
20.8%
769 g
Vitamin H, biotin
0.152 mcg
50 mcg
0.3%
0.5%
32895 g
Vitamin PP, NE
2.7868 mg
20 mg
13.9%
22.3%
718 g
Niacin
2.283 mg
~
Macronutrients
Potassium, K
336.58 mg
2500 mg
13.5%
21.6%
743 g
Calcium Ca
9.82 mg
1000 mg
one%
1.6%
10183 g
Magnesium
11.08 mg
400 mg
2.8%
4.5%
3610 g
Sodium, Na
76.62 mg
1300 mg
5.9%
9.5%
1697
Sulfur, S
11.15 mg
1000 mg
1.1%
1.8%
8969
Phosphorus, P
62 mg
800 mg
7.8%
12.5%
1290 g
Chlorine, Cl
19.19 mg
2300 mg
0.8%
1.3%
11985
trace elements
Aluminium, Al
67.6 mcg
~
Bor, B
33.8 mcg
~
Iron, Fe
0.398 mg
18 mg
2.2%
3.5%
4523 g
Iodine, I
8.77 mcg
150 mcg
5.8%
9.3%
1710
cobalt, co
7.838 mcg
10 mcg
78.4%
125.6%
128 g
Manganese, Mn
0.0813 mg
2 mg
4.1%
6.6%
2460 g
Copper, Cu
38.53 mcg
1000 mcg
3.9%
6.3%
2595 g
Molybdenum, Mo
1.267 mcg
70 mcg
1.8%
2.9%
5525 g
Nickel, Ni
0.507 mcg
~
Rubidium, Rb
91.4 mcg
~
Selenium, Se
0.06 mcg
55 mcg
0.1%
0.2%
91667 g
Fluorine, F
29.58 mcg
4000 mcg
0.7%
1.1%
13523
Chrome, Cr
7.15 mcg
50 mcg
14.3%
22.9%
699 g
Zinc, Zn
0.3633 mg
12 mg
3%
4.8%
3303 g
digestible carbohydrates
Starch and dextrins
0.103 g
~
Mono- and disaccharides (sugars)
3.3 g
max 100 g
Glucose (dextrose)
0.681 g
~
sucrose
1.252 g
~
Fructose
0.73 g
~
Essential amino acids
0.12 g
~
Arginine*
0.035 g
~
Valine
0.016 g
~
Histidine*
0.006 g
~
Isoleucine
0.018 g
~
Leucine
0.021 g
~
Lysine
0.027 G
~
Methionine
0.004 g
~
Methionine + Cysteine
0.008 g
~
Threonine
0.017 g
~
tryptophan
0.006 g
~
Phenylalanine
0.018 g
~
Phenylalanine + Tyrosine
0.029 g
~
Non-essential amino acids
0.112 g
~
Alanine
0.01 g
~
Aspartic acid
0.014 g
~
Glycine
0.008 g
~
Glutamic acid
0.041 g
~
Proline
0.005 g
~
Serene
0.005 g
~
Tyrosine
0.012 g
~
Cysteine
0.004 g
~
Sterols (sterols)
beta sitosterol
7.601 mg
~
Saturated fatty acids
Saturated fatty acids
0.5 g
max 18.7 g
14:0 Myristic
0.014 g
~
16:0 Palmitic
0.261 g
~
18:0 Stearic
0.159 g
~
20:0 Arachinoic
0.011 g
~
22:0 Begenovaya
0.027 g
~
Monounsaturated fatty acids
0.966 g
min 16.8 g
5.8%
9.3%
16:1 Palmitoleic
0.03 g
~
18:1 Oleic (omega-9)
0.916 g
~
Polyunsaturated fatty acids
2.481 g
from 11.2 to 20.6 g
22.2%
35.6%
18:2 Linoleic
2.481 g
~
Omega 6 fatty acids
0.2 g
4.7 to 16.8 g
4.3%
6.9%
The energy value of mushroom goulash is 62.4 kcal.
Primary source: Created in the application by the user. More.
** This table shows the average norms of vitamins and minerals for an adult. If you want to know the norms taking into account your gender, age and other factors, then use the My Healthy Diet application.
Chicken goulash with champignons in cream
Delicious goulash from chicken and champignons can be prepared according to this recipe.
Ingredients:
champignons - 8 pieces;
chicken fillet - 1 kg;
350 g 10% cream;
4 cloves of garlic;
300 g of cheese;
greenery;
Provencal herbs;
salt pepper.
Follow this cooking process:
1. Cut the chicken fillet into medium-sized pieces, mushrooms into small plates. Put chicken and mushrooms in a frying pan and fry in butter.
2. In the meantime, when preparing chicken and mushrooms, get down to the process of making cream sauce.
3. To do this, crush the garlic well or grate it on a fine grater, add grated cheese, chopped herbs to it and pour everything with cream. Put some Provencal herbs in this mass and mix everything well.
4. When the chicken and mushrooms are ready, drain some liquid from the pan, but do not pour it all out, pour the mass with cream sauce, cover and simmer over low heat for 10 minutes.
Ingredients
Recipes from white mushrooms, including our goulash, are quite simple in culinary execution. It is important here that the main ingredient is freshly cut and not wormy. All other applications play a supporting role. So, we need: a kilo of white mushrooms, a couple of large onions, one medium-sized carrot, one sweet pepper, a couple of cloves of garlic, a couple of tablespoons of flour, a few tablespoons of vegetable oil for frying, spices and salt to your tastes.
Recipe for beef goulash with champignons
Beef goulash with champignons, prepared according to this recipe, turns out to be tasty and satisfying.
You will need:
beef pulp - 600 g;
onions - 400 g;
two carrots;
400 grams of champignons;
hot green pepper - 2 pods;
400 g of fat sour cream;
100 ml of vegetable oil;
salt pepper.
Prepare a dish according to this recipe for beef goulash with champignons as follows:
1. Cut the peeled onion into rings or half rings.
2. Pour oil into a frying pan, heat well and place onion rings in it. Simmer the onion until soft. Such a large amount of onion makes it possible to thicken the goulash without adding flour.
3. Rinse the meat, dry and cut into small cubes. Salt, pepper and send it to the onion, simmer for 45 minutes on a low flame. You can add a little water during cooking if needed.
4. Cut the carrot into thin circles, pepper into small strips, add to the meat, mix and simmer for another 20 minutes.
5. Cut the champignons into plates, bell peppers into cubes, send them to the meat with vegetables, add sour cream, mix and simmer for another 15 minutes.
Sprinkle the top with chopped parsley.
Cooking ingredients
So, we buy a kilo of selected champignons. If you're lucky, then not too large, but rather, even small sizes. Thus, it will be possible not to cut the mushrooms, but to cook them whole. And from this our goulash will turn out to be quite interesting in terms of appearance. In addition, the main feature of champignons is that they can not be peeled during cooking, just rinse thoroughly. In addition, we will need all the same ingredients as in the wild mushroom recipe. Flour, by the way, can be varied. Try buckwheat. Or maybe rice? Use dark bran: they are very useful. And some housewives prefer to replace this ingredient when preparing goulash with starch in the same quantities. Well, and this option is quite acceptable.
Lenten mushroom goulash from champignons
Lenten champignon goulash is a great variant of this delicious dish for those people who do not eat meat at all or keep Lent.
Required products:
600 g of champignons;
two Bulgarian peppers;
four small onions;
sour cream - 200 g;
tomato paste - 2 tbsp. l.;
2 tbsp. l. flour;
sunflower oil;
salt pepper.
Prepare mushroom goulash from champignons in the following way:
1. Finely chop the onion into cubes, and send it to a preheated pan with sunflower oil.
2. Mushrooms also cut into small plates, add to the onion, now fry them together.
3. Cut sweet pepper into cubes, send to the pan. Mix everything and simmer over low heat, adding a little water if necessary. It may not be needed, since the mushrooms release a lot of juice during the frying process.
4. In another pan, fry the tomato paste with sour cream for a couple of minutes.
5. Mushrooms with stewed vegetables should be sprinkled with flour, add tomato-sour cream sauce to them, mix thoroughly. If the mass is too thick, dilute it with a little water. Simmer for another 10 minutes and remove from stove.
This lean champignon mushroom goulash with sour cream goes well with side dishes such as rice, spaghetti, mashed potatoes.
We cook simply!
Mushrooms in my carefully (as already mentioned, you can not peel, but for especially scrupulous housewives: remove the skin from the hats and legs). If the mushrooms are medium in size or small, then you can not cut them, but cook them whole.
We put the main ingredient in a saucepan, fill it with water and bring to a boil. Salt and reduce the fire. Cook for 10 or 15 minutes.
At this time, peel the carrots and cut into long, fairly large pieces. Peel the onion and cut into half rings. Sweet pepper - in half rings.
In a well-heated vegetable oil (it is better to take olive or sunflower oil with its addition), lightly fry the onion in a pan. Then we introduce carrot sticks, pepper. At the end - mushrooms (already pre-boiled) and garlic, pressed through the press. Spices to taste. Simmer over low heat for ten minutes.
At the very end of cooking, in the broth left over from cooking mushrooms, dilute a few tablespoons of starch. We add everything to the general mixture, and knead thoroughly. Then, cover with a lid and simmer for a few more minutes. Remove from the stove and let the dish brew.