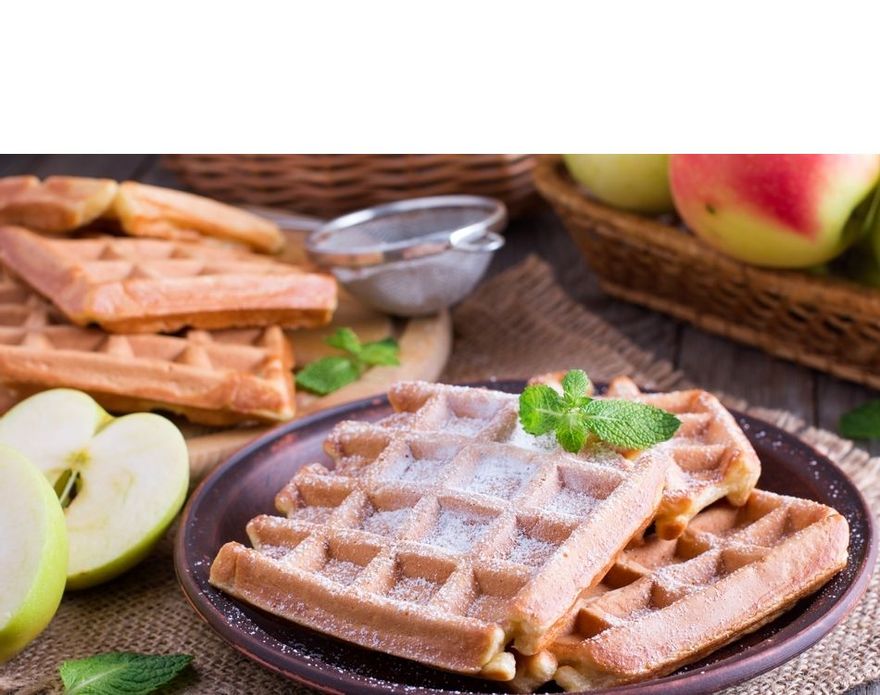 At the end of September, I always ask myself: what to do with the four baskets of apples that are on the balcony? Apple pies, pies, preserves, jam, strudel - all this has been tried more than once, I even froze the apples so that they do not disappear. And then one day, while making waffle dough, I decided to add grated apples to it, and I didn't regret it. Apple waffles turned out to be so tasty and aromatic that I had to repeat them three times a week!
General \ asset cooking time: 30 minutes \ 15 minutes
Servings Per Container: 6 Servings
Calories (100g): 126 kcal
Cost: very economical
How to make apple waffles
Apple - 3 pcs.
Sour cream - 300 g
Chicken egg - 1 pc.
Sugar - 1 tbsp
Salt - 1 pinch (s)
Cinnamon - 1 tsp
Wheat flour - 160 g
Soda - 1 tsp without a slide
Lemon juice - 1 tsp
Vegetable oil - 1 tbsp + for greasing the mold
Preparation:
To prepare apple waffles, put sour cream in a deep bowl (fat content can be from 15 to 21% or a little more), add sugar, one large egg and a pinch of salt.

Stir the contents of the bowl with a hand whisk. You do not need to use a mixer in this recipe, a high speed is not needed here. You can even mix everything thoroughly with an ordinary fork.

Put baking soda in a separate bowl or cup and pour lemon juice over it. How to quickly get a small amount of lemon juice without cutting the fruit can be found here.

Soda with lemon juice will foam strongly, this foam should be added to the sour cream mass. Pour vegetable oil here.

Stir the contents of the bowl well again.

Wash the apples, peel and core with seeds.

Grate apples on a fine grater.

If you grate the fruit on a coarse grater, then during baking, the apple chips can stick to the mold and burn.

Add the grated apples to the sour cream and mix with a fork or whisk.

Sift flour and add cinnamon to it.

Pour flour into the liquid mass and mix well.

The finished mass should fall off the spoon in a heavy lump.

Using a cooking brush, brush the waffle iron with a thin layer of vegetable oil.

Each time before loading the dough into the waffle iron, you need to stir it, since the apple mass is heavier than the dough and eventually settles to the bottom of the bowl.

Put the dough on a curly shape (about 2 tablespoons of dough without a slide will take about 1 waffle) andbake for 4-6 minutes, focusing on the readiness of the products.

I love fried waffles, so sometimes I keep them longer for a crisp crust and a delicate, apple-like center.

It turns out a lot of waffles - 12-14 pcs.

To keep the finished waffles crisp for a long time, do not stack them on top of each other, let them cool and dry on the wire rack.

It is delicious to sprinkle apple waffles on top with a mixture of powdered sugar and cinnamon, and serve with honey.

If you do not have such a waffle iron, then you can make apple pancakes from this dough in a pan: fry them in vegetable oil over medium heat on each side for 2 minutes.